Surviving two deadly brain aneurysms gave "Game of Thrones" actor Emilia Clarke a new perspective on her own fame, she tells Tracy Smith in an interview for CBS SUNDAY MORNING to be broadcast Sunday, April 7 (9:00 AM, ET) on the CBS Television Network.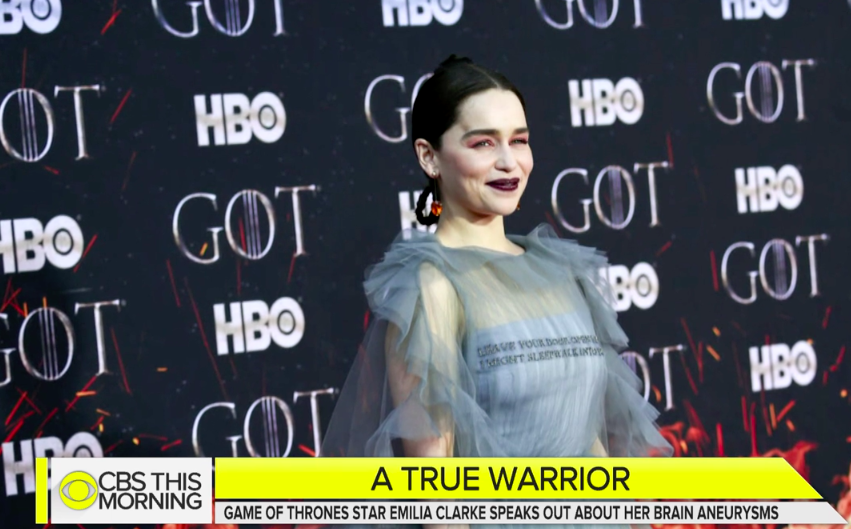 Watch a preview HERE.
Clarke recently revealed she suffered the first ruptured brain aneurysm in 2011, just after finishing filming of the first season of "Game of Thrones," in which she stars as one of the main characters, Daenerys Targaryen, the "Mother of Dragons." She suffered the second two years after the first.
Clarke tells Smith she struggled through a period of being down after the first incident, but with the second one she says it was even harder to stay optimistic. Getting back to work on the popular HBO series helped get her through those moments.
"You go on the set, and you play a badass character, and you walk through fire, and you speak to hundreds of people, and you're being asked to be – to work as hard as you possibly can," Clarke says. "And that became the thing that just saved me from considering my own mortality, yeah."
The second aneurysm, Clarke says, nearly killed her and caused part of her brain to die, which then led doctors on a search to figure out how it would affect her life.
"So, they literally were looking at the brain and being like, 'Well, we think it could be – could be her concentration, it could be her peripheral vision,'" Clarke says.
"I always say it's my taste in men," she quips.
The experience, she says, gave her a new outlook on fame.
"I think the brain injury made it – it grounded me in a way that nothing else could."
Clarke also talks with Smith about what it's like to be a part of "Game of Thrones," which has become a worldwide phenomenon; her career in acting; and her first taste of acting when she was just 5 years old.
Clarke recalls being on stage doing a play and forgetting her lines – all four of them. The feeling she got as a performer, though, was unforgettable.
"Not knowing my lines, whatever it was, I just felt really, really, really comfortable there," Clarke says. "And that has stayed with me forever, where, like, put me in a room with a thousand people and I'm Zen, chill, completely chill."
CBS SUNDAY MORNING is broadcast Sundays (9:00-10:30 AM, ET) on CBS.
Follow CBS SUNDAY MORNING on Twitter, Facebook, Instagram and CBSNews.com.