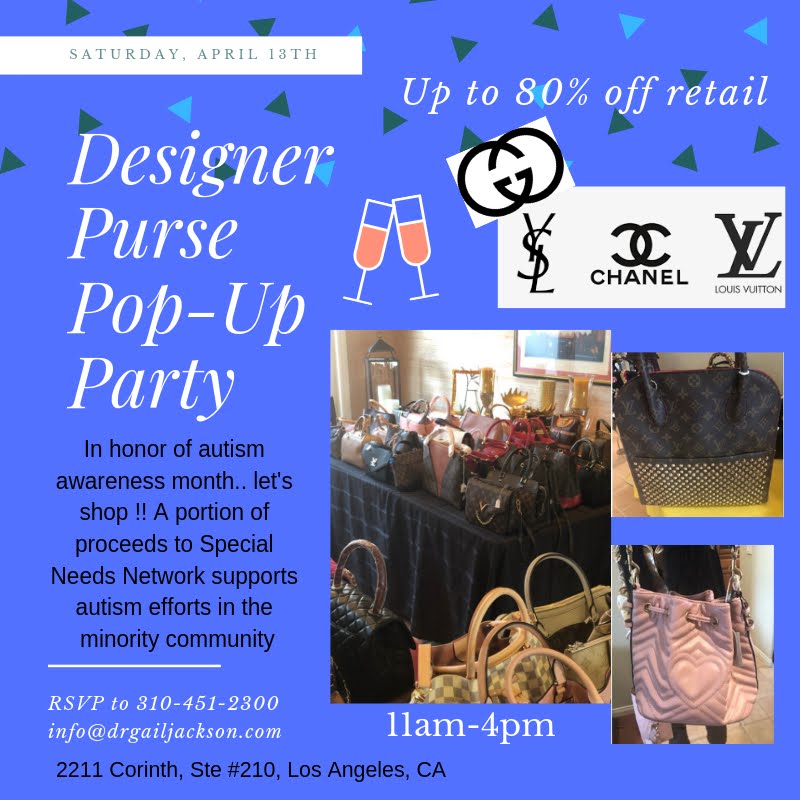 April is Autism Awareness Month. To raise awareness and give back to the cause, Dr. Gail Jackson is hosting a 'Designer Purse' Pop-Up Party!
When: Saturday, April 13th – 11am to 4pm
Where: 2211 Corinth, STE #210, Los Angeles, CA
RSVP: info@drgailjackson.com
A portion of proceeds will go to Special Needs Network. Their mission is to raise public awareness of developmental disabilities and to impact public policy, while providing education and resources to families, children and adults. SNN serves as a link between under-served communities and mainstream developmental disability organizations and governmental institutions, which often fail to address issues specific to these communities. SNN firmly believes that dignity, hope and opportunity are the birthright of all children.
Certified by the American Board of Obstetrics and Gynecology, Dr. Gail Jackson's private practice is located in West Los Angeles. Her passion for ensuring excellent health care for all women caused her to focus on the female patient as a whole; encompassing a holistic as well as a traditional approach to health maintenance and well-being.
Learn more at www.drgailjackson.com