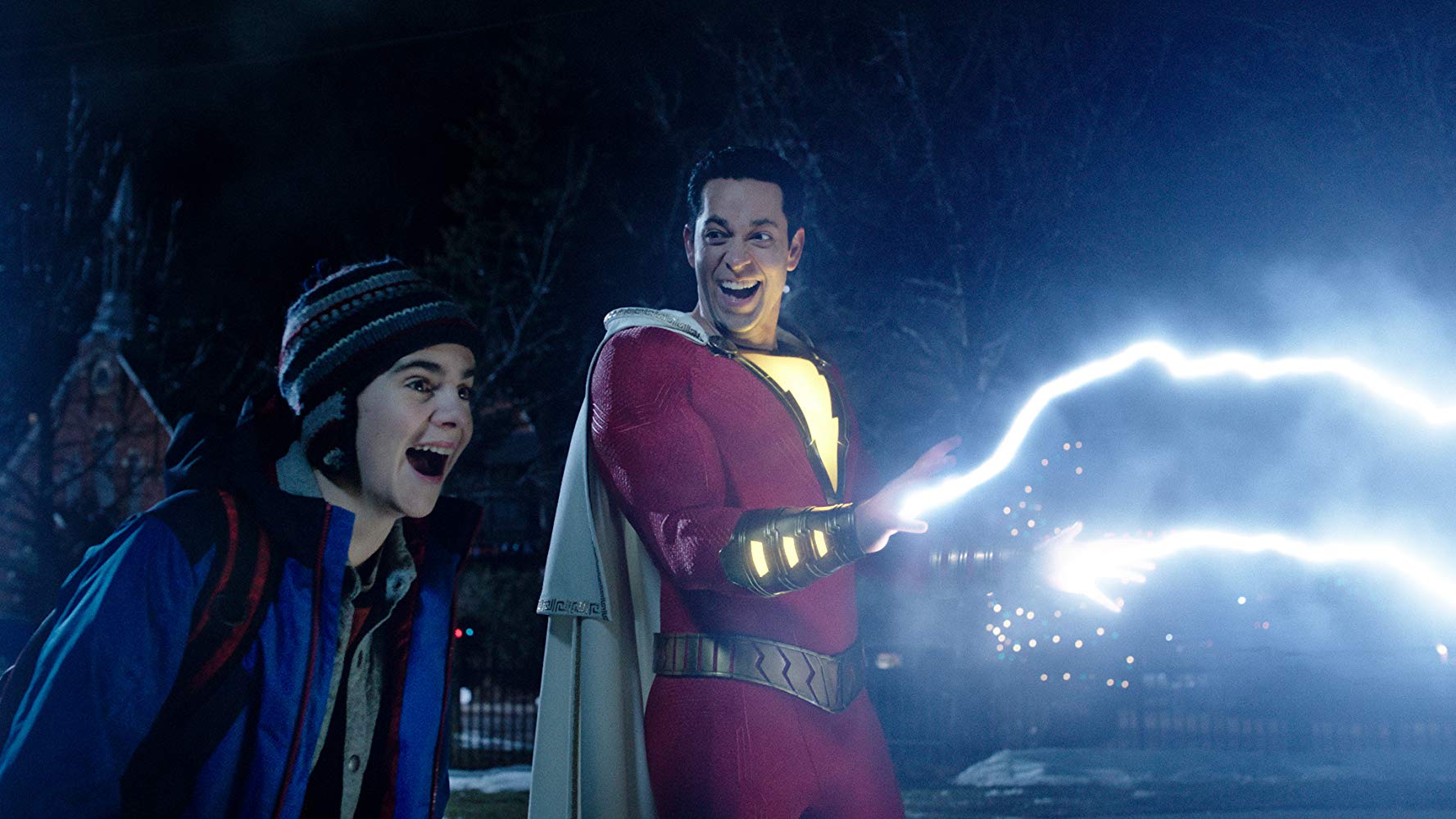 A foster child is granted the wish of a lifetime when an ancient wizard transforms him into an adult superhero in "Shazam!," a charming and consistently funny superhero comedy from DC Comics, starring Zachary Levi ("Chuck"), Mark Strong ("Kingsman") and Asher Angel.
Skillfully directed by David F. Sandberg, this playful and pleasant family film is a breezy origin story that hits heights comparable to its high-flying protagonist, succeeding as an engaging action-adventure, a witty comedy, a sendup of superhero films, and just an all-around quality piece of entertainment. Thanks to the stellar script by Henry Gayden, which handles the ambitious storyline and its differing elements with panache and no shortage of laughs, "Shazam!" manages to tap into everyone's childhood desire to be a superhero, milking the premise for all its worth. What results is a film with humor, emotion, action, and winning characters with which audiences will enjoy passing two hours.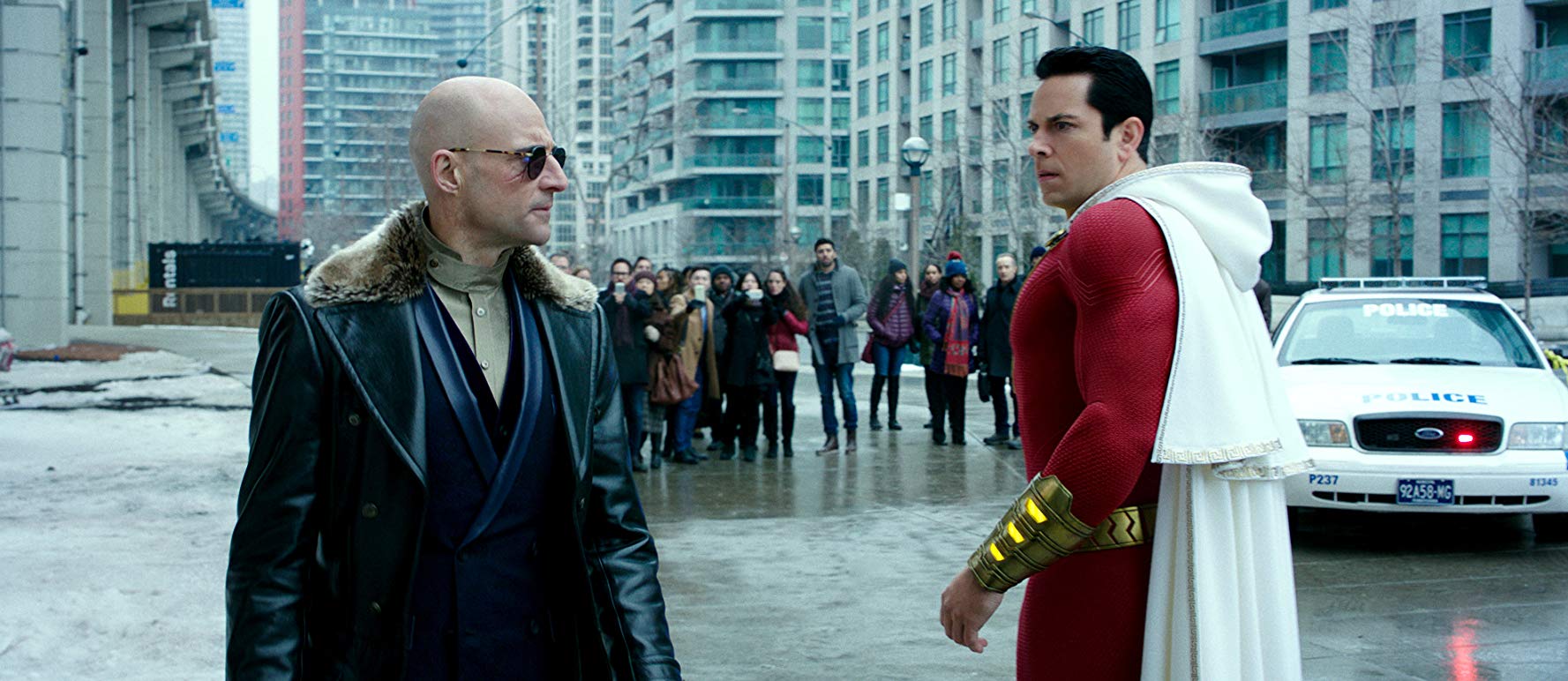 Set in present day Philadelphia, "Shazam!" follows Billy Batson (Asher Angel), a fourteen year-old orphan who can't stop running away from foster homes in search of his long-lost mother, who he was separated from at a carnival when he was very young. Despite his unwillingness to accept the many adoptive parents he's had over the years, Billy takes a liking to his latest family, the Vasquez's, though it takes awhile for Billy to warm up to them. Helping Billy adjust to his family is his paraplegic roommate, Freddie Freeman (Jack Dylan Grazer), a superhero fanatic with a surprisingly sunny outlook given his disability.
One day, while fleeing from some bullies, Billy is whisked away to another realm by an ancient wizard named Shazam (Djimon Hounsou), who deems Billy the "Champion of Eternity" and transforms him into an adult superhero. And while Billy must only use his superpowers for good purposes, one can imagine the amount of fun a child can still have with such powers. But while Billy and Freddie have a ball testing out his newfound superpowers (and posting the results on YouTube to an ever-growing fan base), the evil doctor Sivana (Mark Strong) lurks in the background, trying to rob Billy of his powers to use them for diabolical ends. As Billy tries to stave off Sivana and the spirit of the seven deadly sins that he possesses, he engages in some superheroics, drops many pop culture references, and learns a thing or two about growing up in the process.
Having focused on frights with his first two features, with "Shazam," director David F. Sandberg ("Lights Out," "Annabelle: Creation") displays a surprising flair for crafting joyful family entertainment, and his ease transitioning into new cinematic territory is as impressive as the amount of laughs he squeezes out of the film's corny but cute premise. It certainly helps to have such a snappy screenplay, and the work on display from screenwriter Henry Gayden, hits all the right tonal notes. Between the consistently entertaining storyline and the pitch perfect tone, one can't help but be charmed by the "Big" like antics of a child stuck in a supehero's body.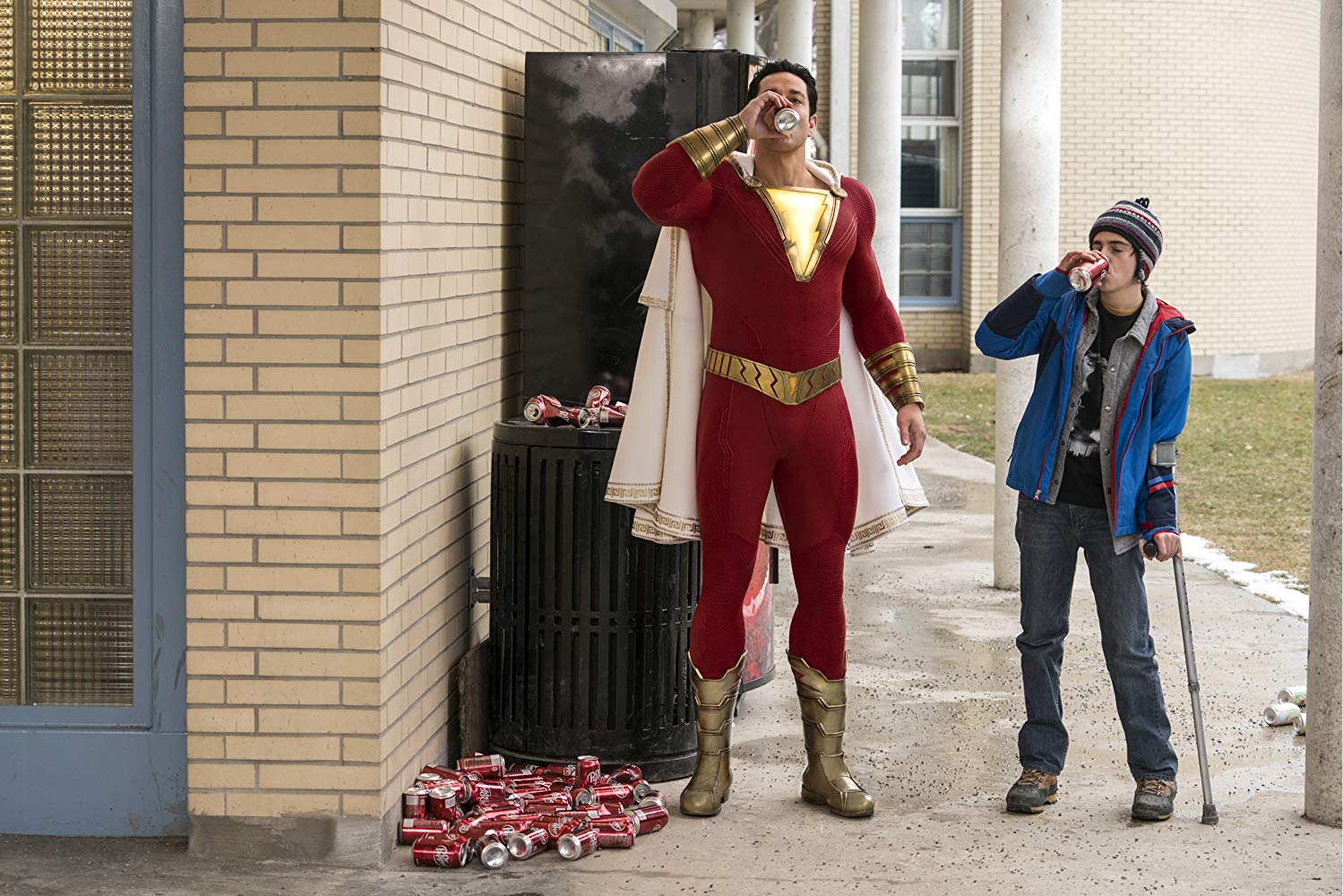 While the screenplay and direction certainly help this superhero film soar, it takes a truly likable cast to sell the far-fetched premise, but the actors portraying the titular superhero, Zachari Levi and Asher Angel, absolutely knock it out of the park every step of the way, making this standout superhero flick that much more enjoyable. Aiding the enthusiastic superhero is a sturdy supporting cast led by Mark Strong, who is reliable as ever in the role of the evil Dr. Sivana, while Jack Dylan Grazer is a scene-stealing pleasure as Billy's roommate and superhero scholar, Freddie Freeman.
"Shazam!" is a magical superhero comedy that's as charming as it is witty.
By Lucas Mirabella
Running Time: 132 minutes
Rated PG-13 for intense sequences of action, language, and suggestive material.