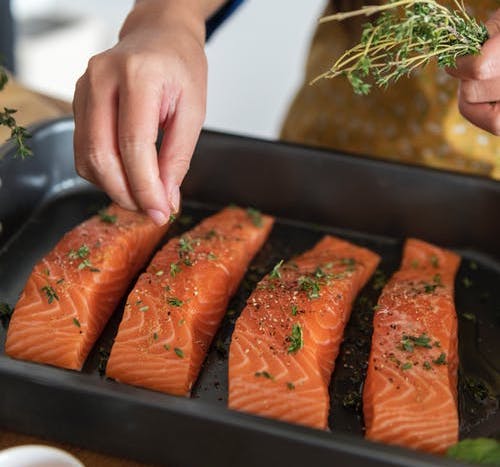 Dr. Gail Jackson knows what's best for our bodies and that includes what we eat!
Certified by the American Board of Obstetrics and Gynecology, her private practice is located in West Los Angeles. Her passion for ensuring excellent health care for all women caused her to focus on the female patient as a whole; encompassing a holistic as well as a traditional approach to health maintenance and well-being.
For the weekend, Dr. Jackson shares her delicious salmon recipe; perfect for all dinner parties and date nights!
What you need:
4 salmon portions (boneless, skinless, 5 oz each)
2 lemons, thinly sliced
4 cloves garlic, minced
8 sprigs fresh rosemary
Salt and Pepper, to taste
2 Tbsp olive oil
Parchment Paper or heavy duty aluminum foil cut into 8" sheets
What to do:
1. Preheat oven to 400 degrees.
2. To prepare each package, place 3 lemon slices in the center for each parchment sheet and top with one sprig of rosemary. Place the salmon portion on top, and then sprinkle with minced garlic. Finish the layering with 3 more lemon slices and 1 more sprig of rosemary. Drizzle with olive oil and sprinkle with salt and pepper.
3. Fold each sheet in half, covering the food. Beginning at the top, ford the parchment paper around the edges tightly in 1/4" folds. Be sure to press as you fold to seal the packets well, or steam will escape.
4. Arrange packets on baking sheet. Bake 14-15 minutes.
5. To serve, cut open the packet and serve directly in the parchment, on a plate.
Bon appetit!
---
Don't miss Dr. Gail Jackson's events:
Happy Hour every 4th Thursday from
5:30pm-8pm
Sip, Savor, Network, and Learn plus visit Sexinista Tiffany in the
Entice Me Sexy Suite.
March 28th LIFE AFTER WEIGHT LOSS… Guest Speaker Dr. Suzan Starler discusses which supplements to use to keep weight off
April 25th READY SET FABULOUS…Secret style tips for being fabulous from Guest Stylist Bobbie Casalino-Lewis

RSVP: 310-451-2300 or info@drgailjackson.com
Special Events:
Saturday, April 13th DESIGNER HANDBAG PARTY to benefit Special Needs Network, 11am to 4pm
Thursday, April 18th PRP FROM HEAD TO TOE. Powerhouse Doctor Trio discussing platelet rich plasma at Skin Matrx, 5:30pm to 7:30pm
Tuesday, April 30th AGING GRACEFULLY. Speaker's Series at Center Club Orange County 6pm-8pm