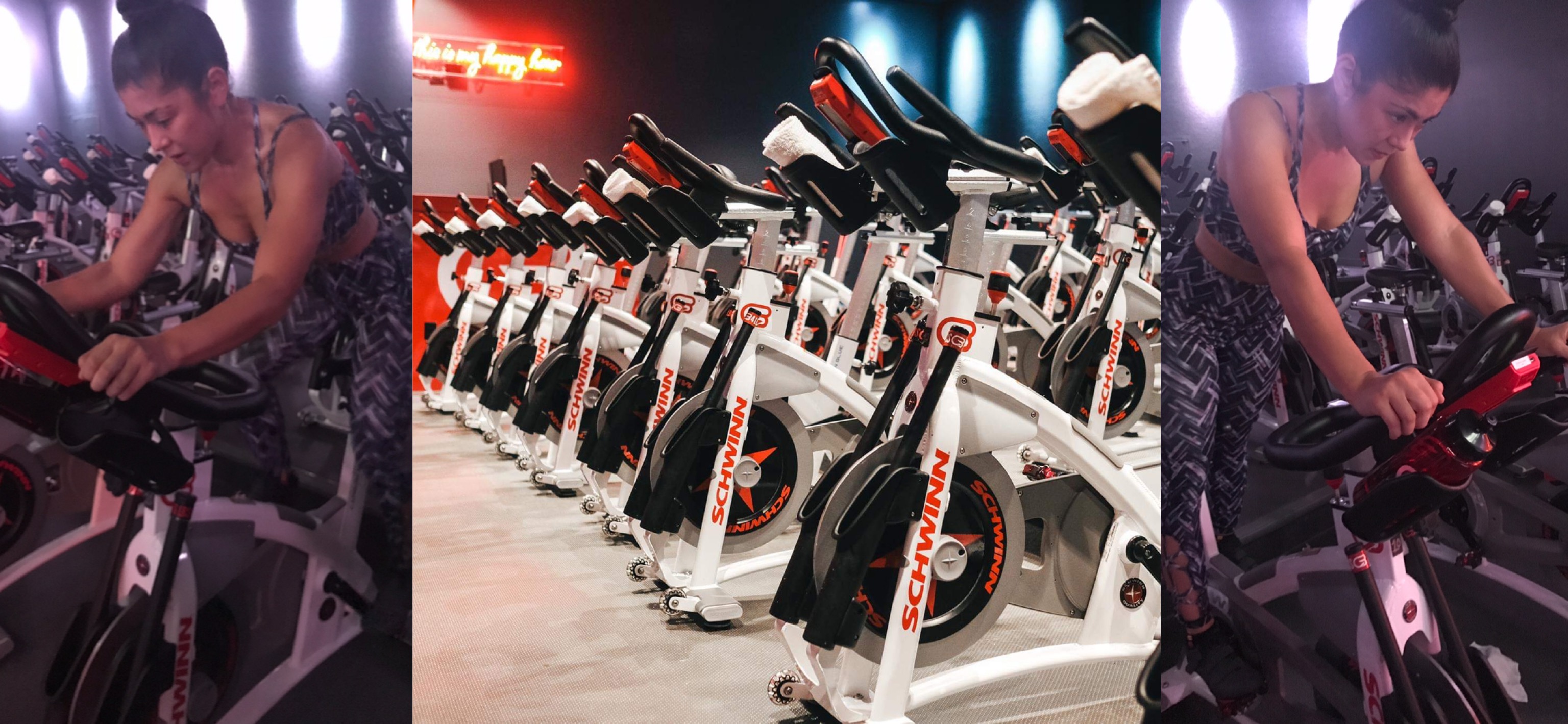 "I don't do gym memberships," is something I constantly say. I have nothing against gyms, but I prefer nature. OCR (obstacle course race) athletes seek the outdoors for sprint and distance running. Training six to seven days a week challenges me to find new workouts to build every muscle in my body. Unfortunately, I hit a wall in my training. My go-to cardio program was becoming repetitive. Instead of leaning out, I was bulking up. I knew that I needed a change going into the 2019 race season.
A friend of mine was in the midst of training for the NYC marathon and I was curious how he mixed up his cardio. "Have you tried Cyclebar?" he asked. I immediately looked it up and signed up for a class that evening with instructor, Austin Bloss.
From the moment I stepped through the door, it was unlike any other class or studio environment I had experienced. You are immediately a part of the Cyclebar family as the staff helps you to fill your complimentary water bottle, set up your bike or pass you a refreshingly chilled towel post-class. Don't compare it to SoulCycle, because it's not that.
"I came from SoulCycle as a rider/front desk worker. I loved Soul and still do, but I was able to find a new love for spin when I discovered CycleBar. With CycleBar, you get the full package. Mind, body, and motivation. You get number references to keep you on track, while still being able to get lost in your 45 minute journey. I like to say 'for the next 45 minutes, take your mind on a journey,'" Austin said.
And what a positive journey it is. Always on the go as an athlete in training, I have never had the capability of meditating. Sitting still just doesn't work for me. But, with CycleBar, I'm able to lock in to a dimly light room, continue moving while simultaneously focusing on me, myself and I for 45 minutes straight. Think of it as "moving meditation." The instructors are all motivating in their own way as they push you through sprints, uphill and cool downs.
With early 6 and 6:15AM classes, I incorporated Cyclebar into my training every other day. Within a week to two week's time, I saw a difference in my leg muscles. I leaned out, while maintaining my muscle. Despite those who say that cycling beefs their leg muscles up, it can actually do the contrary.
Austin said, "Because cycling is low impact on the body, it's a great way to cross train helping to build up endurance and strengthen the cardiovascular system. Some people, women in particular, are sometimes hesitant about spin because they don't want to build up too much muscle. With Spin, rather than bulking, you will actually tone many parts of your body, and strengthen many parts such as your core, gluts and legs. This is a great way to burn calories, shed fat and tone."
(Austin & Aaron (border), Jules, James, Jeffrey (L-R top), Kari, Lauren, Emily (L-R bottom)
When Austin said it was the full package, it truly is. Cyclebar features:
State-of-the-art audio, video, and lighting technology in a studio theater set up.

Your instructor is like a DJ! They tailor playlists to your pace and make it available on Spotify!

You get your stats ASAP after class. They measure the six key metrics of your daily and historical performance, and email you the results after each ride.

Shoes, towel, water bottle all provided! Enjoy fresh fruit or even a glass of wine/cocktail after the "Happy Hour" rides.

And most importantly… FREE PARKING.
I've tried almost every instructor at CycleBar West Hollywood. Austin, James, Aaron, Lauren, Jeffrey, Kari, Jules & Emily. Each one has their own unique touch. Before my races, I make sure to ride with Aaron or James in the early morning for their inspirational narrative throughout the ride. Aaron gives me a great push during sprints, which allows me to exercise my competitive nature. Lauren has an incredible Hip-Hop vibe to her class, and Austin is my go-to for evenings after work. Think of "dancing on a bike."
"I like to turn up the resistance and challenge what our bodies can do! I want my ride to be challenging but not impossible. And, finally, I want my ride to be 45 minutes where my riders can take a step back from their busy lives and focus on just them," Austin said.
Imagine an environment where you can get your daily workout in, improve your mind and body and have fun all at the same time. That is the CycleBar way in a nutshell.
Whether you're an athlete, a hobbyist athlete or just looking for a good sweat, you can't go wrong joining this cycle family.
Find your location:
West Hollywood: