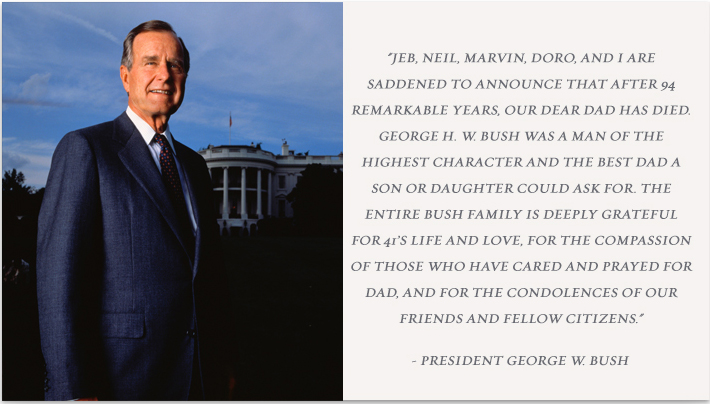 The 41st President of the United States, George H.W. Bush passed away at the age of 94.
He passed away at his home, according to reports. Bush Sr. was the longest-lived American president in history, followed by Jimmy Carter. He served as the 41st President of the United States from 1989 to 1993. Prior to assuming the presidency, Bush served as the 43rd Vice President of the United States from 1981 to 1989. As a member of the Republican Party, he had previously been a U.S. Representative, Ambassador and Director of Central Intelligence.
Statement by President George W. Bush on the death of his father, President George H.W. Bush:
"Jeb, Neil, Marvin, Doro, and I are saddened to announce that after 94 remarkable years, our dear Dad has died. George H. W. Bush was a man of the highest character and the best dad a son or daughter could ask for. The entire Bush family is deeply grateful for 41's life and love, for the compassion of those who have cared and prayed for Dad, and for the condolences of our friends and fellow citizens."
An arrival ceremony involving both the House and Senate will be held at 5 p.m., ET, on Monday, Dec. 3, at the US Capitol, where Bush will lie in state in the Capitol Rotunda until Wednesday morning. Members of the public can pay their respects beginning at 7:30 p.m., ET, on Monday evening, until 7 a.m., ET, on Wednesday, Dec. 5.
Stock markets will also be closed Wednesday to honor the late President.