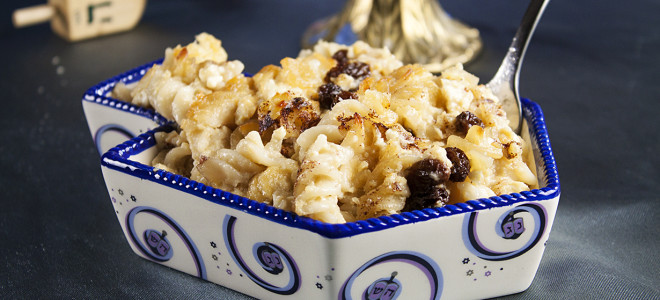 Come Hanukkah, I always crave sweet noodle kugel. My cousin Pearl always made the best kugel and me and my sister requested it when our family would get together around the holidays. Kugel (kugl) is a Jewish tradition that started hundreds of centuries ago. It actually means "ball" in Yiddish, but is really a sweet pudding that looks more like a noodle casserole. The first kugel was made from bread and flour before the Germans replaced bread with noodles. The Polish then implemented raisins and cinnamon (that's why I love it so much). In some Jewish families, the kugel is believed to bring special spiritual blessings if eaten during the Sabbath. Here is the traditional noodle kugel recipe… It's easy to make and great to bring to a holiday party!
Ingedients:
1/2 pound of egg noodles
1/2 stick butter, melted
1 pound cottage cheese
2 cups sour cream
1/2 cup sugar
6 eggs
1 teaspoon ground cinnamon
1/2 cup raisins
Before you begin, preheat your oven to 375 degrees F. Boil the noodles in salted water for about 4 minutes. Take those few minutes to mix the rest of the ingredients in a large bowl. Combine the butter, cottage cheese, sour cream, sugar, eggs, cinnamon and raisins. That's right, just mix everything together with a large spoon. When the noodles are ready, strain them and add it to the bowl. Prepare a 9 by 13 inch baking dish by greasing it with butter or cooking spray. Pour everything into the dish and spread it out evenly. Place it into the oven for about 30 to 45 minutes. Bake until the custard is set and the top is golden brown. Sprinkle a few pinches of cinnamon and sugar on top if you like. Enjoy the sweetness!
Happy Hanukkah!