You will never go wrong if you give your friend or anyone in your family a home fragrance. It is perfect for any occasion and it lasts longer than candles.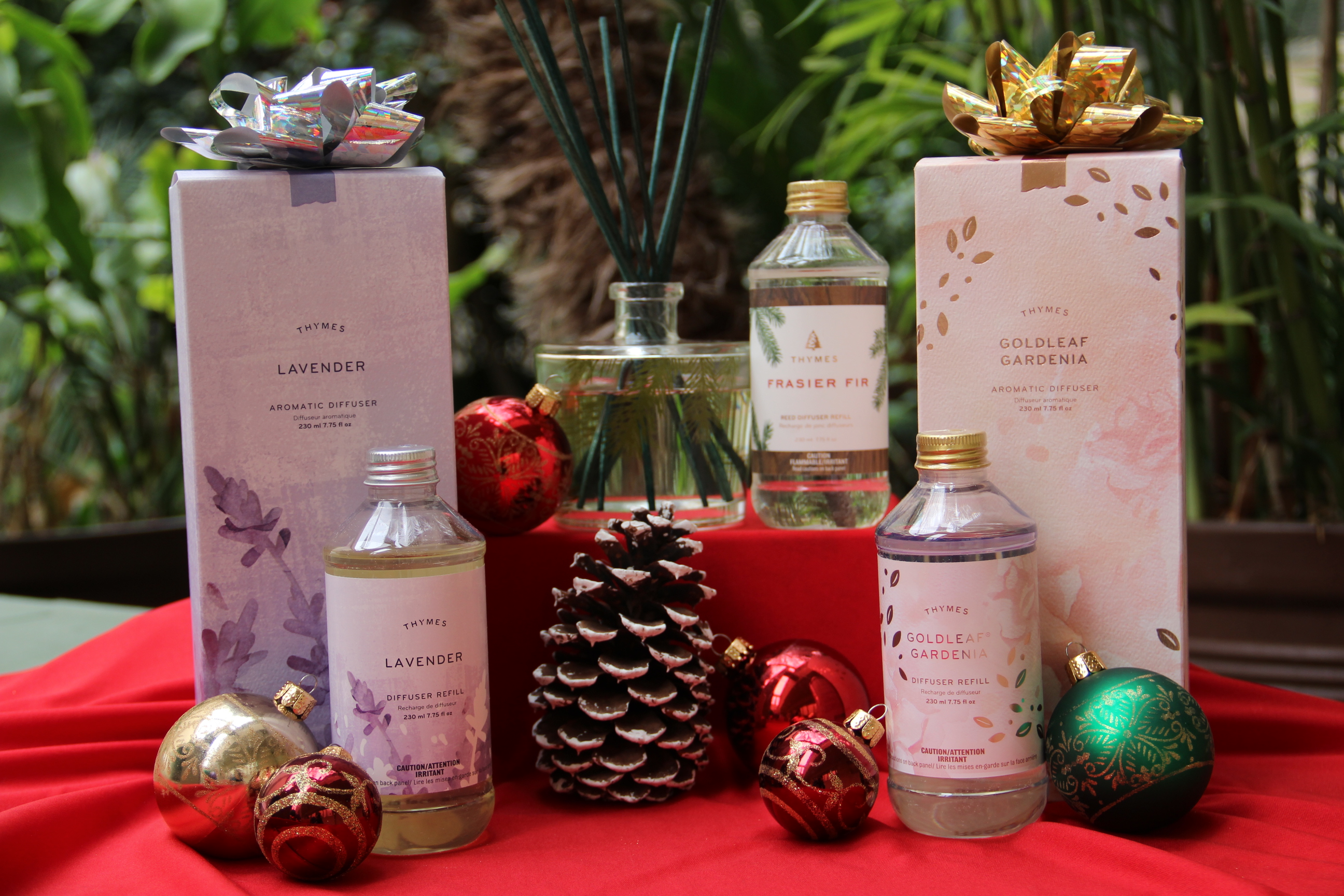 It is equally a fantastic idea for stocking stuffers. I discovered Thymes a few years ago and have remained faithful to the company which offers an array of fragrant gifts from Bath & Body to Home fragrances, which is my favorite. I love the delicate aromas emanating from the diffusers which are so soothing. Thymes was founded 30 years ago by two friends with a mutual curiosity and a common desire to create something meaningful and beautiful. Since then, the company has flourished thanks to a shared passion for creativity, botanical ingenuity, beauty and friendship.
Thymes is an independent company committed to artisan craftsmanship and dedicated to deepening connections through their love of fragrance.
What better time than Christmas to order the Frasier Fir Pine Needle Reed Diffuser and spread the freshly cut forest scent of crisp Siberian Fir needles, heartening cedarwood and relaxing sandalwood through your room. The scented oil is releasing a fresh ambiance to fill large spaces. Truly a classic! 7.75 fl oz / 230 ml $50.00.
I picked up 2 others, Goldleaf Gardenia with recharge and Lavender with recharge. Goldleaf Gardenia Reed Diffuser $42.00 6.5 oz / 190g
Although I adore candles, I love to mix it up with Thymes flameless fragrance. The Goldleaf Gardenia reed diffuser richly scents your surroundings with the modern, yet timeless blend of gardenia, rose and creamy amber. Another favorite of mine is the Lavender Reed Diffuser. The Lavender diffuser fills your surroundings with the herbal, soothing fragrances of lavender, rosewood, violet and sage. $42.00 6.5 oz / 190 g
It is a beauty!