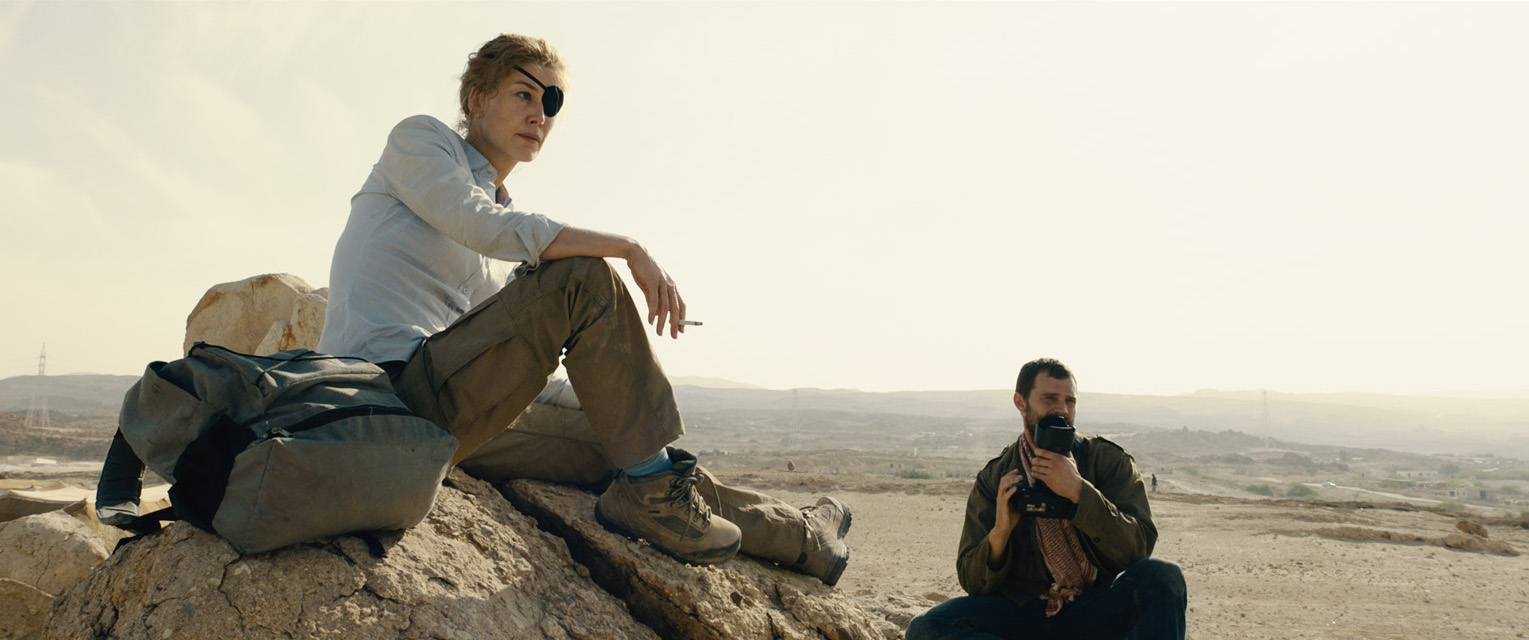 Rosamund Pike continues to impress with yet another potent performance, this time as Marie Colvin, an American expat war correspondent for The Sunday Times who exhibited immense bravery throughout her long and decorated career in "A Private War," a commendable but downbeat bio-drama costarring Jamie Dornan, Tom Hollander and Stanley Tucci.
With his first narrative feature after a critically acclaimed career helming documentaries ("Cartel Land," "City of Ghosts"), director Matthew Heineman capably dramatizes the tragic life and extraordinary career of a woman who risked life and limb to shine a light on the horrors of the world. Working from an exhaustively researched and sweeping screenplay by Arash Amel ("Erased") that glowingly portrays Colvin but also doesn't shy away from her flaws either, Heineman's direction impresses most when centered in the thick of combat, likely on account of his documentarian background. And while, as the title suggests, the filmmakers focus on her inner battles with PTSD as much as her war reporting, moviegoers will find the action sequences to be the most memorable, and Colvin's culpability in her own demise the most frustrating.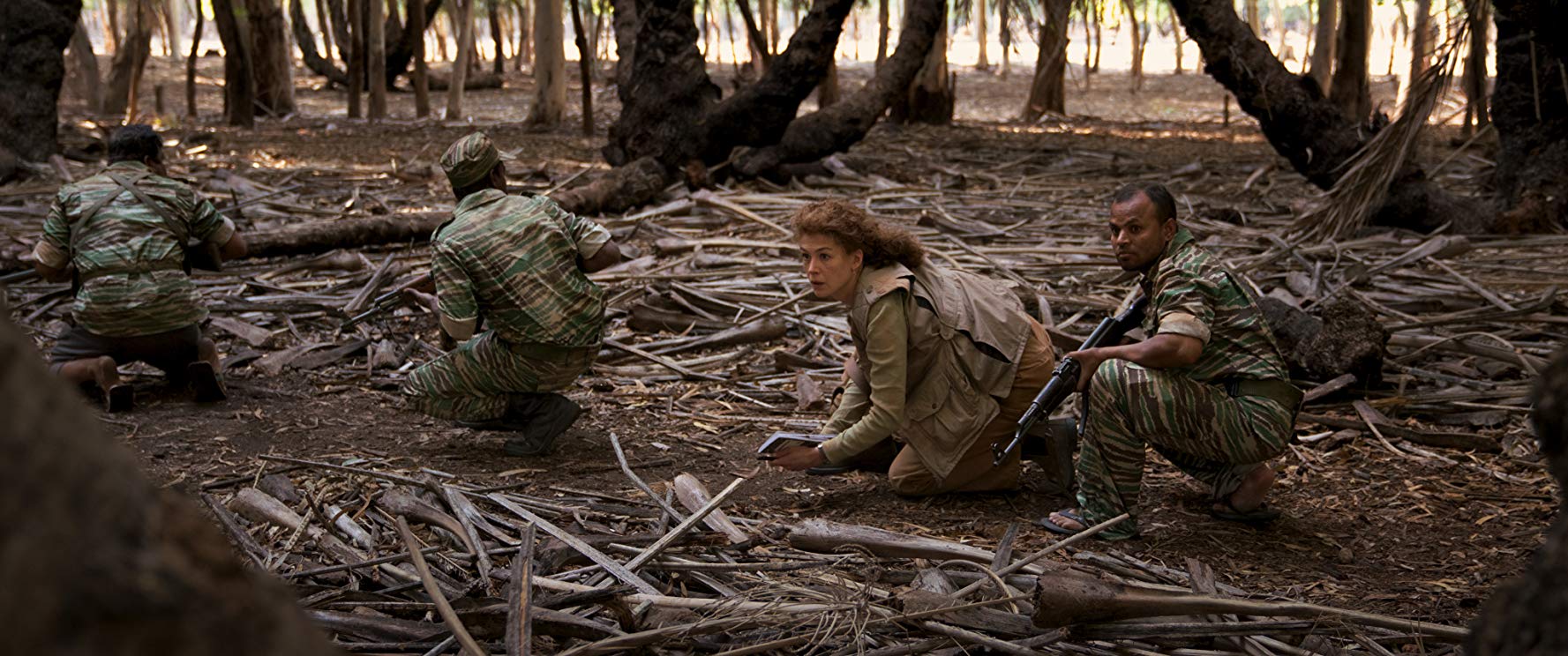 Spanning Colvin's career from the early aughts through 2012, "A Private War" begins in Sri Lanka circa 2001, where Marie Colvin (Rosamund Pike), a London-based war correspondent for The Sunday Times, ignores the nationwide ban on journalists in favor of reporting on the country's overlooked humanitarian crisis. With her reporting complete, Colvin attempts to depart the unstable country but in the process is struck by RPG shrapnel, resulting in permanent blindness in her left eye. But rather than allow the injury to derail her career, and despite the disapproval of her editor (Tom Hollander), Colvin instead uses it to cement her conviction to continue war reporting.
While Marie continues her dangerous mission over the years in such places as Iraq, Afghanistan and Libya, hiring freelance photographer Paul Conroy (Jamie Dornan) to accompany her along the way, some of the psychological effects stemming from her wartime trauma begin to take their toll, leading her to seek treatment for PTSD and panic attacks at a London hospital. Also during this time, Colvin develops a romance with an eccentric businessman (Stanley Tucci) who helps her cope with her psychological scars. But whether she's addicted to the adrenaline of war, or simply compelled to report on these stories of human suffering, Colvin continues to enter increasingly perilous war zones, with tragic results.
Director Matthew Heineman's documentary career feels most evident in his terrifyingly realistic depiction of war, as Colvin embeds herself in one dire situation after another. Screenwriter Arash Amel makes evident in his comprehensive script that Colvin's strengths as a journalist and as a compassionate human being were also the very same traits that led to her undoing, as she repeatedly ignored safety warnings in the service of good reporting, even after she lost her eye on the job. And while audiences will undoubtedly become emotionally invested in not only Colvin's plight but those of her reporting subjects as well, one can't help but become aggravated by her willful pursuit of these tragic stories, and perhaps even question her motives behind the work.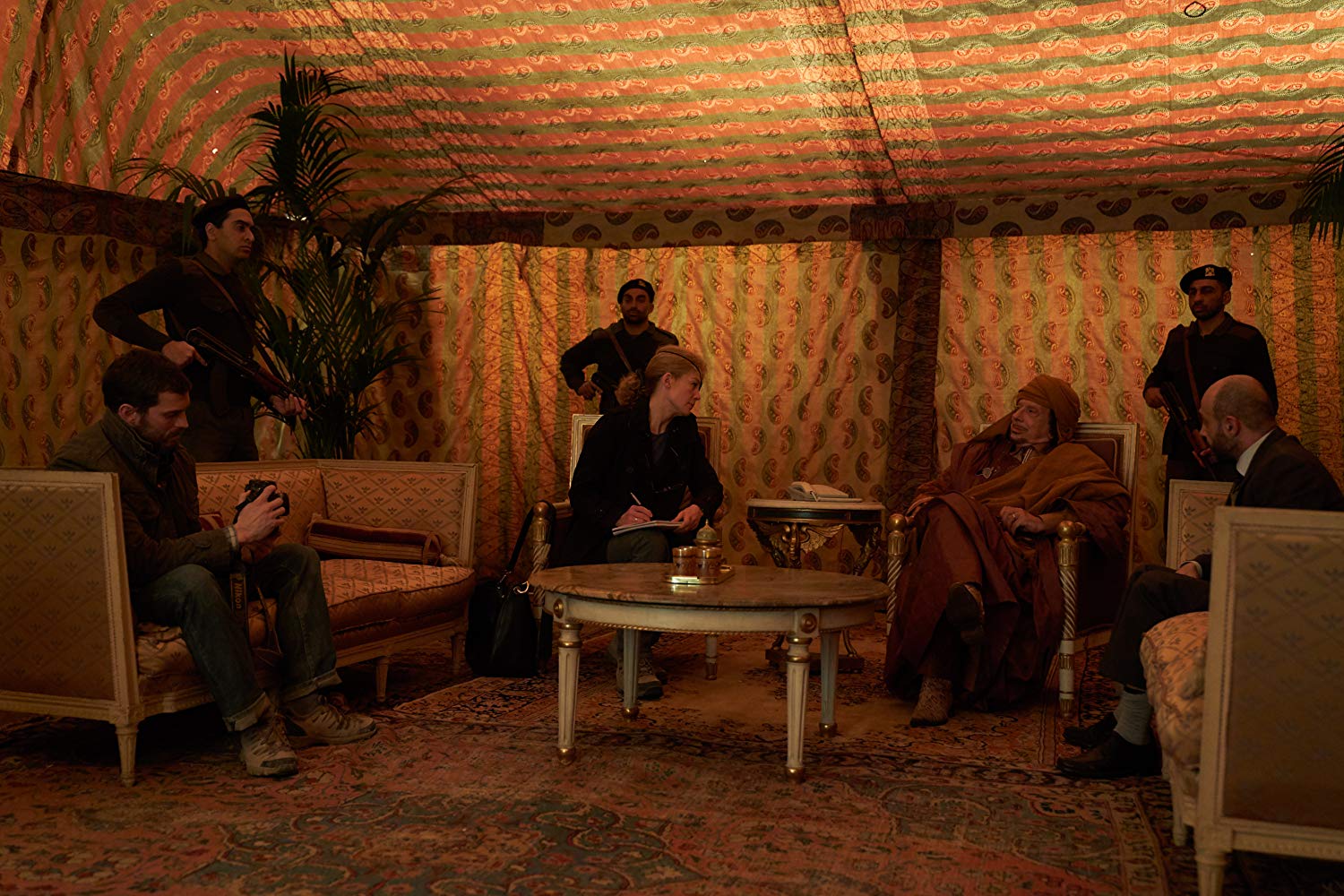 Even though, at this point, actress Rosamund Pike's dramatic bona fides are well-established, she never ceases to amaze, whether playing a traumatized widow in a 19thCentury set Western ("Hostiles") or a scorned wife seeking revenge on her philandering husband ("Gone Girl"), and her fully dedicated portrayal of Marie Colvin is very much on a par with her previous acting accomplishments. The supporting cast of "A Private War" is competent but largely unmemorable across the board, with Jamie Dornan's portrayal of war photographer Paul Conroy standing out the most and Stanley Tucci bringing some charm to the proceedings as Colvin's businessman lover.
Despite the downbeat subject matter, Rosamund Pike's passionate performance of this complicated but committed war correspondent offers audiences a reason to see "A Private War."
By Lucas Mirabella
Running Time: 106 minutes
Rated R for disturbing violent images, language throughout, and brief sexuality/nudity.
https://www.aprivatewarfilm.com