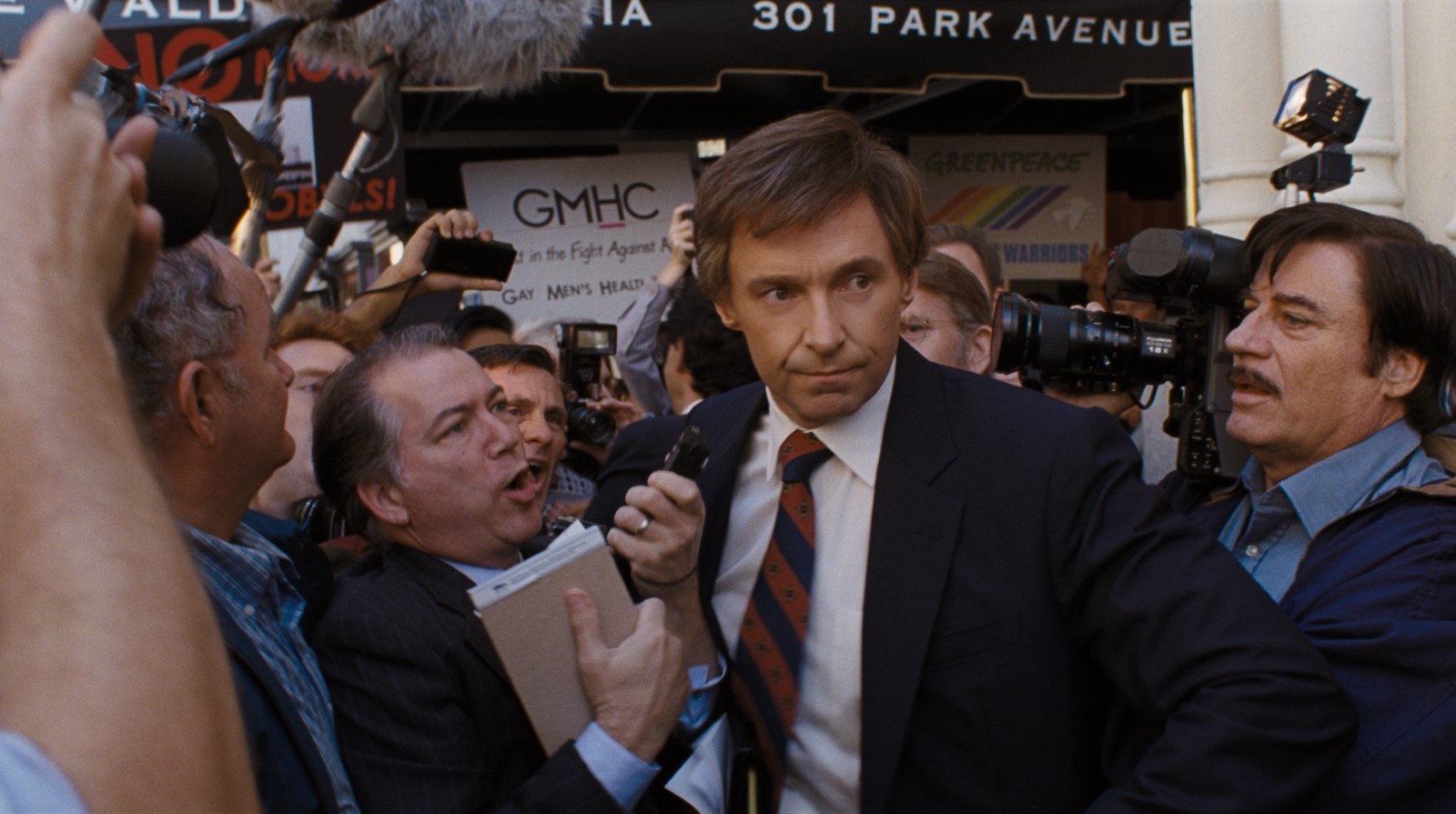 Hugh Jackman sets his sights on the Oval Office as Gary Hart, the 1988 Democratic presidential hopeful whose campaign was derailed by a highly publicized cheating scandal, in "The Front Runner," a decidedly distinctive political biopic with a first-rate cast that includes Vera Farmiga, J.K. Simmons, and Bill Burr.
Directed by Jason Reitman ("Tully"), and based on Matt Bai's book, "All the Truth is Out: The Week Politics Went Tabloid," this daringly shot and deliberately paced drama looks to a moment in the past when politics and tabloid sensationalism first collided, and in doing so, offers insight into how the modern day political circus as we know it came to be. Featuring a wide-ranging script by Bai, Reitman and Jay Carson that offers an in-depth look at a political scandal and its far-reaching effects on everyone from the candidate and campaign team to the media and American public, the film touches on many profound points, but always does so in low-key fashion. But while Reitman's measured approach provides the film with a quiet but forceful impact, the overall story is hindered by its vexing protagonist and the seemingly endless scandal he endures.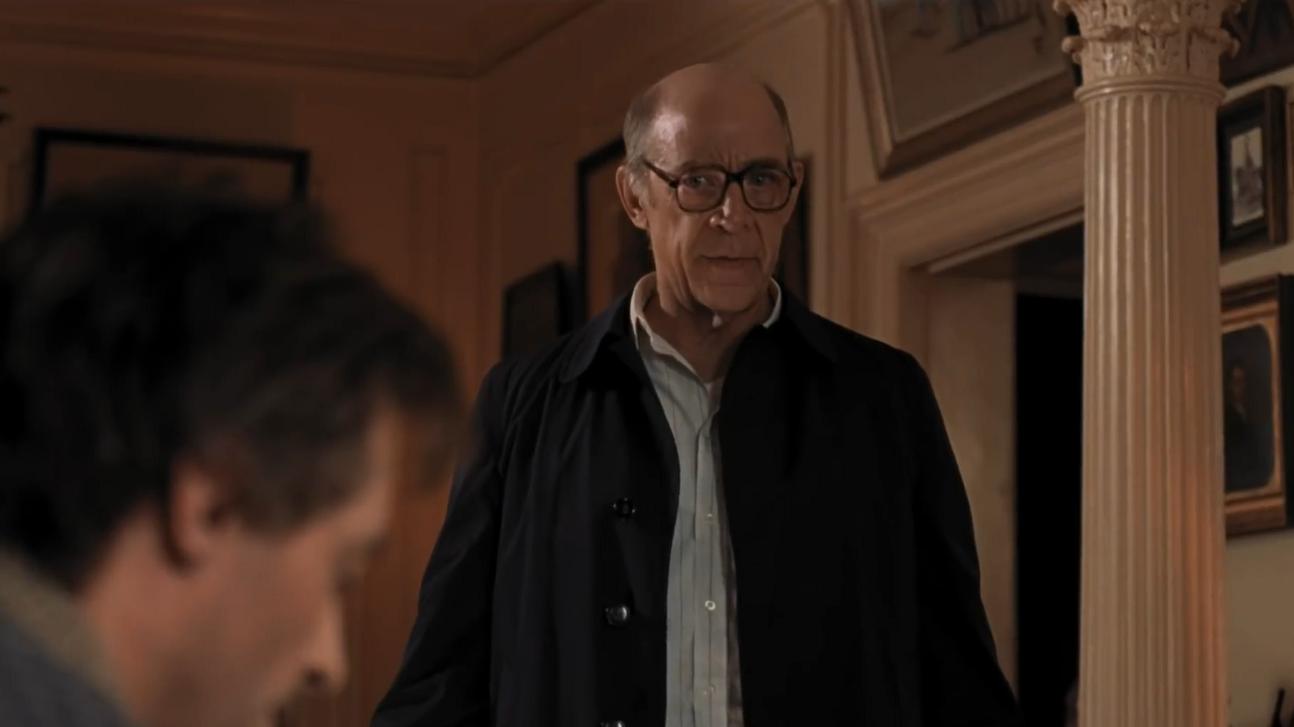 Set in spring of 1987, "The Front Runner" centers on Gary Hart (Hugh Jackman), a charismatic and idealistic Colorado Senator who quickly gains ground as the lead candidate for the Democratic Party's presidential nomination. Running on a platform of social change, environment and technology, and boasting a supportive wife (Vera Farmiga) and a devoted campaign team from the top down, Hart has all the makings of a President, so it comes as little surprise when he races ahead in the polls. However, despite his substantive political ideas and appealing values, Hart also has his shortcomings, the most glaring of which being his fondness for the glamorous lifestyle led by his wealthy friends.
This moral defect leads Hart on an ill-advised trip to Miami, where he parties on a boat called Monkey Business and meets a model named Donna Rice (Sara Paxton) with whom he carries on an extramarital affair. Soon thereafter, prompted by an anonymous tip, two Miami Herald reporters (Steve Zissis and Bill Burr) conduct a stakeout on Hart's D.C. home and uncover enough damning evidence to elevate the rumor to an all-out scandal. As Hart's political team, led by campaign manager Bill Dixon (J.K. Simmons), attempt to protect the candidate from the ensuing media firestorm, audiences watch with equal parts frustration and awe as Hart remains stubbornly on-brand, promoting his political ideals and refusing to acknowledge the surrounding controversy.
With his eighth directorial effort, the second this year after the excellent "Tully," filmmaker Jason Reitman continues to impress with his versatility as a storyteller, and while each of his films are distinct in their own right, "The Front Runner" provides the most obvious example of using style to enhance the narrative. Employing overlapping dialogue and curious long shots that rely on viewers to identify the important action in the frame, both in story and style, "The Front Runner" implores audiences to drown out the white noise and zero in on the essential, something that Hart himself asked of American voters. However, despite the impressive camerawork by Retiman's frequent collaborator Erik Steelberg, the accurate production and costume design that nicely captures the late 80s setting, and the peculiar percussive score by Rob Simonsen ("Foxcatcher"), Reitman's chosen style here occasionally registers as conspicuous to a fault. Also, while the second half of the film rightly focuses almost exclusively on the cheating scandal, the ensuing media frenzy as depicted in Reitman, Bai and Carson's script is agonizing to endure, which may have been the point – to underscore the public's morbid fascination with scandal and the media's need to feed the endless news cycle – but it's not much fun to sit through.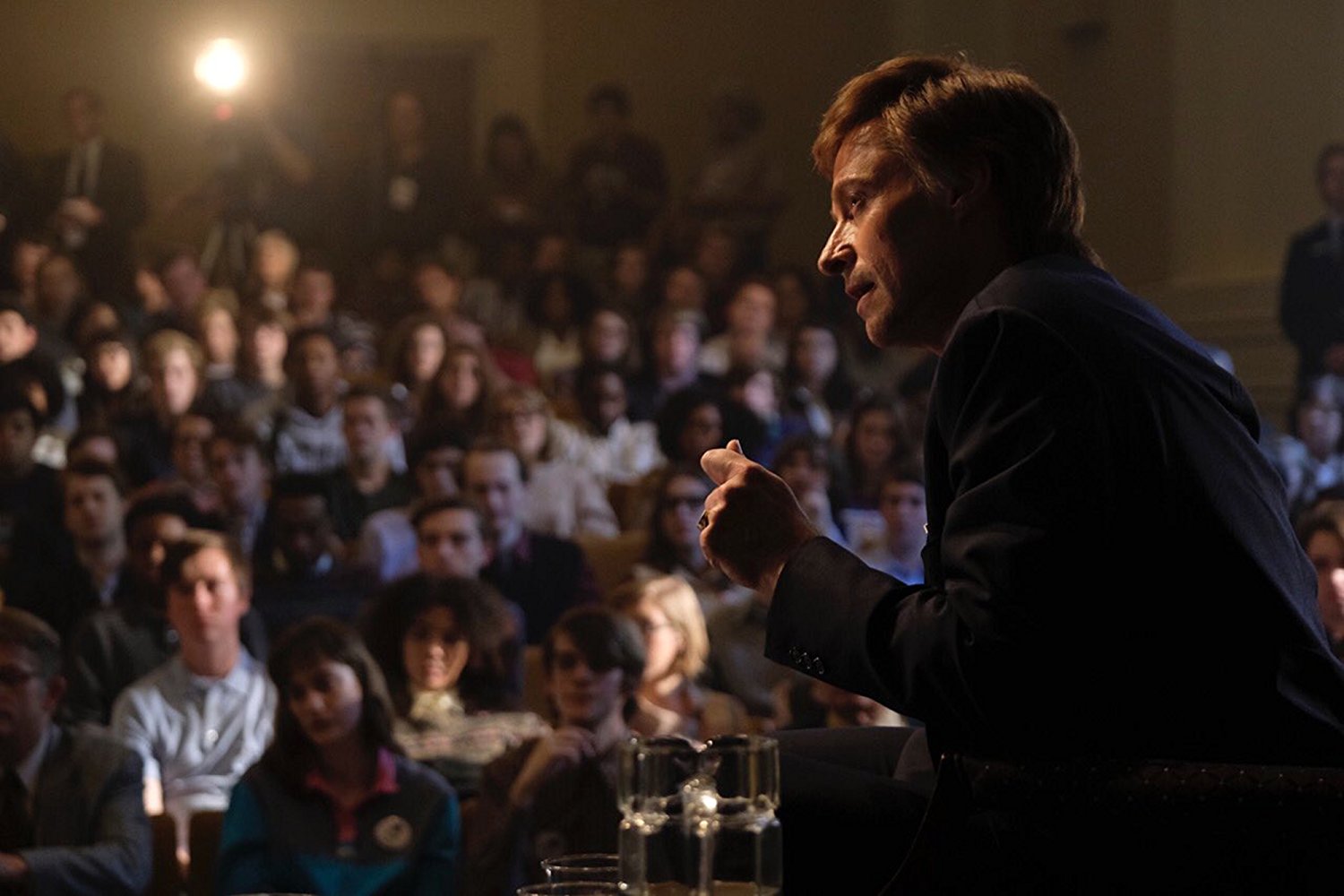 Playing the ill-fated presidential candidate, Hugh Jackman excels as Gary Hart, emphasizing the troubled poltiican's charisma and defiance in equal measure; and while the character's stubbornness and inevitable demise is unlikely to endear Jackman to awards voters, the performance is an impressive feat nevertheless. Also impressing in the acting arena are supporting players Vera Farmiga ("Up in the Air"), who brings pathos to the role of Hart's humiliated wife, Bill Burr as a confrontational Miami Herald reporter and J.K. Simmons as Hart's world-weary campaign manager.
"The Front Runner" uses a political scandal of the past to offer compelling commentary on the present.
By Lucas Mirabella
Running Time: 113 minutes
Rated R for language including some sexual references.