Water advocate and ultra-runner Mina Guli today arrives in London to run her third marathon as part of her unprecedented #RunningDry challenge, which will see her aim to run 100 marathons in 100 days.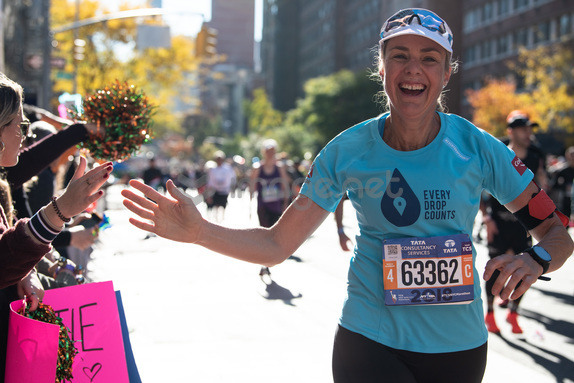 Launched at the New York City Marathon this past Sunday, the #RunningDry challenge will see Mina travel the globe, visiting six continents in her attempt to run 100 marathons in 100 days, finishing back in New York City on 11th February 2019.
Mina is carrying out the endurance challenge for a single simple reason – she wants to raise awareness of the looming global water crisis.
The world is facing a humanitarian crisis on an unprecedented scale. United Nations endorsed projections have shown that there will be a 40% shortfall between supply and the global demand in the availability of fresh water by 2030. The World Economic Forum has stated that global water shortage is one of the biggest issues currently facing human civilisation.
Mina is aiming to complete 100 marathons in 100 days to call on individuals to make a 100% commitment to water saving. The goal is to create a global movement of water-conscious citizens and ultimately change the way that we all consume, use and think about water.
Mina will start her run in London straight off an overnight flight from New York, where she will have run her second marathon in consecutive days. The run in London marks her third marathon as part of the global challenge.
Mina will run from the Thames Path, Staines to Richmond, Surrey via Sunbury-on-Thames in a run that will see her clock up her first marathon on European soil as part of the challenge. The following day will see Mina run along the River Thames from Richmond to Central London before she catches a train to Paris to continue her challenge on mainland Europe.
Upon arrival on mainland Europe, Mina will carry out a series of runs across France & Italy, running through iconic settings in both Paris & Rome before travelling to Uzbekistan to commence the Asian leg of the challenge.
Over the course of the 100 day challenge, Mina plans to run in the UK, France, Italy, Uzbekistan, Hong Kong, China, Dubai, Jordan, Israel, Palestine, Ethiopia, Kenya, South Africa, Australia, Chile, Bolivia, Peru and Mexico.
Speaking at the start of her first London run, Mina commented 'The #RunningDry challenge is a global call to arms to individuals and organisations to work together to save water. The water upon which we all rely to live and survive is running out. The challenge is called #RunningDry as we need to shock people into action by demonstrating the severity of the issue.
I have carried out a series of global running challenges, but nothing on this scale. I decided to run 100 marathons in 100 days to showcase that it is only through 100% commitment that we will make the changes we need to avoid a major humanitarian crisis. We can all help to solve the world's water crisis and my message is that individually and collectively, we can all make a difference.'
Mina, a 48 year-old Australian based in Hong Kong, is no stranger to global running challenges. Last year, she completed the 6 River Run, which saw her complete the equivalent of 40 marathons in 40 days along the world's great rivers. In 2016, Mina completed the 7 Deserts Run, where she ran the equivalent of 40 marathons across 7 deserts in 7 weeks. #RunningDry marks Mina's most ambitious and gruelling challenge to date. Mina's efforts will be supported by her global sponsors Reebok and Colgate.