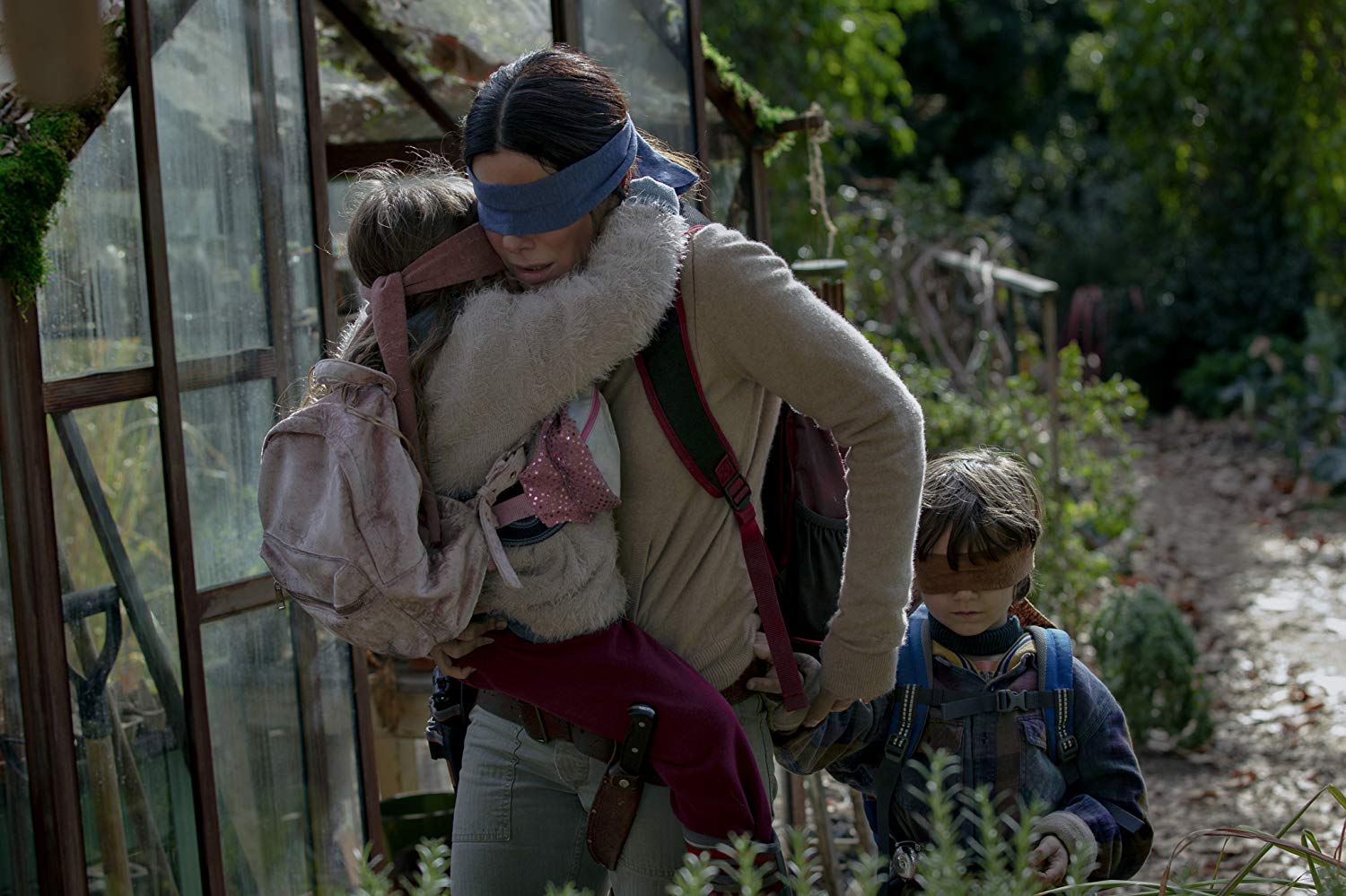 Sandra Bullock is back in the Oscar race with an outstanding performance as a woman trying to navigate a post-apocalyptic America while blindfolded to avoid being exposed to a deathly supernatural presence in "Bird Box," an absolutely riveting sci-fi thriller costarring Sarah Paulson, John Malkovich, Trevante Rhodes ("Moonlight") and Jacki Weaver.
Masterfully directed by Danish filmmaker Susanne Bier ("In a Better World," "The Night Manager") from a nail-biting script by Eric Heisserer ("Arrival," "Lights Out"), this legitimately terrifying vision of a dystopian hellscape is utterly captivating from start to finish. Based on Josh Malerman's 2014 novel of the same name, this brilliantly conceived and constantly unnerving thriller defies easy categorization but is by any measure a stunning feat of filmmaking and marks a high point in the ever-expanding Netflix library. With a string of memorable performances from the well-rounded cast, none more so than Sandra Bullock's mesmerizing maternal role, and an overall quality of filmmaking that consistently impresses, thanks to an Oscar qualifying theatrical run, this suspenser is sure to be a formidable presence on the awards circuit.
Wasting no time grabbing audiences' attention, "Bird Box" begins in a cabin, where a woman named Malorie (Sandra Bullock) instructs her children (Julian Edwards and Vivien Lyra Blair) to either obey her orders or face certain death as they prepare to embark on a blindfolded journey down a river. The story then flashes back to five years prior, when Malorie was still pregnant and leading a fairly ordinary life alongside her supportive sister Shannon (Sarah Paulson). But any sense of the ordinary soon goes out the window when the sisters catch wind of a wave of strange, psychotic behavior in Russia and other far-flung locales. Then one day, while getting a pregnancy checkup at the hospital, this bizarre behavior suddenly hits home, and Malorie and Shannon find themselves surrounded by chaos in the streets, with people committing very public suicides in ghastly fashion.
After Malorie is "separated" from her sister, it becomes clear that this behavior is being caused by some kind of supernatural entity that infects people upon visual exposure, and so she and other survivors (Jacki Weaver, Trevante Rhodes, Rosa Salazar, Lil Rel Howery, Colson Baker, BD Wong) seek refuge at the suburban home of a litigious drunk (John Malkovich). However, with limited supplies and the prospect of infection ever-present, Malorie and her fellow survivors find little solace from the horrors of the outside world. As the number of survivors starts to dwindle, Malorie's situation grows increasingly desperate. In between these tense days at the hideout, the film flashes forward to the characters' treacherous, blindfolded journey down the river.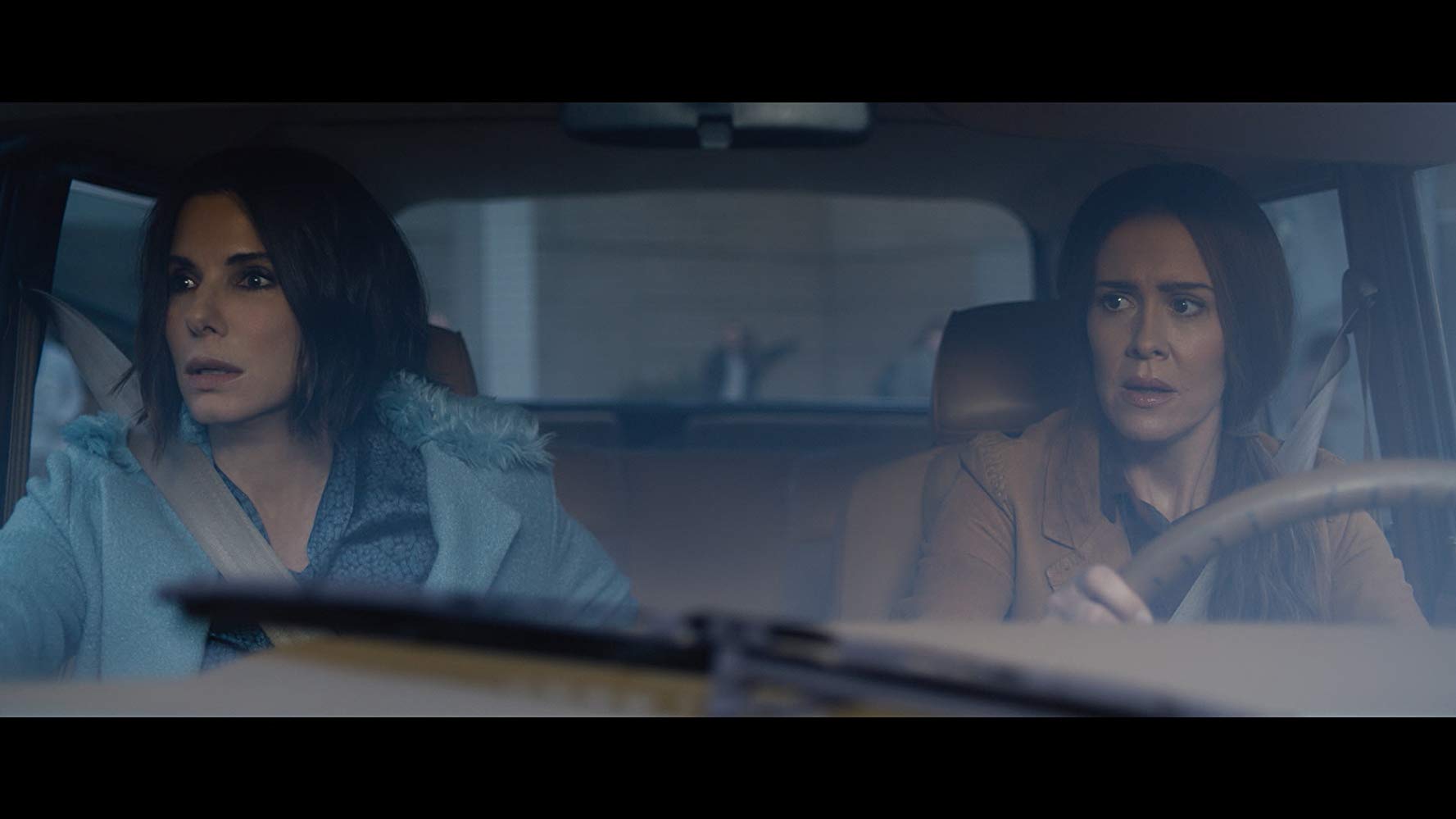 Although "Bird Box" has elements of drama, horror and thriller, it probably fits most firmly within the thriller genre, and director Susanne Bier exhibits a clear command of this cinematic realm as she builds on one unbearably suspenseful scene after another, creating a bone-chilling atmosphere of sustained dread. It is the unseen terror that can often be the scariest, and it's a testament to Bier's perfectly calibrated direction and Eric Weisserer's spellbinding script that the scares of "Bird Box" are so effective, given that they take place entirely off-screen. Helping realize this dystopian landscape is Trent Reznor and Atticus Ross' fright-inducing score, Salvatore Totino's haunting imagery, and expert work from the sound and special effects departments that adds considerably to the unsettling tone. And while some may find fault with the ending and the absence of a big reveal, the film is so supremely spooky throughout that this subversion of audience expectations doesn't diminish the overall experience in the slightest.
Playing an expecting mother in dire straits, Sandra Bullock puts in an extraordinary lead turn that spans the emotional spectrum. Although fear is the main chord she's asked to play, the role nonetheless has many subtle shades, and Bullock delivers an incredibly nuanced performance that is emotionally complex and fully lived-in. As for her fellow survivors, John Malkovich is a delight as a cynical drunk with an understandable distrust of his fellow survivors, Lil Rel Howery offers some levity as an easily spooked grocery store worker, and Trevante Rhodes adds another strong performance to his resume as Malorie's eventual love interest. Sarah Paulson also flourishes in her minimal screen time as Malorie's ill-fated sister, and child actors Julian Edwards and Vivien Lyra Blair excel as Bullock's "children," simply named Boy and Girl.
"Bird Box" is a terrifying thriller that is sure to strike fear in the hearts of audiences and awards contenders alike.
By Lucas Mirabella
Running Time: 117 minutes
https://www.netflix.com/title/80196789
Playing in Limited Theaters beginning on December 13th and available globally on Netflix on December 21st.