Going to A Rod Stewart concert is like going to a reunion of old friends. Everyone there is united in the sense that we all love the music and the man behind the music. We are "forever young," if you'll pardon the pun, because of Rockin' Rod's extensive hit catalogue providing some of the soundtrack to our lives. Covering the show for latfusa, and not with the best seats in the house by the way, I caught Rod Stewart Sunday night in concert at Citizen's Business Bank Arena with opening act Pat Benatar featuring husband and co-writer Neil Giraldo. Pat and Neil did a nice set and her voice sounded great playing her mainstay hits, "Hit Me With Your Best Shot," "Heartbreaker," "I Need A Lover" and "Fire & Ice." They had a stripped-down band of 3 musicians, a bass player, drummer and Giraldo on guitar. Benatar actually did one song alone without the trio and was miraculously accompanied by a full complement of music. This was curious because even when the 3-piece ensemble was playing, you could hear keyboard parts and other embellishments not being played by the musicians on stage. Apparently, digital musical enhancements seem to be the order of the day for some live concerts.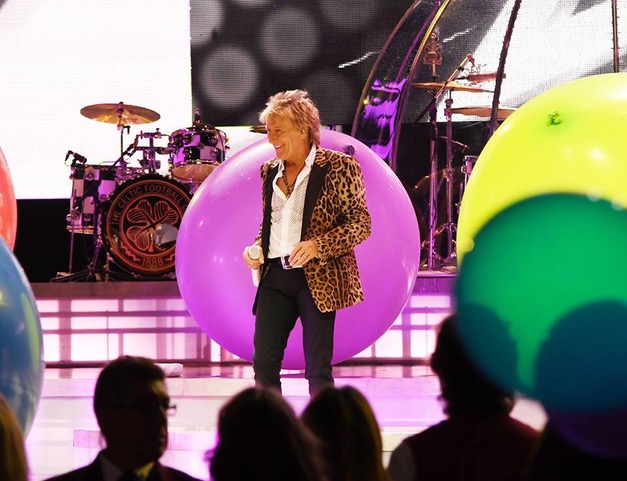 However, when Rod took the stage with his tight band of 9 multi-instrumentalists and 3 female backup singers, you could see that Stewart was old school about his concert and everything was live and in living color. With a black and white checkered curtain and stage theme (See: soccer balls), the band opened with the classic Bar-Kays hit, "Soul Finger," before the singers brought out the main attraction introducing him as; "Sir Rod Stewart." With no music playing and amidst the puzzled mumblings of the crowd, Rod hobbled onto the stage with a huge cast on his right foot. To set everyone at ease he explained that he fractured his foot while playing soccer with his two sons and one of them kicked him. But he assured us that, "I'm here and in good voice so let's enjoy ourselves!" With that we were off and running for the next ninety or so minutes on a walk down memory lane kicking it off with "Infatuation."

And what a journey it was as Rod, even with a busted foot, wiggled, shimmied and entertained us with everything he could muster on a bum leg. Always the showman, Rod refused to let his limited mobility keep him from demonstrating why he is arguably the best front-man ever to lead a rock band. Not one to disappoint his audience, Rod delivered the goods with such classics as: "Having A Party," "Some Guys Have All The Luck" "Do Ya Think I'm Sexy," and "Rhythm Of My Heart." And what would a Rod Stewart concert be without his sing-along anthems like "Tonight's The Night," "You're In My Heart" and the always crowd-pleasing "Maggie May." Rod dug deep into his repertoire with a few like "Downtown Train" and "Forever Young," which were welcome additions to the show, as was another rock 'n roll classic from the early "Faces" days, "Stay With Me." Of course, out would come the obligatory soccer balls that Rod always kicks back and forth between himself and the audience, but Sunday night he had to toss them instead. Nobody seemed to mind though as fans pushed and clawed to get one for a souvenir. Although there is noticeably a slight waning of that raspy voice that we all know and love, and like any athletic type, you can tell, even when healthy he has slowed down a step or two, there is no doubt that at age 73, Rod Stewart is still the most entertaining, charismatic and captivating entertainer still gracing the stage, bar none. Not to mention that, yes, we do still think he's sexy.