Join the Greater Los Angeles MG Walk on Saturday, November 17, 2018 at Crescent Bay Park (Santa Monica, CA).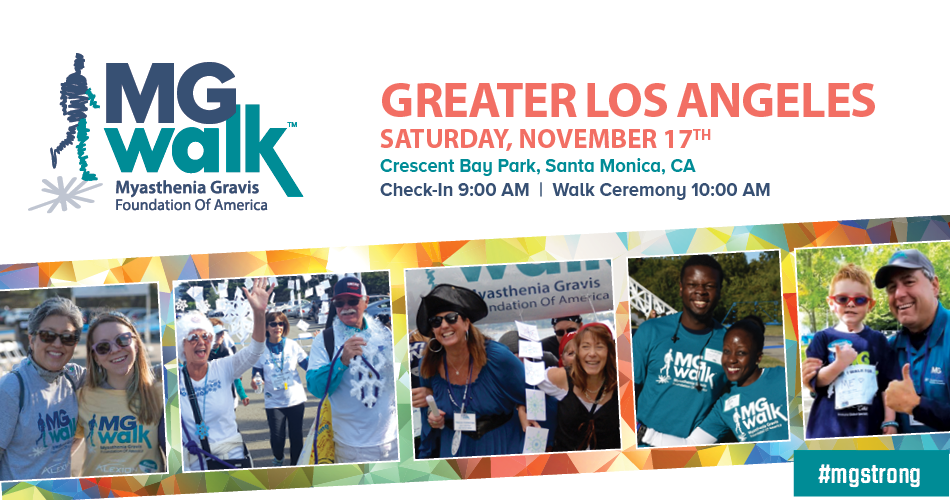 Participants affected by myasthenia gravis will gather to celebrate the lives of MG patients, physicians and caregivers, and walk to raise awareness and funds to support the Myasthenia Gravis Foundation of America (MGFA). At this year's Walk, we will honor Evan Greene as the Greater Los Angeles MG Walk Local Hero. You can learn more about his story here.
What is Myasthenia Gravis (MG)?
MG affects people of any age, race or gender. The most common form of MG is a chronic autoimmune neuromuscular disorder that is characterized by fluctuating weakness of the voluntary muscle groups, and can affect muscles that control eye movements, eyelids, chewing, swallowing, coughing and facial expression as well as the arms and legs. MG can also affect breathing.
Funds raised by the MG Walk Campaign are vital in making the MGFA's vision of "a world free of myasthenia gravis" come to life. The National MG Walk Campaign is celebrating our 8th year of raising funds and awareness for the MG Community, having raised over $5.5 million dollars since our first Walks back in 2011. Funds raised from the MG Walk help support research initiatives, advocacy efforts, programs and services, and resources for those living with MG and their families.
Check-In/Registration: 9:00 a.m.
Walk Starts: 10:00 a.m.
Website:
Phone:
1-855-MGWALKS (855-649-2557)
E-mail: