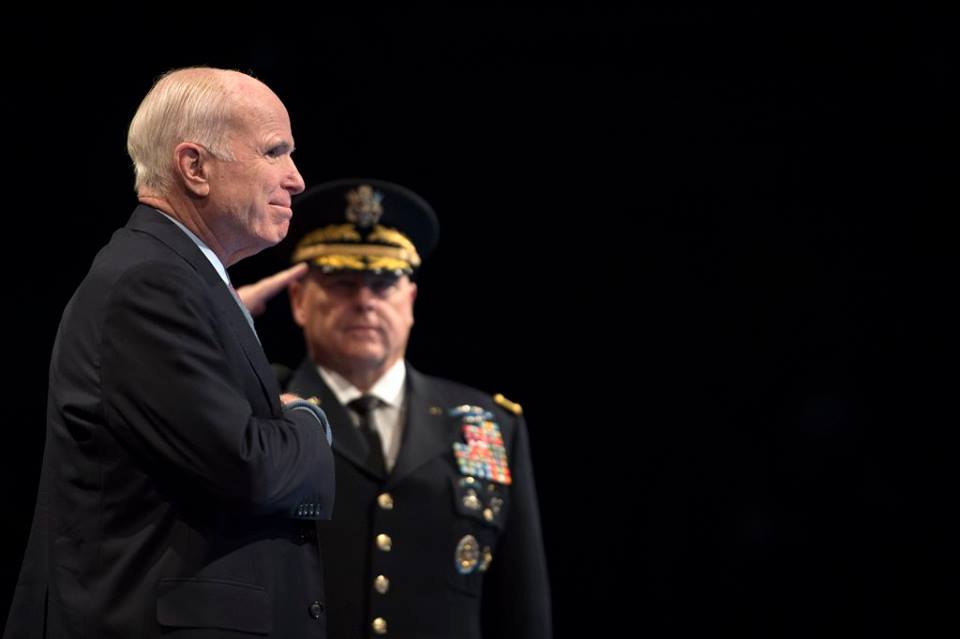 In a statement from the Office of Senator John McCain:
"Senator John Sidney McCain III died at 4:28pm on August 25, 2018. With the Senator when he passed were his wife Cindy and their family. At his death, he had served the United States of America faithfully for sixty years."
John McCain was 81 years-old. He was diagnosed with brain cancer a little more than a year ago.
Following in the footsteps of his predecessor, Senator Barry Goldwater, Senator McCain joined the Armed Services Committee when he was first elected to the Senate in 1986. A veteran who was once a fighter pilot and prisoner of war, the Senator became an independent voice in the Republican Party and its 2008 presidential nominee.
Serving as Chairman of the International Republican Institute for 15 years , Senator McCain worked t o support democratic societies that are open, responsible, accountable and resilient. He traveled overseas frequently and had established relations with heads of state, opposition leaders, military leaders, and political activists the worl d over. From Burma to Belarus , Ukraine to Iran, he was a tireless champion of the oppressed.
As a well – known veteran in Congress, Senator McCain enjoyed a special standing among American service members and veterans from all across the country , including many who r egularly sought his assistance. His staff responded to all who reached out regardless of their home state, and as a result, Senator McCain's office worked far more veterans – related cases than any other office of the Senate. Following the 2014 crisis in veterans' health care, Senator McCain's team handled more than 17,000 cases for veterans around the globe. Many receive d long – overdue health care, and many c ases led to the instatement or reinstatement of millions of dollars' worth of benefits owed to veterans, seniors, students and taxpayers.