Dip them in a chocolate milkshake (That's what i do), dip them in ketchup, dip them in mayo… whatever you like, just make sure you dip TODAY on National French Fry Day!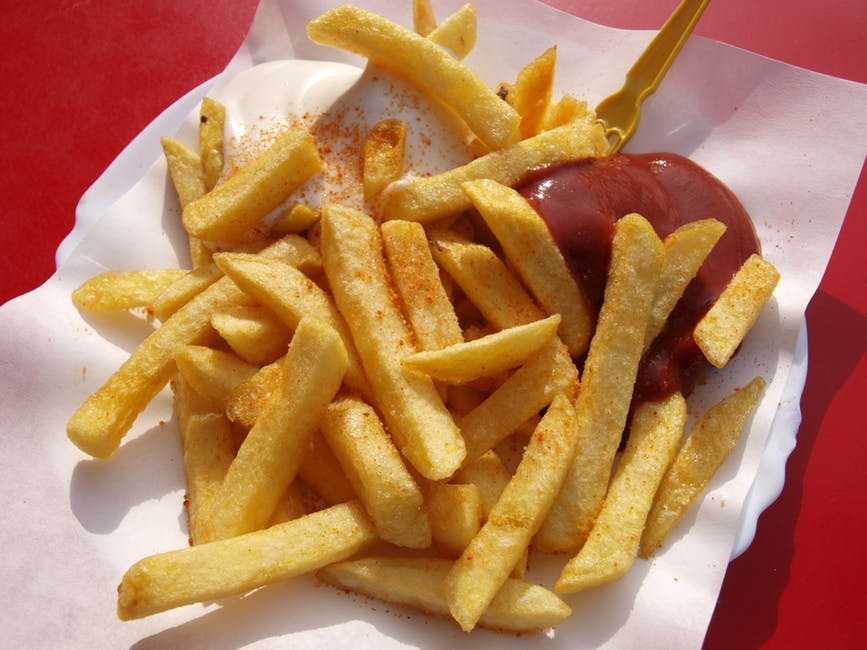 Get them for free at these delish establishments or make them your own (see recipe below)!
McDonald's: With a coupon on the fast-food chain's app and a $1 or more purchase, get a free medium fries Friday.
IHOP: The chain's new Ultimate Steakburgers come with unlimited fries.
Del Taco: Get a $1 off Loaded Fries Friday through July 20 at participating locations nationwide with a coupon available at www.deltaco.com/fryyay.
Dunkin' Donuts: For a limited time, Donut Fries are $2 at participating restaurants nationwide.
Burger King: With a coupon in the restaurant's app, get two small orders of fries and two Original Chicken Sandwiches for $4.99.
Applebee's: For a limited time, all-you-can-eat "Riblets & Tenders," including unlimited amounts of fries, are $12.99.
Carl's Jr.: Get a coupon for a free small fries and beverage with the purchase of any Six Dollar Burger for joining the chain's email list.
Fry away at home for your summer BBQ:
Better Homes & Gardens have a great fry-from-scratch recipe…
1. Prepare the Potatoes
The ideal homemade french fries have a crisp, golden exterior and a light, mealy interior. Russet or Idaho potatoes (high-starch potatoes) will give you the best results, although Finnish yellow, Yukon gold, or other all-purpose potatoes will work. Low-starch potatoes, such as round red or white or new potatoes, are the least preferable. For four to six servings, start with 4 medium baking potatoes (or sweet potatoes), or about 1-1/2 pounds. Usually potatoes are peeled, but you can leave the peel on. To prevent peeled potatoes from darkening, immerse them in a bowl of ice water.
The trick for uniform fries is to first cut the potato into a rectangular shape by cutting off both ends. Next, cut straight down one side to make a flat surface. Repeat on the other three sides so you end up with a rectangular potato. Next, cut the potato into 1/4- to 3/8-inch strips. Soak strips in a bowl of ice water.
If you prefer, you can cut the potato into thin wedges. Try to cut them so they are about 1/2 inch wide at the widest part of the potato. These homemade fries will be extra crispy.
2. Heat the Oil for Frying
It's important to use an oil suitable for deep-frying when making fries. Some oils, such as olive and flaxseed, are not appropriate because they have low smoke points (325°F and below) and will smoke, discolor, and break down at low temperatures. Oils with a higher smoke point (396°F to 414°F) that work well for deep-frying include canola and peanut.
One of the secrets for deep-frying foods is to keep the fat at a constant high temperature. This is best done by using a heavy, flat-bottom pan and a deep-fat thermometer to monitor the oil temperature. In a heavy deep 3-quart saucepan or fryer, heat oil to 365°F (the pan should be no more than half full).
3. Fry the Potatoes
Preheat oven to 300°F.
Drain the potatoes well. Using paper towels, pat the potatoes thoroughly to dry.
Fry the potatoes, about one-third at a time, until tender in the centers and edges are crisp and golden brown, about 5 to 6 minutes, turning once.
Using a slotted spoon, carefully remove the fries from the hot oil and transfer to clean paper towels to drain. Sprinkle with salt, if desired. Keep the cooked fries warm on a baking pan in the oven while frying remaining potatoes. Click here for more tips on deep-fat frying.
For more CLICK HERE