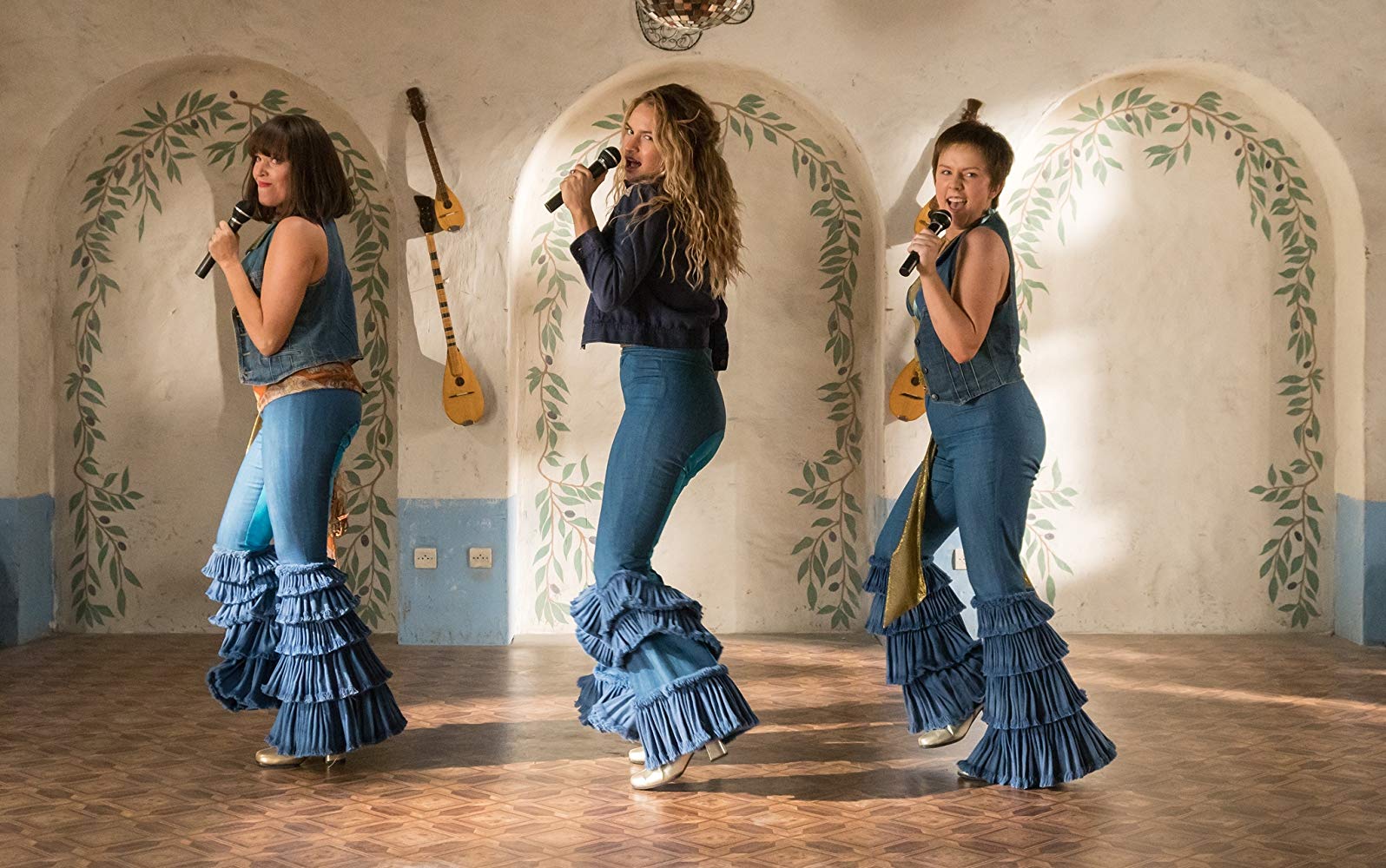 A full decade after "Mamma Mia" took the international box office by storm to the tune of $600 million, the entire cast has returned for another round of Mediterranean magic in "Mamma Mia! Here We Go Again," a spirited sequel strictly for musical lovers.
Written and directed by "The Best Exotic Marigold Hotel" screenwriter Ol Parker, with story credits to Parker, Richard Curtis and Catherine Johnson, this lively return to the Greek Island of Kalokairi is part sequel, part prequel, and all sundrenched pleasures. Boasting a plethora of enthusiastic performances from the spectacular cast, an easily digestible origin story that sheds some light on the likable characters, and an embarrassment of impressively choreographed musical sequences based on the songs of ABBA, "Here We Go Again" rightly adheres to the original recipe and will likely reap similar box office rewards for doing so. If you aren't a fan of musicals, this film will not convert you – in fact, it may even strengthen your hatred for the genre – but for those willing to be whisked away by its joyful overload, it hits the spot. The addition of Cher and Lily James to the cast certainly doesn't hurt.
Jumping back and forth between past and present, "Mamma Mia! Here We Go Again" kicks off in 1979, when the younger versions of Donna, Tanya and Rosie (Lily James, Jessica Keenan Wynn, Alexa Davies) – aka Donna and the Dynamos – are traveling across Europe en route to their destined location of Kalokairi. Along the way, Donna meets her three love interests and possible biological fathers of her eventual daughter Sophie (Amanda Seyfried) – Harry, Sam, and Bill (Hugh Skinner, Jeremy Irvine, Josh Dylan), the latter of whom transports her to the magical Greek island on his sailboat. Once there, Donna finds work singing in the taverna while awaiting the arrival of her firstborn.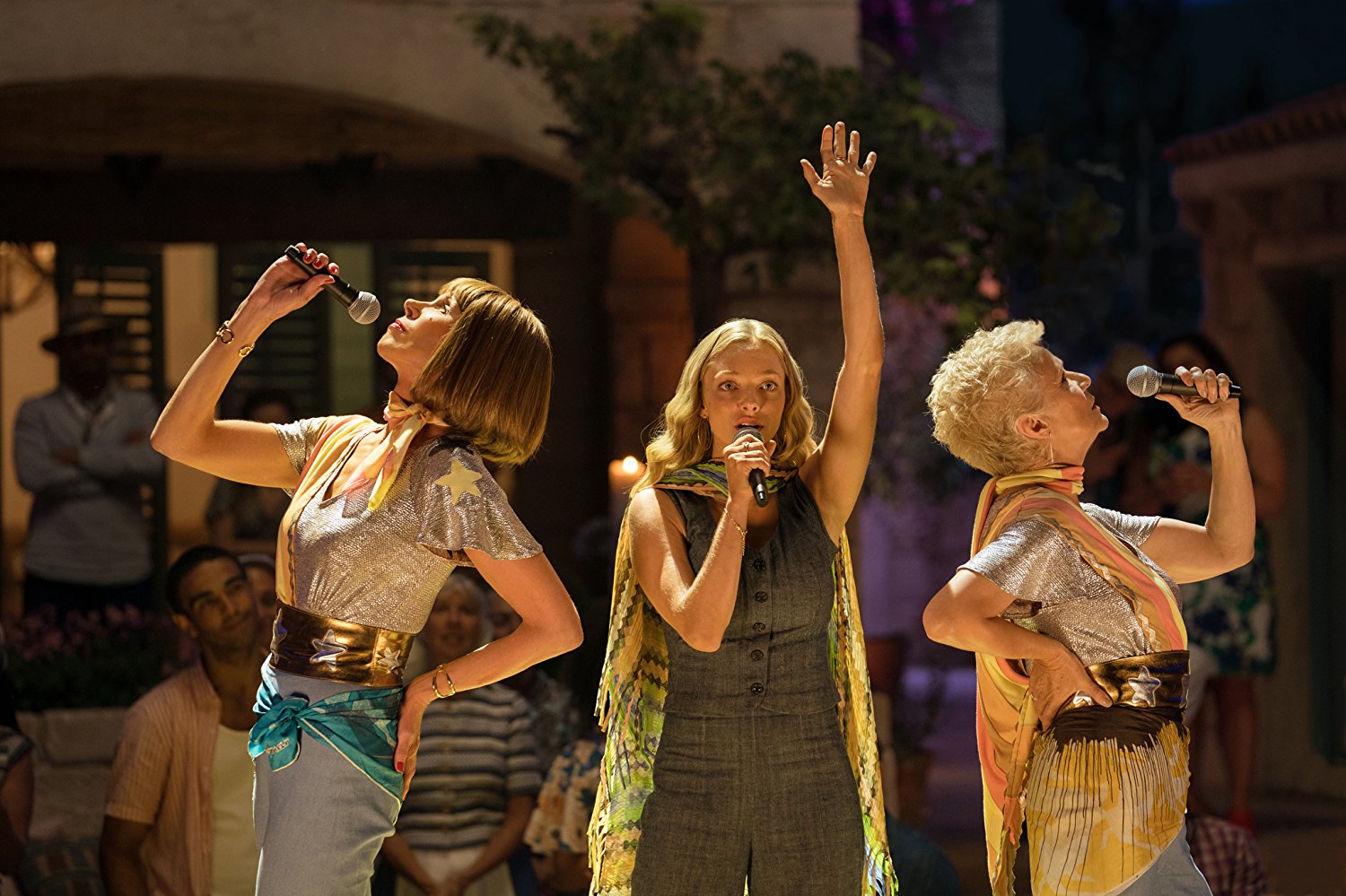 Moving to the present, daughter Sophie has dedicated her life to transforming the taverna into an idyllic resort called the Hotel Bella Donna in honor of her mother (Meryl Streep). But as the grand opening approaches, a storm threatens to wipe out all that Sophie has worked so hard towards accomplishing. But with the help of some old friends, her grandmother Ruby (Cher) the incomparable hotel manager Señor Cienfuegos (Andy Garcia), and the almighty power of miracles, Sophie's troubles are short-lived, leading to unrestrained celebrations of life and love.
Writer-director Ol Parker follows in the footsteps of the original film by putting a premium on extravagant musical sequences over narrative satisfaction, with each scene essentially serving as an excuse to break into song and dance. Granted, that is the musical genre in a nutshell, but here the storyline seems even flimsier than usual. Still, for fans of the franchise, there is no shortage of diversionary pleasures in this sequel, with the picturesque cinematography by Robert Yeoman ("The Grand Budapest Hotel") adding considerably to the proceedings.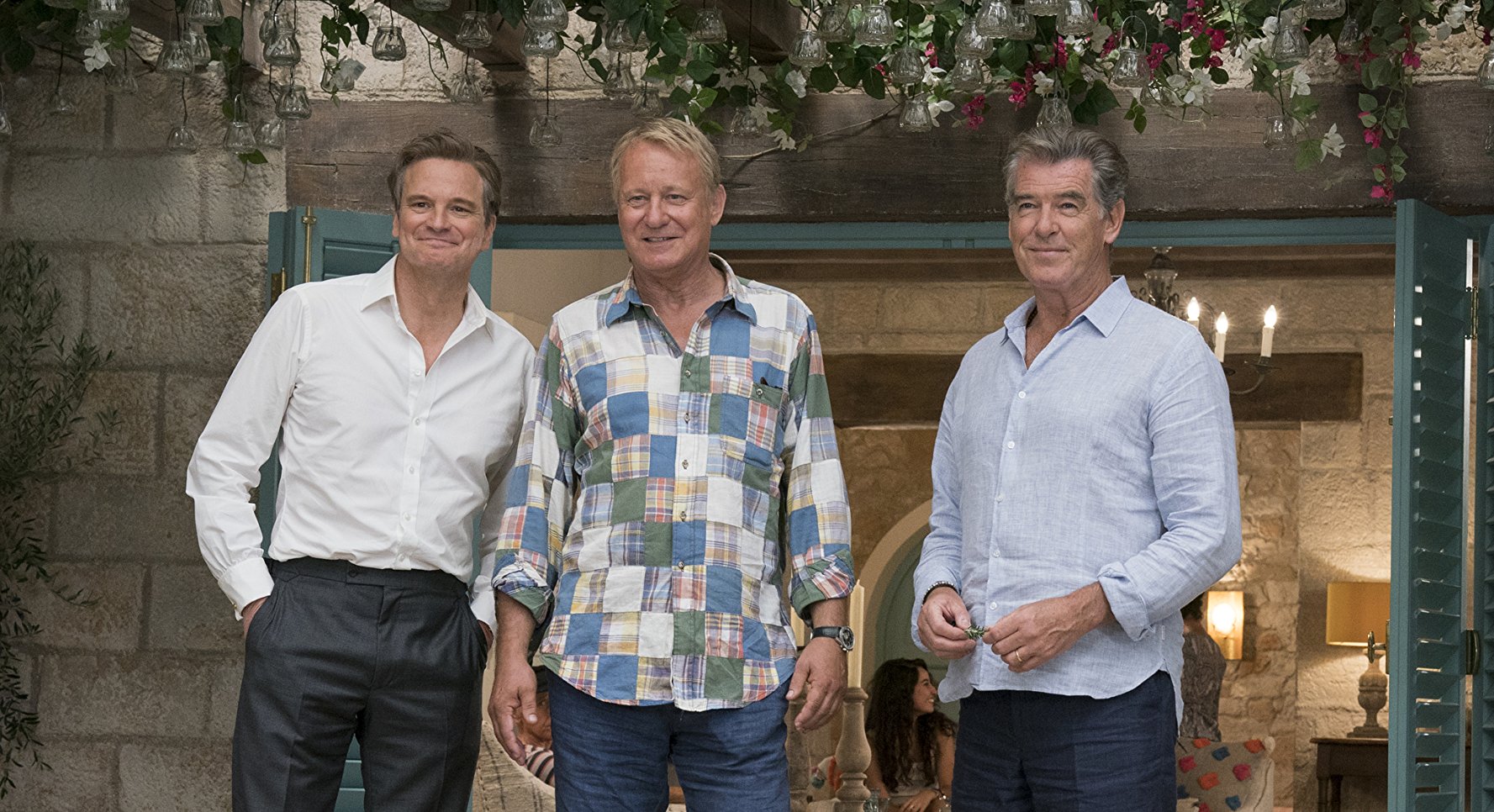 Much like the original, the talented ensemble cast carries this follow-up film to its vibrant crescendo, nailing the musical numbers every step of the way and fully embodying the material's exuberant spirit. Playing Donna's dedicated daughter, Amanda Seyfried is her usual effervescent self, carrying the present day scenes with ease, while her three potential biological fathers – Hugh Skinner, Jeremy Irvine and Josh Dylan for the younger versions; Colin Firth, Stellan Skarsgård and Pierce Brosnan for the older – each hit every one of their respective notes. Christine Baranski and Julie Walters return with their usual levels of glee to portray Tanya and Rosie, while Jessica Keenan Wynn and Alexa Davies inhabit the youthful versions of these characters with equal enthusiasm. And while Meryl Streep's presence in this version is sadly limited, Lily James dominates much of the sequel with her charming turn as young Donna.
Musical fans will relish the whimsical delights of "Mamma Mia! Here We Go Again."
By Lucas Mirabella
Rated PG-13 for suggestive material
Running Time: 114 minutes