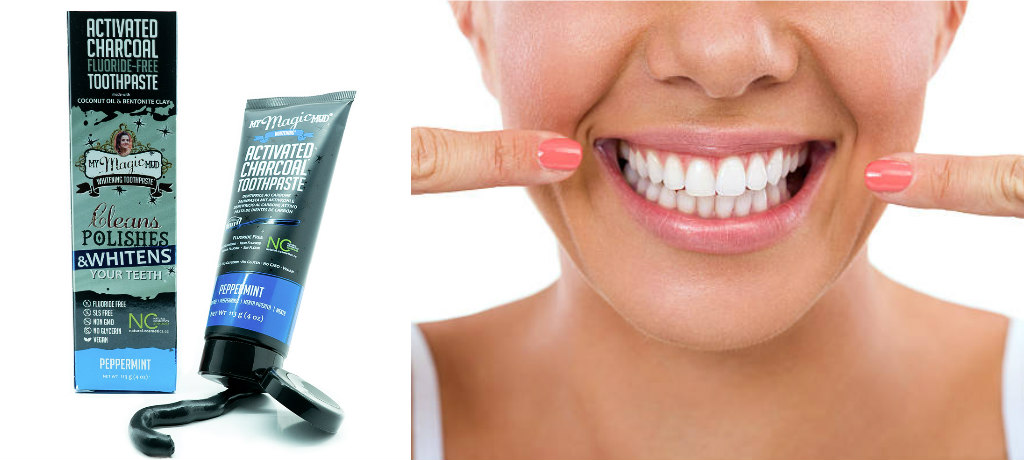 Charcoal has officially made its debut in the beauty industry. You can find it in skincare, specifically masks. Super-efficient, it is known to unclog pores by pulling dirt and bacteria, as well as reduce acne. Konjac sponges are based on charcoal and one of the hottest must-haves in Asia. These natural sponges are soft and perfect for sensitive skin. The Konjac sponges gently exfoliate while the added charcoal draws out all sorts of impurities from your skin.
You find charcoal in home cleaning products and now it has become a trend to use as a teeth brightener! Yes, the teeth! Let's face, it who does not want to have the brightest teeth?
I recently came across My Magic Mud's Activated Charcoal Whitening Toothpaste. Although, I wonder how can charcoal help give you the whitest smile? If in fact it did work, this would be worth a try…. so, I went for it. I first researched the benefits of charcoal online and I have to admit that the more I read about it, the more I was getting cold feet.
Our publisher, Michele Elyzabeth tried it herself! Watch below!
My Magic Mud is the fastest growing non-toxic and all-natural personal oral care brand in the world. It uses safe, eco-friendly, organic ingredients in every product. Created out of necessity by the founder, My Magic Mud is extra sensitive to sensitive teeth and still gets the job done by cleaning and whitening. Dentists absolutely love it, and according to many, My Magic Mud products were significantly more effective in removing stains than the American Dental Association (ADA) reference material.
After two weeks of using this magic toothpaste, I have to agree. It is messy at first but it works and that's all what matters. It comes in 2 flavors: Mint and Cinnamon clove.
Also recommended: My Magic Mud Activated Charcoal Alcohol-Free oral rinse with Ro water, Xylitol and Turmeric. It is gentle, effective and promotes optimal oral hygiene.