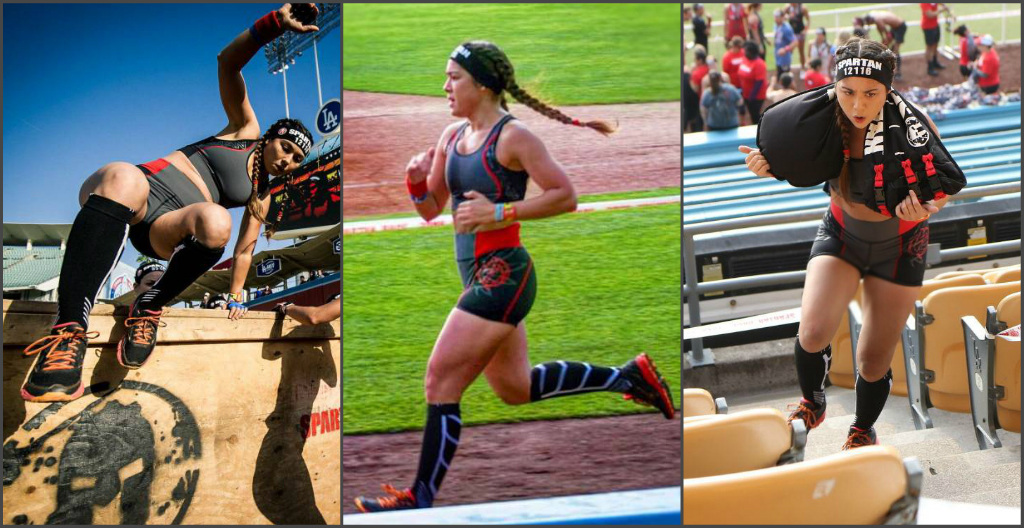 Pamela Price at Spartan Race's Dodgers Stadium Sprint in Human Octane (Photo: Spartan/Juan Carlos Arvelo/Elite Photo Group)
#OCR… what does that stand for? #OCRtraining… what is that? It's: Obstacle Course Racing. Not only is it a sport that is rapidly growing in popularity due to Tough Mudder and Spartan Race, but it has most definitely become a culture. You may not be a professional athlete, but if you yearn to test your strength and body's limits through fitness; OCR life might just be the thing for you. I discovered my passion for OCR after completing the full 10 mile, 21+ obstacle Tough Mudder course here in SoCal. It took one mud crawl and I was hooked.
When I think back to my first race, I always recall one major problem: what I was wearing. I ran in long Nike bike shorts and a black sports bra that looked sleek, but barley supported me through the sand and mud. Constantly pulling up my shorts and adjusting the top, I knew I had to step up my apparel game for the next race.
It wasn't until my third OCR for Spartan Race's Elite Women's Sprint at Dodgers Stadium that I finally found the gear that performs perfectly for the OCR athlete: HUMAN OCTANE. After watching some of my favorite OCR athletes, such as Emilee Smith and Ally Reite sport the stylish apparel brand, I decided to learn more about it and try the clothing myself…
From corporate to courses, Brent Kocal ditched the suit and tie and founded Human Octane in order to design an athlete's apparel brand that can enhance one's OCR performance.
"The spark came to me in the middle of a hellacious barbed wire crawl at the 2015 Spartan Race World Championship. I remember looking around at all of the other athletes running the course that day and recognizing all of them were wearing gear designed for some other sport that kinda sorta worked well enough for OCR. It turns out that nobody made apparel to meet the demands of OCR at the time. Like a lot of entreprenuers, I built what I wanted to use for myself but couldn't find," Brent said.
From cycling shorts to Human Octane's Elite Compression Shorts, I could feel the drastic difference in the design and fabric. Brent's design team uses a unique techique that molds to the athlete's body.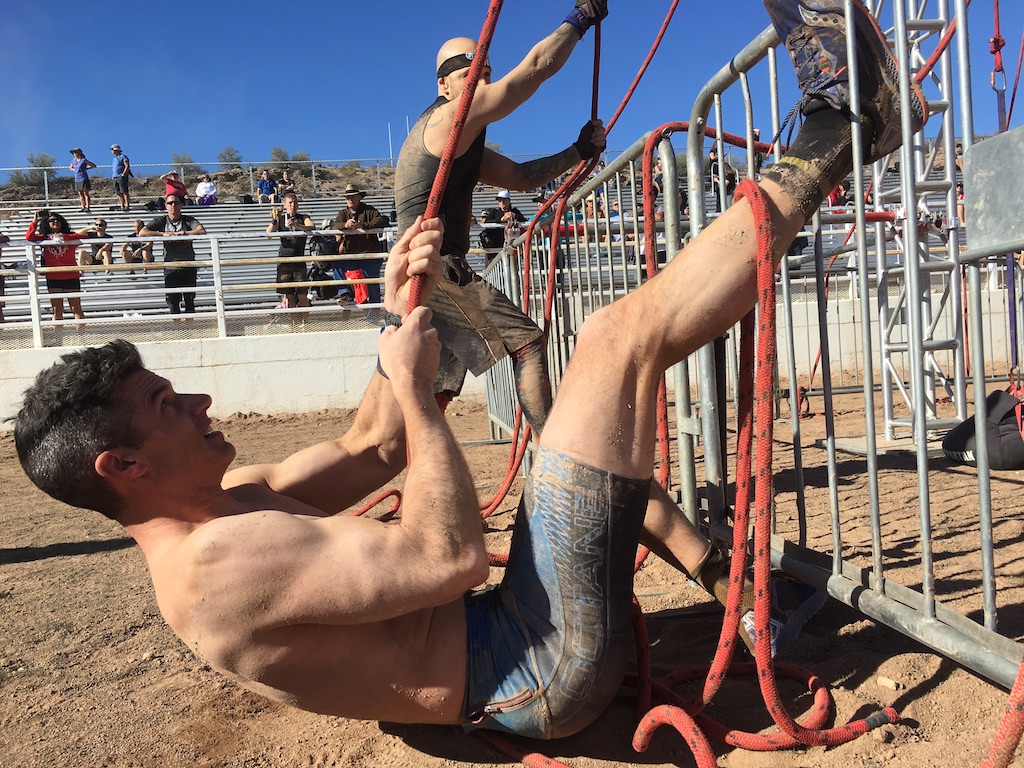 Brent Kocal completing the Hercules Hoist (Sandbag pull) obstacle at Spartan Race in Human Octane for Men.
Brent said, "I want everyone who goes for a trail run or does an obstacle course race to feel invincible too. We help our customers feel that way with a design technique called body mapping where every cut and seam is designed to flow with the natural curves of the human body. The result of body mapping is a more precise fit and an enhancement of the existing physical attributes of the person wearing one of our garments. Aesthetically, my design team and I wanted people to look like the real life superhero version of themselves in a sleek, powerful way. I think that comes through in our use of really vibrant accent colors set against dark bases."
As the OCR universe continues to expand and attract more and more athletes, whether professional or hobbyists; Human Octane is just what the doctor ordered. As I moved through the Spartan Sprint course, jumping 7ft walls and jumping rope, I never once thought about adjusting. I was fully supported by the bra and shorts' compression design. The 3" elastic waistband is a dream and the comfort silicone gripper keeps the shorts from riding up your legs. It also helps that the colors and design give you a touch of superhero.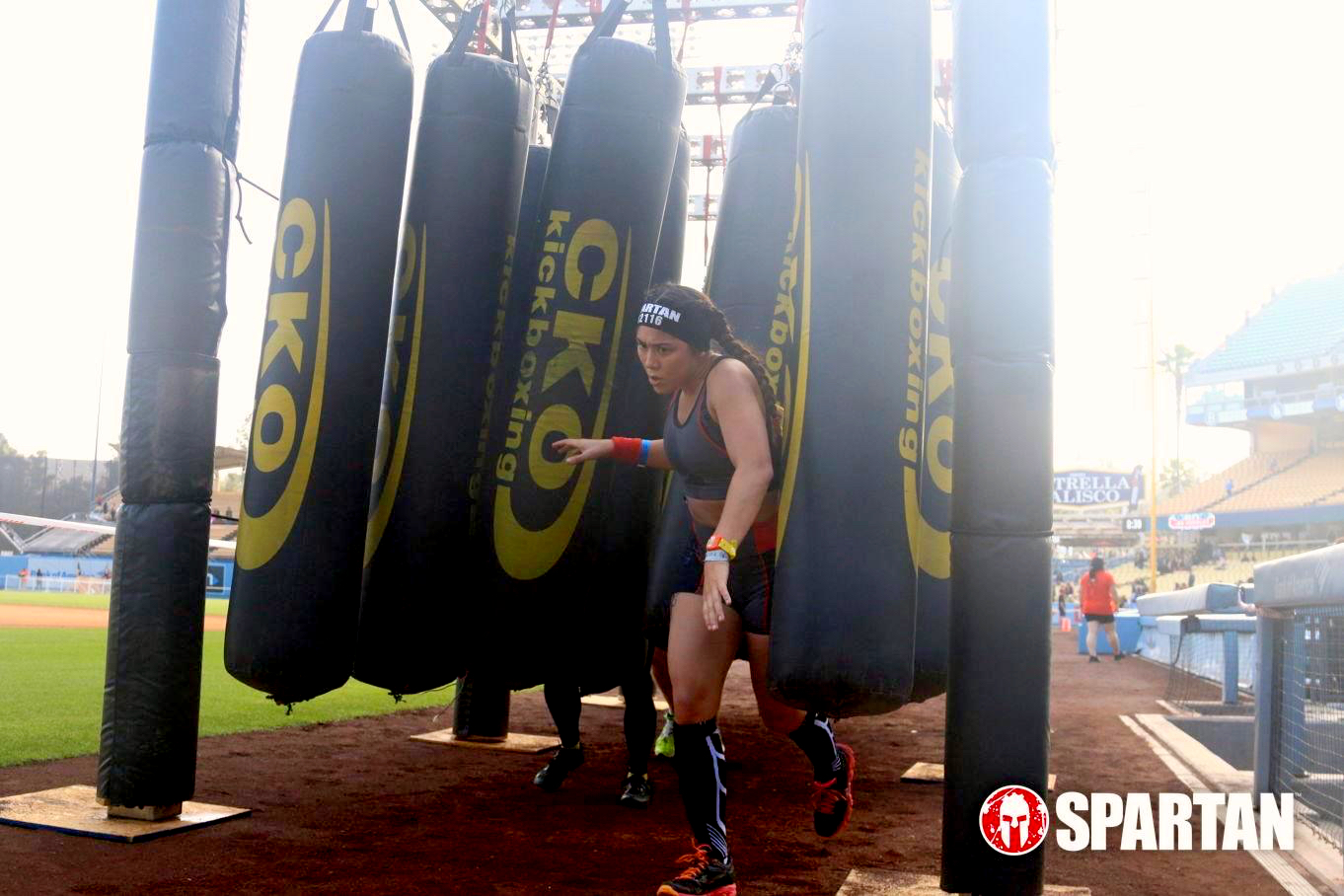 Running through the gauntlet at Spartan Race
Did you work with different athletes to test various designs and comfort levels?
Brent: Absolutely. We actually have a really rigorous and time consuming testing process before we even think about going into production. We're not a mass market brand that churns out 100's of mediocre products per year and that's fine because I believe there is space in the market for a brand that comes out with around 10 great products per year. Testing is a necessity to make great products. It starts with a prototype garment that we'll make in three different fabrics because different fabrics react in different ways to the stress we put them through. We'll test those prototypes by working out for a total of 20 hours each in them. The idea is that amount of time will help us dial in the fit and give us a really good understanding of how the fabrics react. We then adjust our patterns, take our favorite two fabrics and make a second round of prototypes. We'll test these on all sorts of trail runs, OCR events, and CrossFit classes over the course of a month. No matter how seemingly insignificant an issue we have with fit or fabric, we make notes for our design team to address. This is the point where we have our fit and our fabrics 100% dialed in, so we make what are called pre-production samples. These have our logos and colors on them in the exact fabric and fit that will be used for production, if they pass our final gauntlet of running, OCR and any other physical activity we can do to beat them up. I've added up all the hours spent on design, development and testing before we send a new style to production and it came out to just over 300. We know we're asking our customers to make a significant investment when buying our gear, so we owe it to them to provide as close to a perfect product as possible.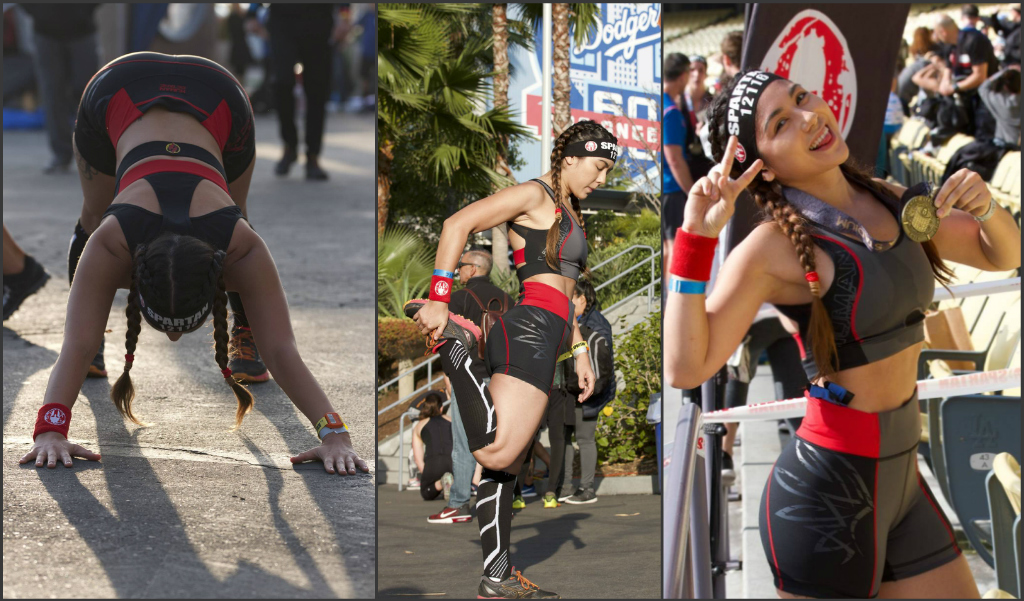 Warming up & post-race (Photos by Juan Carlos Arvelo/Elite Photo Group)
Do you recommend the H.O. clothing for just #OCR athletes and pro athletes or can anyone work out in the gear?
Brent: Our focus is trail runners and OCR athletes, but a funny thing has happened in the past couple of months. I've started seeing it on CrossFitters and I saw one of our customers using our Elite Compression Shorts for a swim/run event. I think the extension to other sports comes back to my belief that the right gear can make you feel invincible. The people using our gear for other sports like CrossFit likely share that belief, want that feeling and have been convinced our gear gives it to them. It's definitely not just for elite athletes either. Those people who don't have the skill or fitness level of an elite athlete have to figure out a way to get through the event in some other way. I believe the feeling they get when they put on Human Octane gear will help them believe they can accomplish anything.
Many people know about compression socks, but tell us about the compression tights and armored sleeves; how do they help your performance?
Brent: They do if compression is done correctly. The term "compression" gets thrown around a lot and my bet is that a lot of brands don't truly understand the science behind it. For a garment to be considered true compression, it has to be tested and meet certain standards for this measurement called "millimeters of mercury" or mmHg for short. For example, medical grade one compression can't be less than 20 mmHg or more than 25 mmHg. Within these standard measurements, garments have been shown to improve blood flow which helps you be more efficient during your workout and improve recovery time, which helps people feel fresher during their next work out. Everything we make labeled compression has gone through this testing process and meets these standards.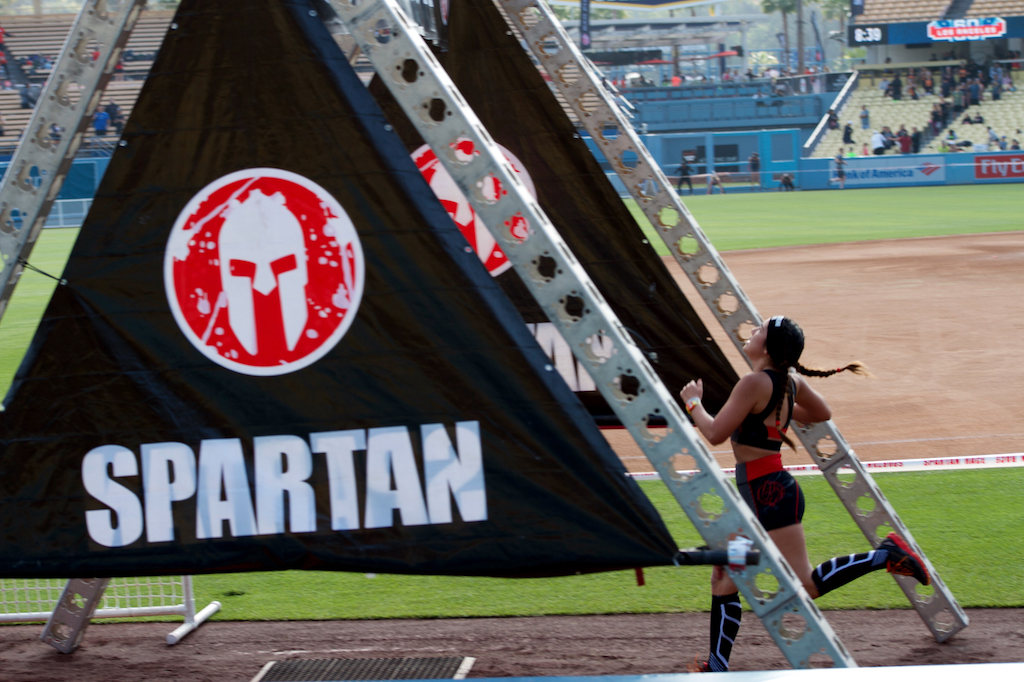 Crossing the finish line in Human Octane (Photo by Juan Carlos Arvelo/Elite Photo Group)
What's in the future for Human Octane? Will you expand the line?
Brent: Despite all the good work we've done so far, we're still in the uncertain early cycle of the business, which means it's tough to know what the future holds for us. My mentality right now is about focusing on what I can do today that will get potential customers to notice us and what will keep our current customers coming back for more. I'm really optimistic about what I've seen in the marketplace so far, so I'm making plans like we've been in business for years. For example, we're in the process of designing tops for men and women as well as unisex calf sleeves. If all goes well, those will hit the market just before Christmas of this year. I've got about 30 more ideas for styles I want Human Octane to make spanning from training to racing to recovery, but it's going to take time for us to get there because we won't drop our design, materials or construction standards just because we're getting bigger.
---
Human Octane believes that "the right gear can make you feel invincible." I know that I certainly felt at the top of my OCR warrior game running in H.O.! So, gear out and sign-up for an OCR!
Check out their gear (hats, gloves, shorts, shirts and more) for Men and Women at http://humanoctane.com
Follow Human Octane on Instagram at: https://www.instagram.com/humanoctane/