The American Lung Association's 2018 "State of the Air" report found ozone pollution worsened significantly due to warmer temperatures, while particle pollution generally continued to improve in 2014-2016.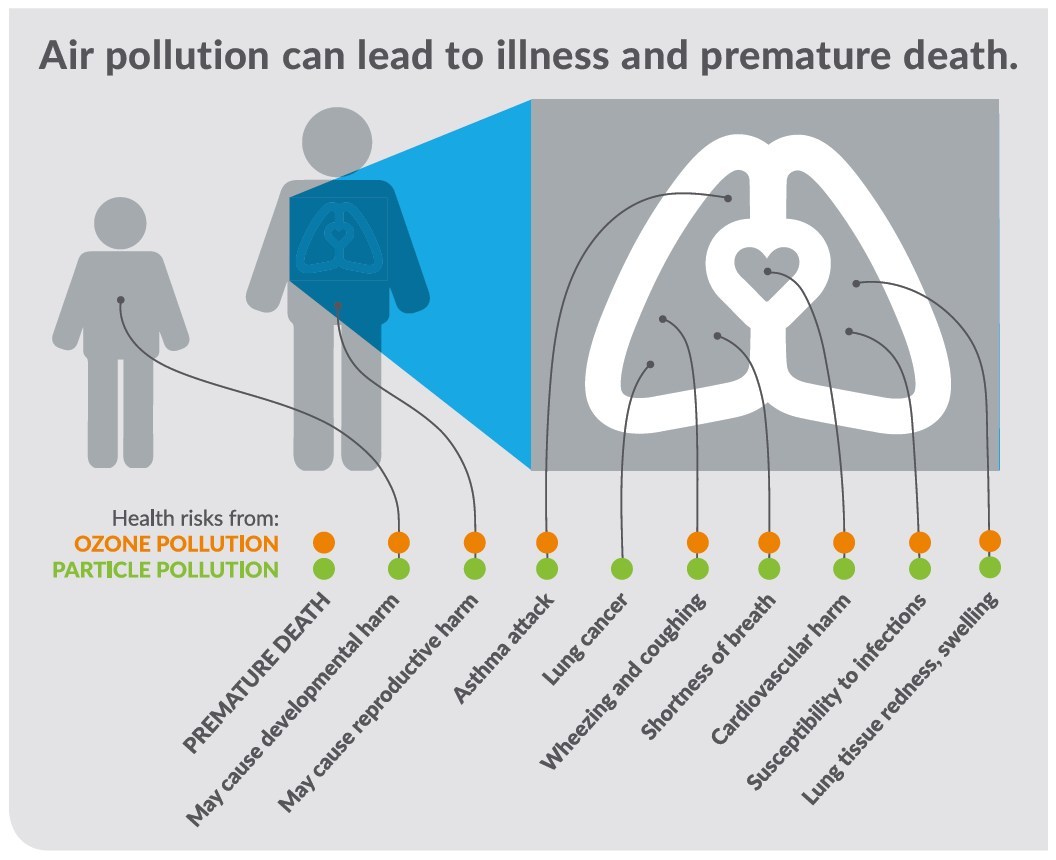 The 19th annual national air quality "report card" found that 133.9 million Americans—more than four in 10 (41.4 percent)—lived in counties with unhealthful levels of either ozone or particle pollution in 2014-2016, placing them at risk for premature death and other serious health effects such as lung cancer, asthma attacks, cardiovascular damage, and developmental and reproductive harm.
"Near record-setting heat from our changing climate has resulted in dangerous levels of ozone in many cities across the country, making ozone an urgent health threat for millions of Americans," said American Lung Association National President and CEO Harold P. Wimmer.
Each year, "State of the Air" reports on the two most widespread outdoor air pollutants, ozone pollution and particle pollution.
Top 10 Most Ozone-Polluted Cities:
1. Los Angeles-Long Beach, California
2. Bakersfield, California
3. Visalia–Porterville–Hanford, California
4. Fresno–Madera, California
5. Sacramento–Roseville, California
6. San Diego–Carlsbad, California
7. Modesto–Merced, California
8. Phoenix–Mesa–Scottsdale, Arizona
9. Redding–Red Bluff, California
10. New York–Newark, New York–New Jersey-Connecticut-Pennsylvania
Short-term Particle Pollution
In the 2018 "State of the Air" report, most cities experienced fewer days of spikes in particle pollution, yet 35.1 million people lived in the 53 counties with too many days when particle pollution peaked at unhealthy levels. Bakersfield, California remained the city with the greatest short-term particle pollution levels. Increased heat, changes in climate patterns, drought and wildfires—many related to climate change—contributed to the high number of days with unhealthy particulate matter.
Top 10 U.S. Cities Most Polluted by Short-Term Particle Pollution (24-hour PM2.5):
1. Bakersfield, California
2. Visalia–Porterville–Hanford, California
3. Fresno–Madera, California
4. Fairbanks, Alaska
5. Modesto–Merced, California
6. San Jose–San Francisco–Oakland, California
7. Los Angeles-Long Beach, California
8. Salt Lake City–Provo–Orem, Utah
9. El Centro, California
10. Pittsburgh–New Castle–Weirton, Pennsylvania–Ohio–West Virginia