"Christian Audigier The VIF," from producer Fabrice Sopoglian and writer/director Didier Beringuer are celebrating three big wins from the 18th Annual International Beverly Hills Film Festival (BHFF).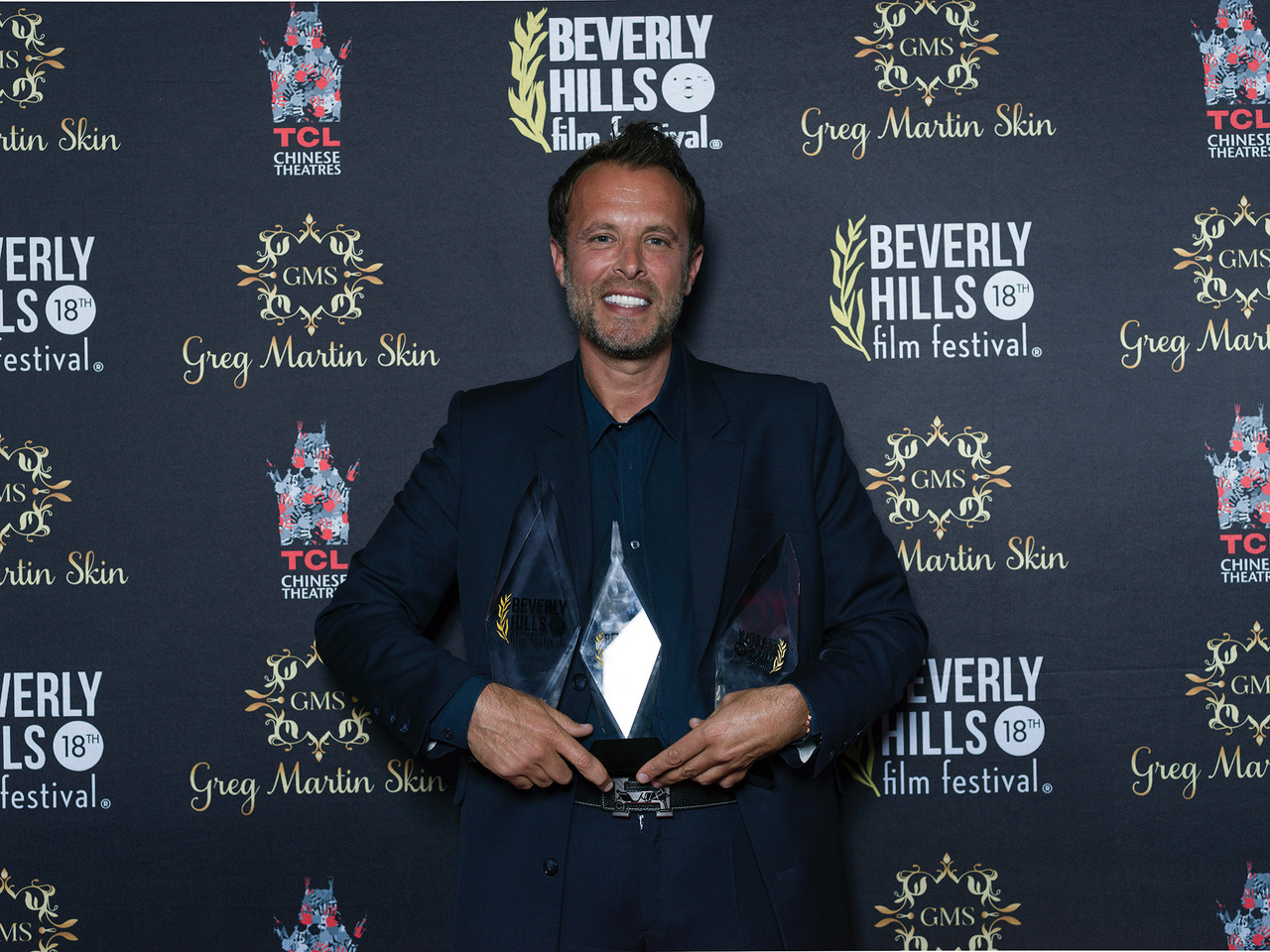 Producer, Fabrice Sopoglian
The festival's Gala Awards Ceremony honored the documentary with three trophies, including the fest's top honor of the Golden Palm for Best Feature Film, as well as Best Cinematography, and the Jury Prize for Best Documentary.
The film features Snoop Dogg, Michael Madsen, Stephen Dorff and Don Ed Hardy and presents an insightful journey into the life and death of fashion designer Christian Audigier, who created the Ed Hardy brand. After being diagnosed with MDS, an aggressive type of blood cancer, Christian must accept his own fate.
The Gala was held at The Hollywood Roosevelt Hotel's famed Blossom Ballroom, the home of the first Academy Awards.
"I promised Christian a few days before he passed away that the project would see the light of day—no matter what. Christian would have been so proud to receive these three trophies at the Beverly Hills Film Festival. This movie was his biggest dream!" said Sopoglian.
BHFF presented its 2018 line-up of 100 competition films over five days at the TCL Chinese 6 Theatres in Hollywood. The festival kicked-off on Wednesday, April 4th with the Opening Night World Premiere of Bob Saget's "Benajmin."
BHFF Jury members this year include: Jury president, the award-winning producer Frederico Lapenda; Edward Ryan (CEO, TENAX Media); renowned producer/director/actor/writer Alfonso Arau; Oscar-winning writer Pamela Wallace; Roberta Augosto (vice president of marketing, distribution and publicity, IDC, a Lionsgate company); Oscar-nominated screenwriter, Paul Ruven (CEO, Talent United); actor, Rudy Youngblood; Katherine Kaufman (vice president, domestic television licensing, Paramount Pictures), actor Cary-Hiroyuki Tagawa; and Kirk Shaw (founding producer/director, Wonderfilm).
2018 Beverly Hills Film Festival Awards:
The Golden Palm Award (best film in all categories) went to "VIF" from director Didier Beringuer
Best Director went to co-directors and sisters Julia Kuperberg & Clara Kuperberg for "The Women Who Run Hollywood"
Best Actress went to Carol Payton for "Saviors"
Best Actor went to Bradford Jackson for "Proper Binge"
Best Producer went to "The White House Documentary"
Best Cinematography went to "VIF"
Best Editing went to "Madhouse Mecca"
Best Foreign Film went to "Bikini Blue"
Best Animation went to "The Wayward Kite"
Best Student Film went to "The Father of Art"
Best Short Documentary went to "Cuban Heart"
SPECIAL JURY AWARDS
Best Jury Feature Film went to "Dominika"
Best Jury Documentary went to "Christian Audigier The VIF"
Best Jury Short Film went to "My Indiana Muse"
AUDIENCE CHOICE AWARDS
Best Audience Choice Feature Film went to "Saviors"
Best Audience Choice Documentary went to "Unknown Distance"
Best Audience Choice Short Film resulted in a tie and went to both "Hiatus" and "Bloom"
GOLDEN PALM SCREENPLAY COMPETITION
The Golden Palm Screenplay Competition Award went to Debra Knox for "Orson Welles' Ashes." The first runner-up award went to Walter Steward for "Tesla." The second runner-up award went to Elise Free for "A Song Unsung."
Visit: beverlyhillsfilmfestival.com for the complete line-up of the 2018 official selections.