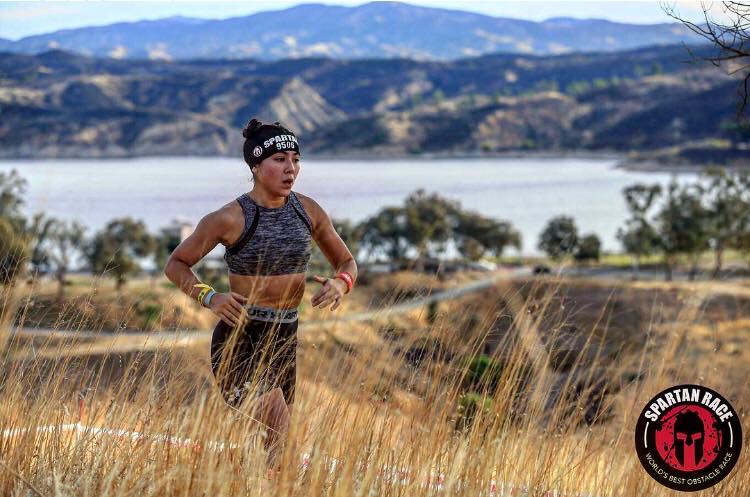 Running Spartan Race – Elite Women with my Mizuno shoes from 'Run With Us'
Chances are, you're not working out or running in the right sneaker. In fact, you're probably not even wearing the right size shoe.
One visit to 'Run With Us' in Pasadena, California changed my entire outlook on the socks I'm wearing and the shoes I'm racing in. As a newfound lover of obstacle course racing and events such as Tough Mudder and Spartan Race, it is imperative that I have the right pair of sneakers.
Not just a shoe store, 'Run With Us' is a community and team of running experts and marathon runners. Founded by Peter Van Gansen and Maria Van Gansen in 1999, the duo started a universe for runners which involves local organizations, high schools, doctors, and running clubs.
I met with their manager Mike Gonzalez, who is a PROCARE fit specialist and has received training from numerous Podiatrists. He's basically the guru of running sneakers.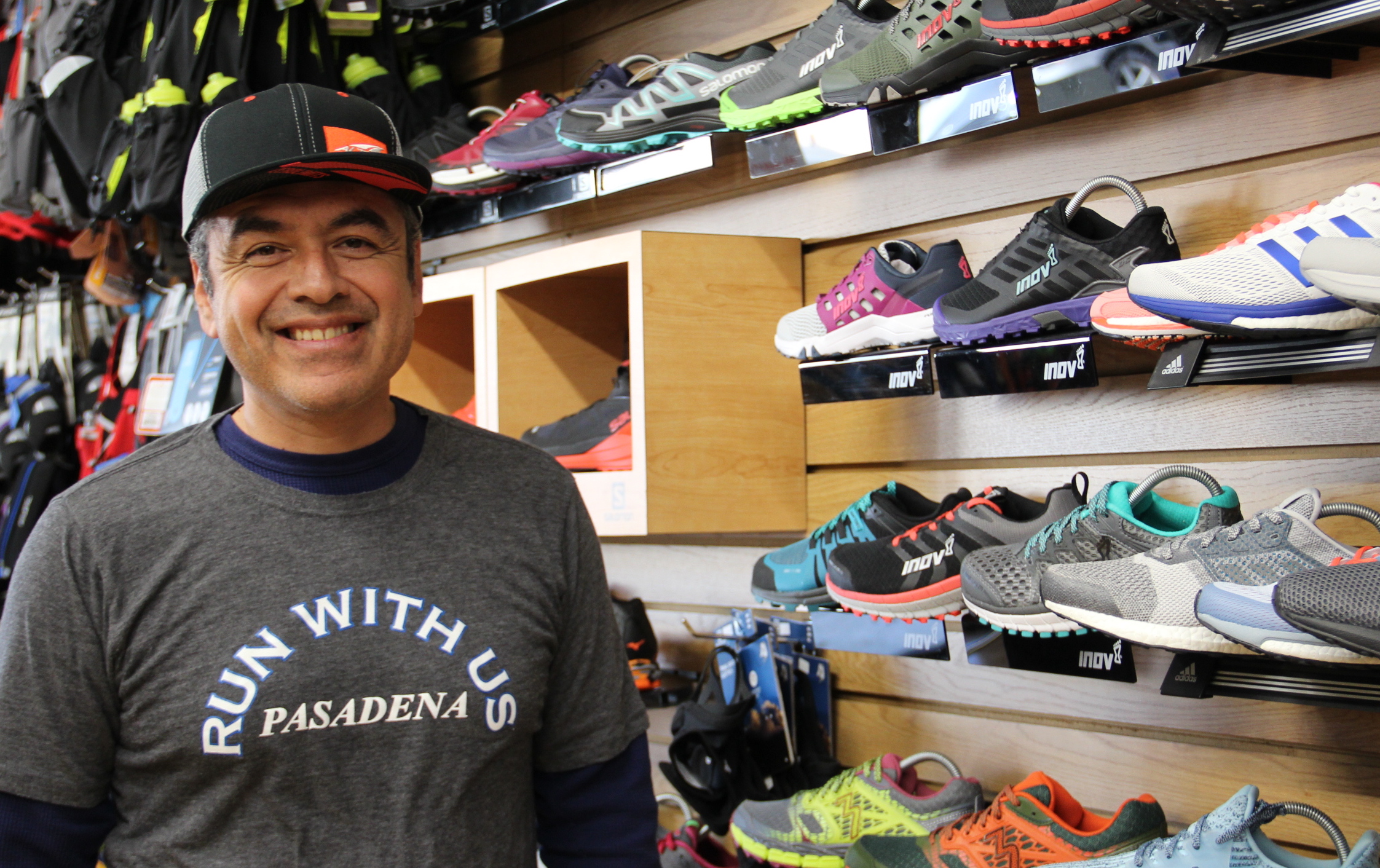 Mike Gonzalez
When we're shopping for the right work-out shoe, many of us gravitate towards the style and color. But, before you even begin to get excited about those neon greens or fluorescent pinks, let's talk about your arch.
I told Mike about the blistering in my inner arch and ankles. He walked me through the steps of measuring your foot for the right shoe. It all starts with the ARCH.
The Aetrex machine, measures your arch height and its pressure points, as well as the width, length and any difference between your left and right foot.
"The type of blistering you're having means that you're not getting enough arch support. Your arch falls inward and it can cause blistering," Mike said.
After the machine, a 'Run With Us' team member will watch how you walk without shoes on. My arches fall inward, which means I need a specific type of support. Although, I had run Tough Mudder in brand new Salomon speedcross shoes, the size was wrong and the lack of support was causing shin splints. Mike explained that this doesn't always mean that you need a new shoe; you sometimes have the option of changing the insert to provide the right arch support.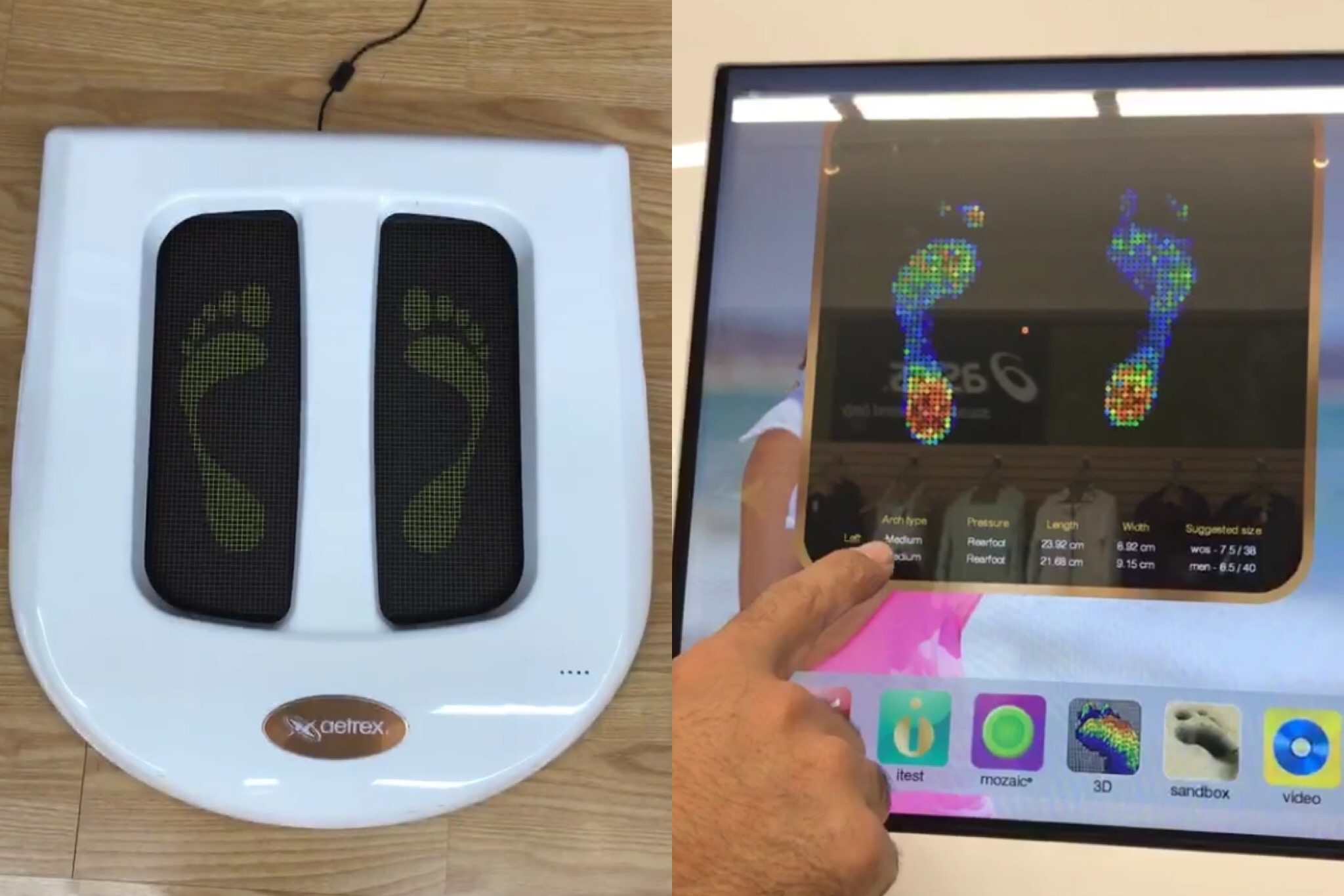 Aetrex arch measuring machine
Although, I was certain my shoe size was a 6 ½, it turns out I need to be running in a size 7!
Mike brought several options out and the top choice was: Mizuno's Wave Daichi 2 Trail Running shoe for women (Yes, they're pink!). With a rubber sole by Michelin, these sneakers have:
Concave Wave technology for stability and protection on any surface

Midfoot X-groove for an enhanced and adaptable ride on varying terrain

3-D Fit Upper with strategically placed straps for a dynamic, supportive fit.
The second I got out on the trail, I felt a change for the better. It took little to no time to break them in for my Spartan Race one week later. The last thing you want to think about is blistering or foot/arch pain during a race. Thanks to 'Run With Us' I was prepared with my mind clear straight through to the finish line.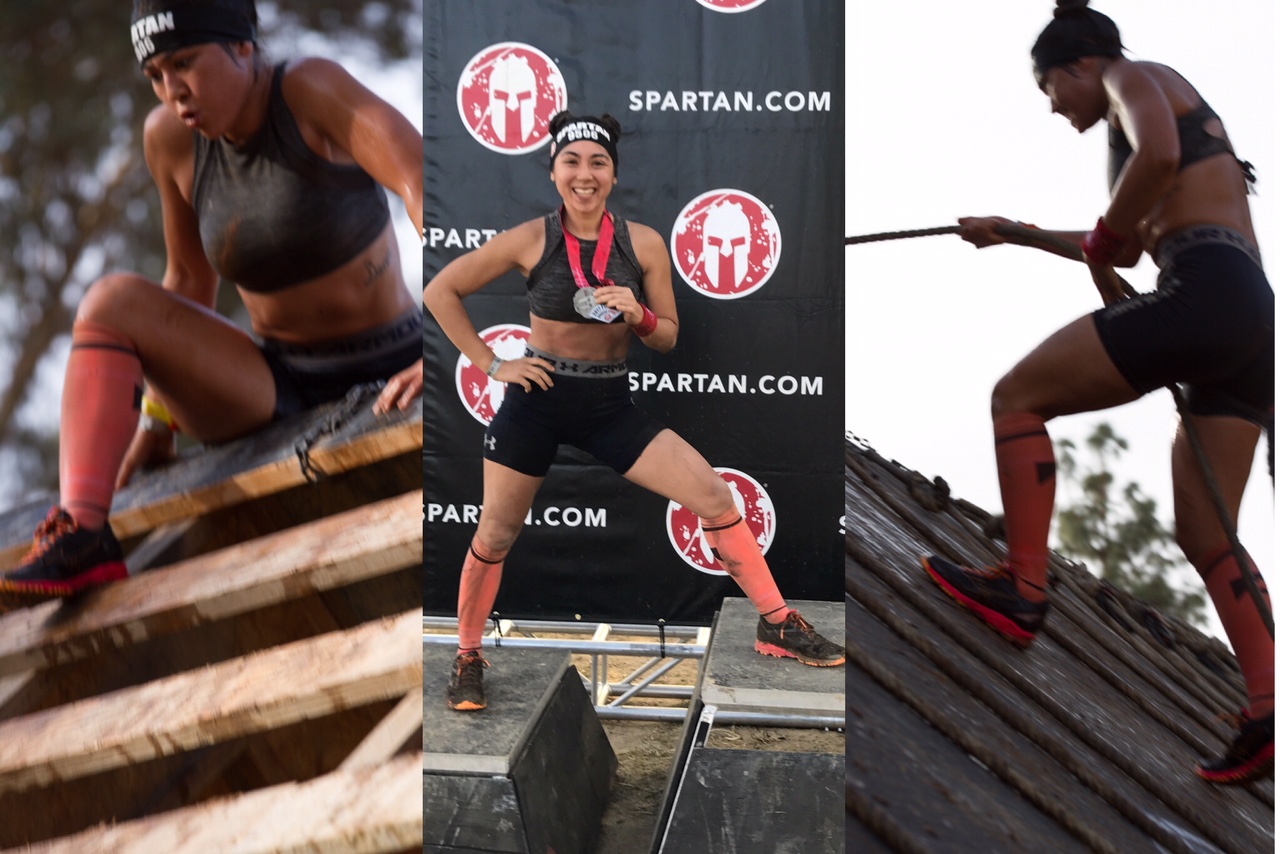 As for socks, they actually do play a big factor in your running. Mike recommends a sock that has less cotton and more moisture wicking fabrics. Cotton absorbs but it retains moisture, which causes more chances of blistering. Look out for a seamless toe and a sock design that locks the heal so the sock doesn't ride down inside the shoe as you run. I also recommend compression socks, which help with achy, tired or swollen legs. ATN Compression socks can help improve poor circulation and blood flow. Check out www.ATNCompressionSocks.com.
For Southern California runners, a trip to 'Run With Us' will change your life and your workout for the better!