The Hollywood Chamber of Commerce honored actress Gillian Anderson with the 2,625th star on the Hollywood Walk of Fame on Monday morning, January 8, 2018.
The star was dedicated in the category of Television at 6508 Hollywood Boulevard next to the FOX Theatre.
"Gillian Anderson is a great addition to the stars immortalized on our Hollywood Walk of Fame," stated Ana Martinez, Producer of the Walk of Fame ceremonies. "Her history as an actress on the popular show "The X-Files" as the iconic skeptic Dana Scully, a medical doctor, forensic pathologist and FBI agent inspired a generation of viewership and a following of fans all around the world."
Award-winning film, television and theatre actress Gillian Anderson achieved international recognition for her role as 'Special Agent Dana Scully' on the American TV series "The X-Files."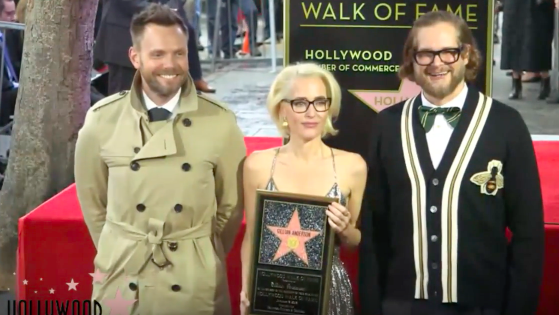 Running for nine seasons from 1993-2002. Anderson won an Emmy, a Golden Globe and two Screen Actors' Guild awards for the series. 2018 marks the 25th anniversary of the popular show and Season 11 premiered on FOX on January 3rd.