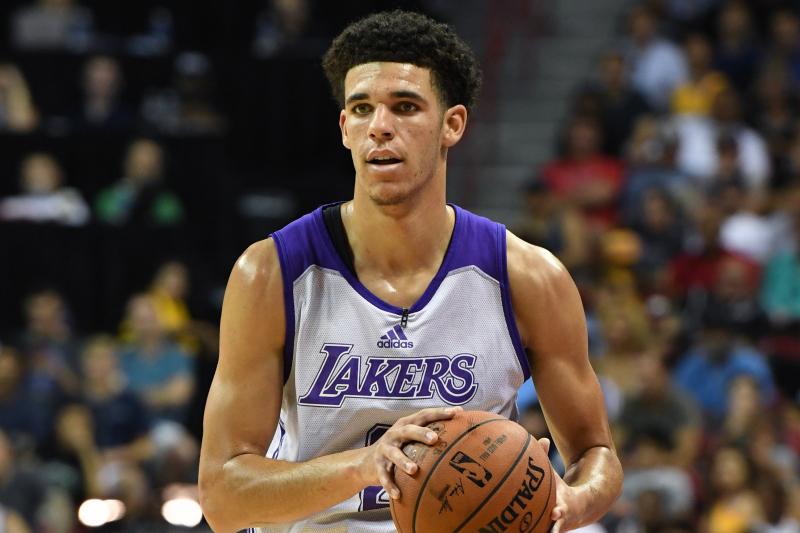 There is a disturbing trend in the NBA with regards to the health of young players coming into the league. They don't seem to be very durable after playing only 30+ games in a college season and then expected to play a full 82-game NBA season. Is something wrong with these young athletes' conditioning programs or are they just too fragile to endure the grind?
Case in point: Point guard Lonzo Ball sat on the bench for the Lakers' 95-92 win over the Sacramento Kings Monday night at the Thomas & Mack Center in Las Vegas. He sat next to second year player Brandon Ingram, who also was sidelined, and wore a black and gold Big Baller Brand T-shirt. The Lakers held all three of their first-round picks out of their third Summer League game. Ball sat out as a precaution because of a sore groin. Ball suffered the injury in his second practice with the Lakers and said he sat out a week of workouts because of it.
"I definitely wanted to play," Ball said during an interview with Spectrum SportsNet, the Lakers' partner station. "They felt as a staff it was better for me to sit this one out. It's just summer league, being precautious, just day to day."
The Lakers also rested first-round picks Kyle Kuzma (cramps) and Josh Hart (right ankle sprain). Ingram, one of the best players at Summer League, played only in the Lakers' opening game. He went down with cramps at the end of regulation and the Lakers decided to shut him down. They will take a day-by-day approach with Ball, Kuzma and Hart, none of whom has been ruled out for the remainder of Summer League.
"Our training staff is evaluating our players after every game and every practice," said Jud Buechler, the Lakers' Summer League coach. "Their safety and health is the most important thing. We'll play it very cautiously and go with some other players."
If these players are already struggling with injuries in the Summer League, I don't expect them to play 8 pre-season games and 82 regular season games when the season starts.