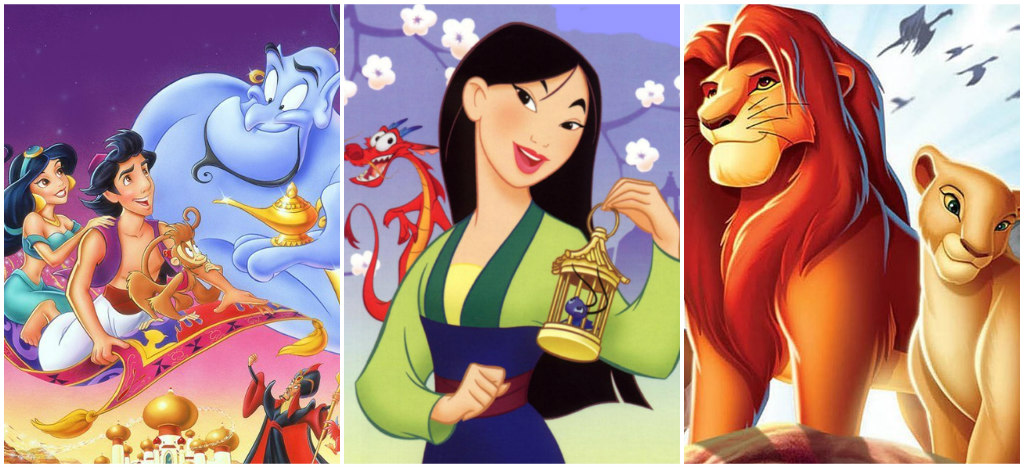 Among the many exciting announcements from this weekend's D23 Expo was the unveiling dates for Disney's upcoming live-action film adaptations, including:
"Mulan," a live-action take on Disney's 1998 feature, which will be helmed by Niki Caro.
"Jungle Cruise," a live-action nod to the popular theme park ride. The studio is working with Dwayne Johnson.
"Aladdin," directed by Guy Ritchie, with Mena Massoud as Aladdin, Naomi Scott as Jasmine and Will Smith as the Genie.
"The Lion King"
"Dumbo"
D23 Expo 2017 fans were greeted from across the pond by visionary filmmaker Tim Burton, who is busy directing his next project—a live-action reimagining of Disney's 1941 animated classic "Dumbo."
"'Dumbo' was always one of my favorite Disney films," said Burton. "We're trying to give it the same heart, feeling and emotion that we all loved about the original."
The film stars Colin Farrell as Holt Farrier, a former circus star and war-veteran charged with the care of a newborn elephant whose oversized ears make him a laughingstock of an already struggling circus. Nico Parker and Finley Hobbins were cast as Holt's children, who discover that Dumbo can fly. Danny DeVito portrays circus owner Max Medici who tries to capitalize on the novelty. And Michael Keaton is persuasive entrepreneur V.A. Vandevere who swoops in with aerial artist Colette Marchant, portrayed by Eva Green, to make Dumbo a star.
"Dumbo" is slated for release on March 29, 2019. Katterli Frauenfelder, Derek Frey, Ehren Kruger and Justin Springer are producing from a screenplay by Kruger. Filmed entirely in England, "Dumbo" is utilizing state-of-the-art visual effects to portray the big-eared elephant and many of his animal counterparts.
Alan Horn joined Bailey to surprise the D23 Expo crowd with a special look at director Jon Favreau's new live-action take on Disney's 1994 classic animated film "The Lion King." The technology team behind the movie are introducing all-new filmmaking techniques that promise striking visuals never before seen on the big screen—bringing celebrated characters to life in a whole new way.
Favreau, who was behind 2016's blockbuster live-action remake of "The Jungle Book," joined Bailey on stage. "This is a story that belongs to everyone who grew up with the original film," said Favreau. "I wanted to demonstrate that we could be respectful of the source material while bringing it to life using new techniques and technologies. We wanted to do something special for the D23 Expo audience and give them a first look at what we're up to."
"The Lion King" is one of the biggest animated films of all time with a lifetime global box office gross of $968.8 million. It won Academy Awards® for the original song "Can You Feel the Love Tonight" (Elton John, Tim Rice) and original score (Hans Zimmer). In 1997, the stage production inspired by the film made its Broadway debut, subsequently winning six Tony® Awards; 19 years later, it remains one of Broadway's biggest hits.
Starring Donald Glover as Simba, and James Earl Jones as—naturally—Mufasa, Favreau's live-action version of "The Lion King" is slated for theaters on July 19, 2019. Favreau, Jeffrey Silver and Karen Gilchrist are producing.