In the 21st Century, most people live a very hectic life and hardly have any time to get away even for a short vacation. As we all know, it is essential to break away from time to time in order to keep our sanity. If two weeks are not in the cards, perhaps a week or even a long weekend is the solution. I recently opted for the latter one, while my family was visiting from France.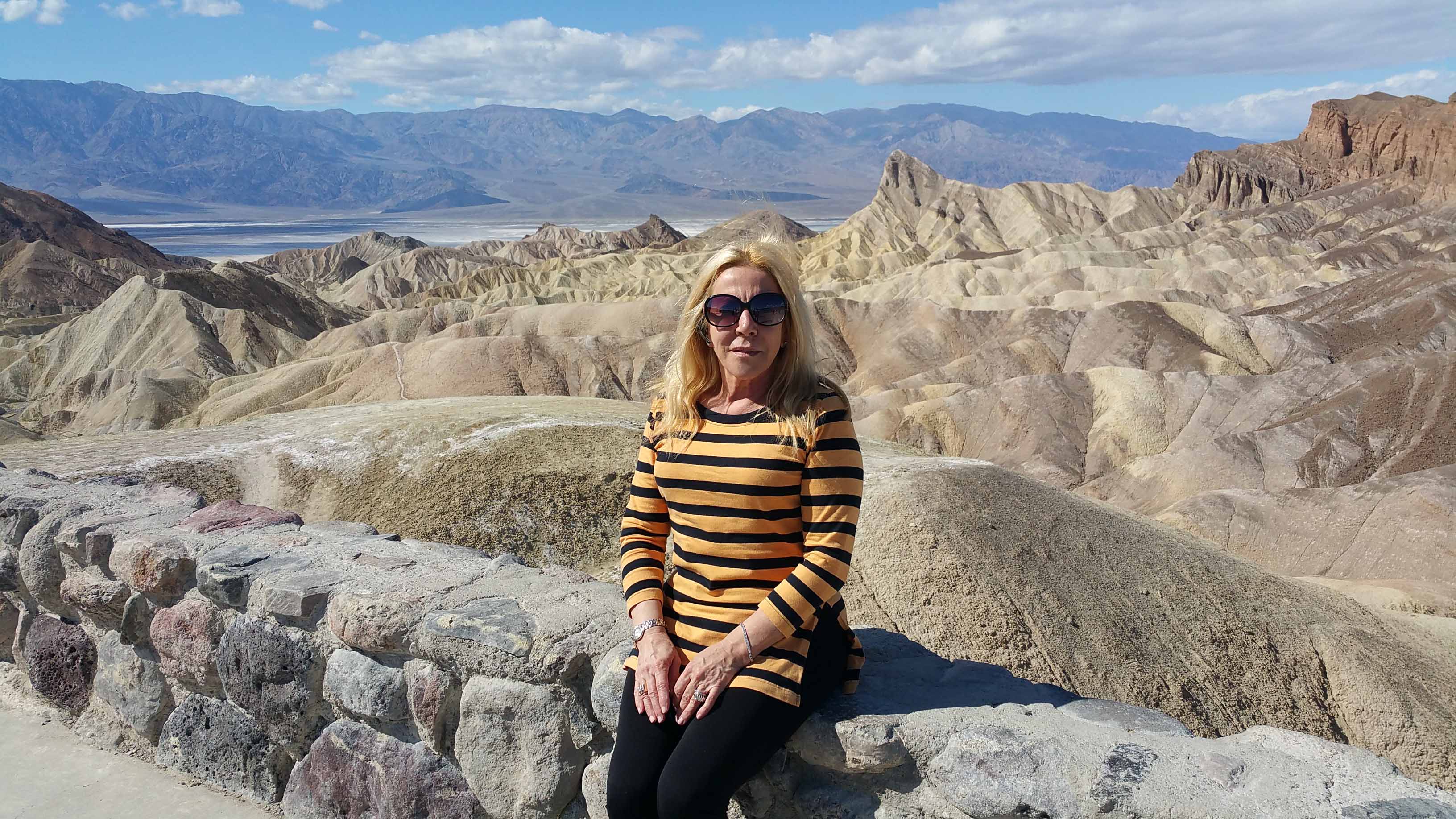 Death Valley view
Living in Los Angeles we have many options, within a couple of hours you can escape to just about anywhere your heart desires, from the mountain, to the countryside, to the ocean or even to the desert. One of the places that I always wanted to visit, and for some reason never had the opportunity to do so, was Death Valley. Though the temperature rises as of April, 1st, we visited in late February and the weather was just perfect.
Our trip first began in Las Vegas where we had reservations at Planet Hollywood, and was followed by two days and one night at the famous Furnace Creek Inn, which had been on my radar forever.
The last time I stayed at Planet Hollywood Hotel and Casino, was ten years ago during the crowning of Miss USA. I was curious to see the renovations that had taken place since Caesars took over. Per the comments online, it had become one of the trendiest hotels in Las Vegas, redone in the image of Caesars Palace with a similar indoor galleria of hip boutiques where you can find everything you need without ever leaving the hotel.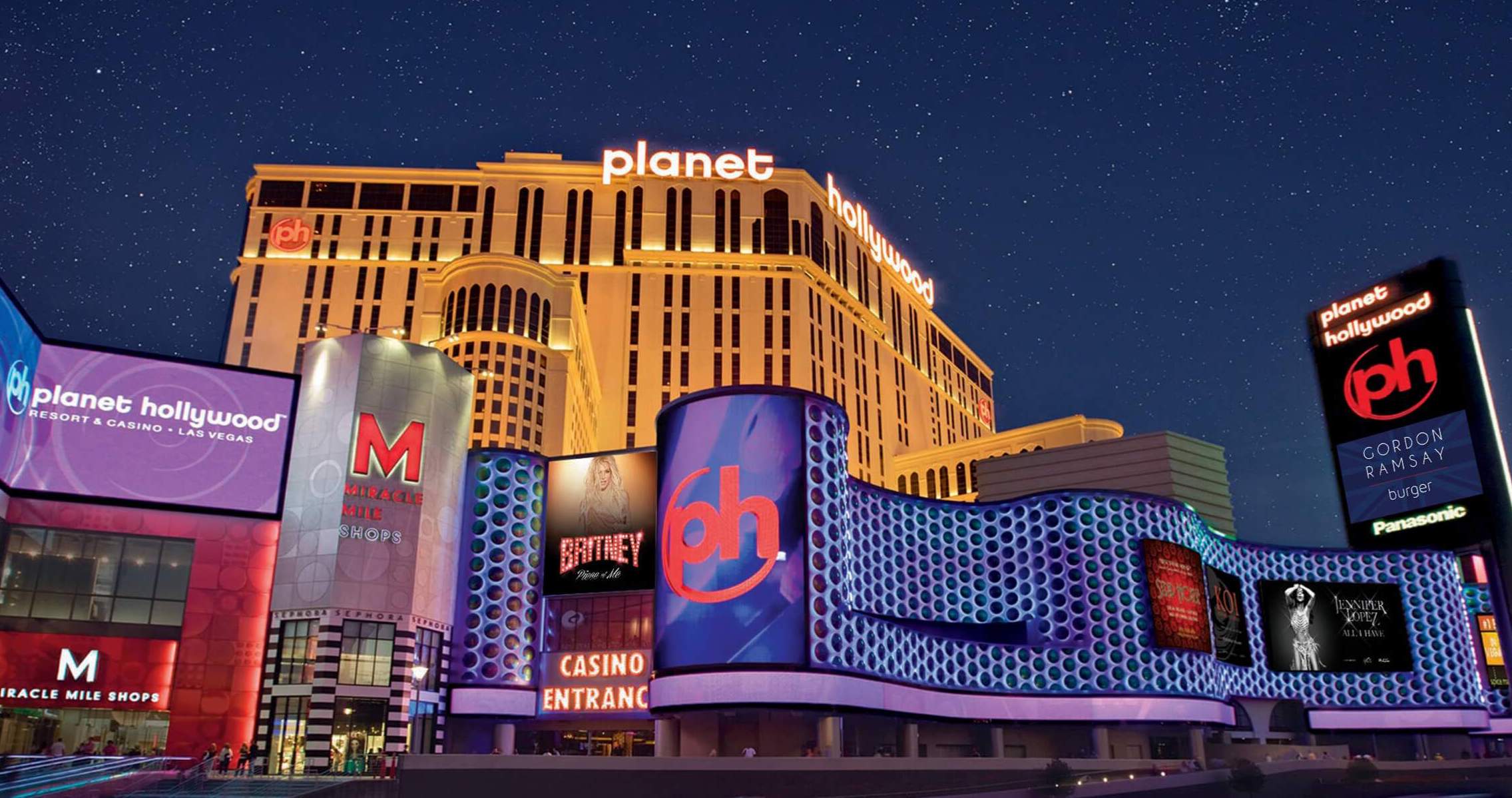 Each room had been redone with impeccable taste, highlighting a modern and inviting decor, it features luxury bedding and designer touches along with convenient extras including mini-refrigerators and coffee makers, one of my favorites, allowing me to have a cup of tea before bed.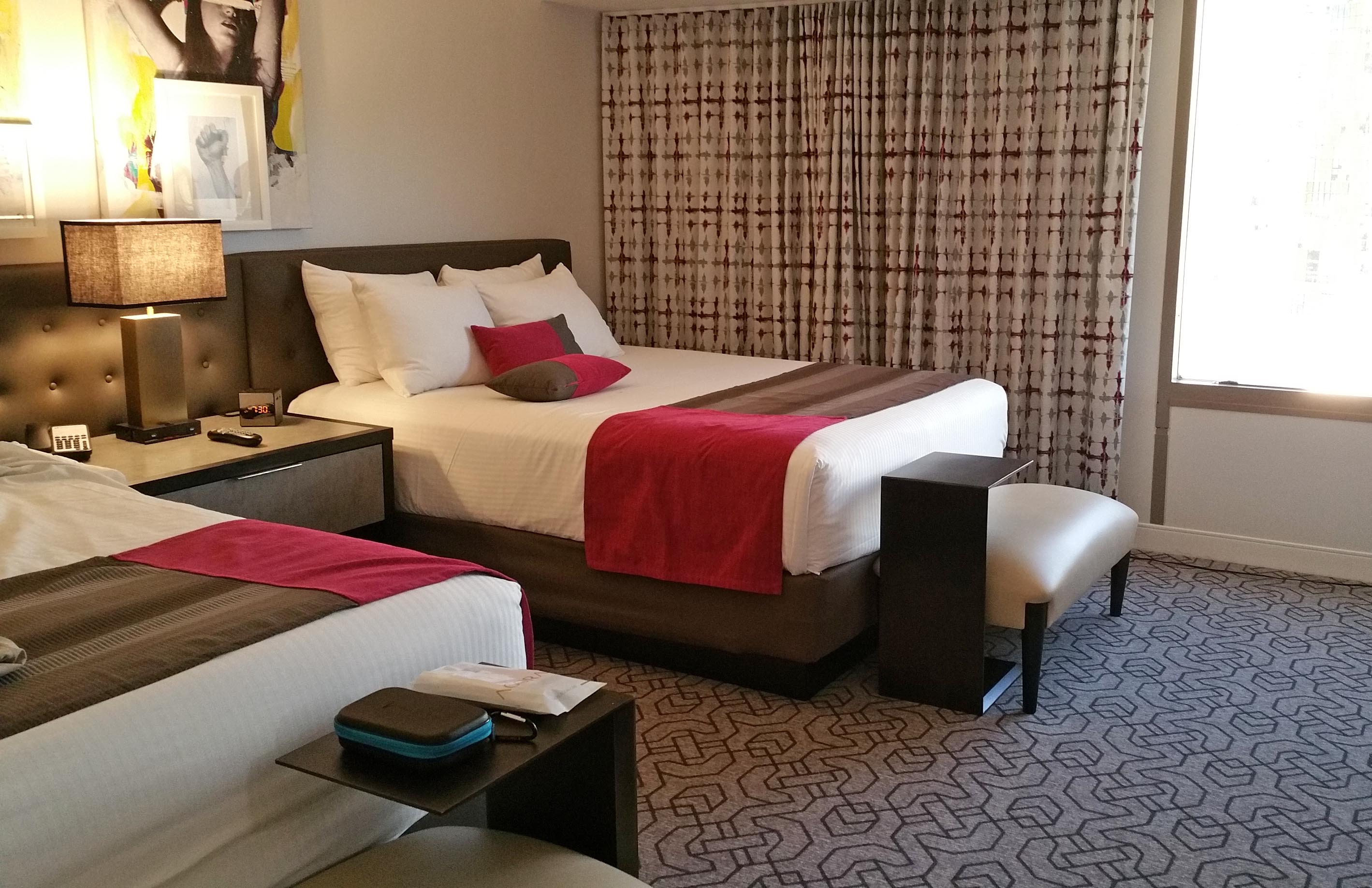 Planet Hollywood hotel room
As lunch time came around, we decided to hit Planet Dailies, a 24-hour Las Vegas restaurant which looked like a coffee shop, but offers an extensive menu of wonderful dishes, including daily specials. As an added surprise, we were greeted by a fellow Frenchman and the general manager of Planet Dailies, Sebastien Buquoy, who made our meal a "foodie" experience. Everything looked so good, it was hard to decide, but Sebastien recommended an array of their signature dishes making it a royal tasting, which we were glad to share among the three of us.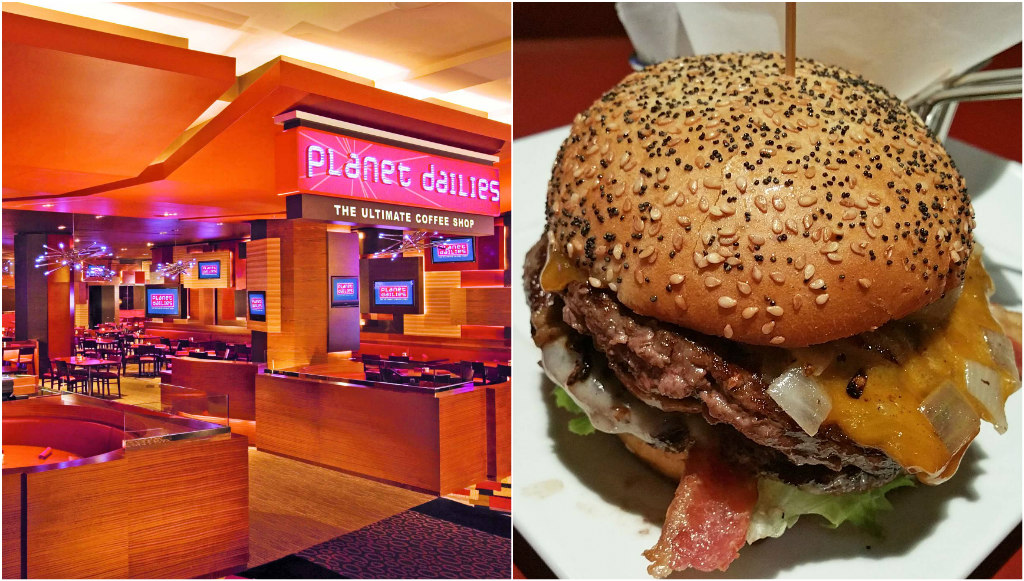 For starters we tried the Calamari guacamole and chips accompanied by a glass of Rosé and Chardonnay. That was followed with the Seared Ahi Tuna ($19.99), which consisted of a generous portion of seared rare Ahi Tuna, tossed with ginger soy dressing, garnished with carrot strings on a mixed green salad accompanied by sliced avocado. We added the Grilled Chicken Caesar, a whole crisp romaine tossed with classic Caesar dressing and Parmesan cheese ($16.99). Then there was the Double-Down Burger, a one-pound Angus beef burger topped with onions, mushrooms, bacon, Swiss and Cheddar cheeses ($18.99). It was delicious.
The rest of the day was spent exploring the strip and of course doing a little shopping.
Before long, it was dinner time. We had reservations in one of my favorite Japanese restaurants, KOI, which is also located in Planet Hollywood Hotel on "The Mezz" level overlooking the casino. Flanked by humongous copper Bells at the door of the restaurant, patrons enter through massive hand-carved Indonesian doors beneath rugged beams topped with three playful gilded Buddhas handcrafted in Thailand. The first Buddha sees no evil, the second hears no evil, and the third, covering his mouth, speaks no evil. Other designs include hand-carved spinning prayer-wheels and an elliptical bar clad in Indonesian onyx and marble. One corner of the main dining room is covered in silver leaf wallpaper accommodating a trio of circular booths, just perfect for privacy, an important factor considering that it can become very loud if you happen to be there right before a show…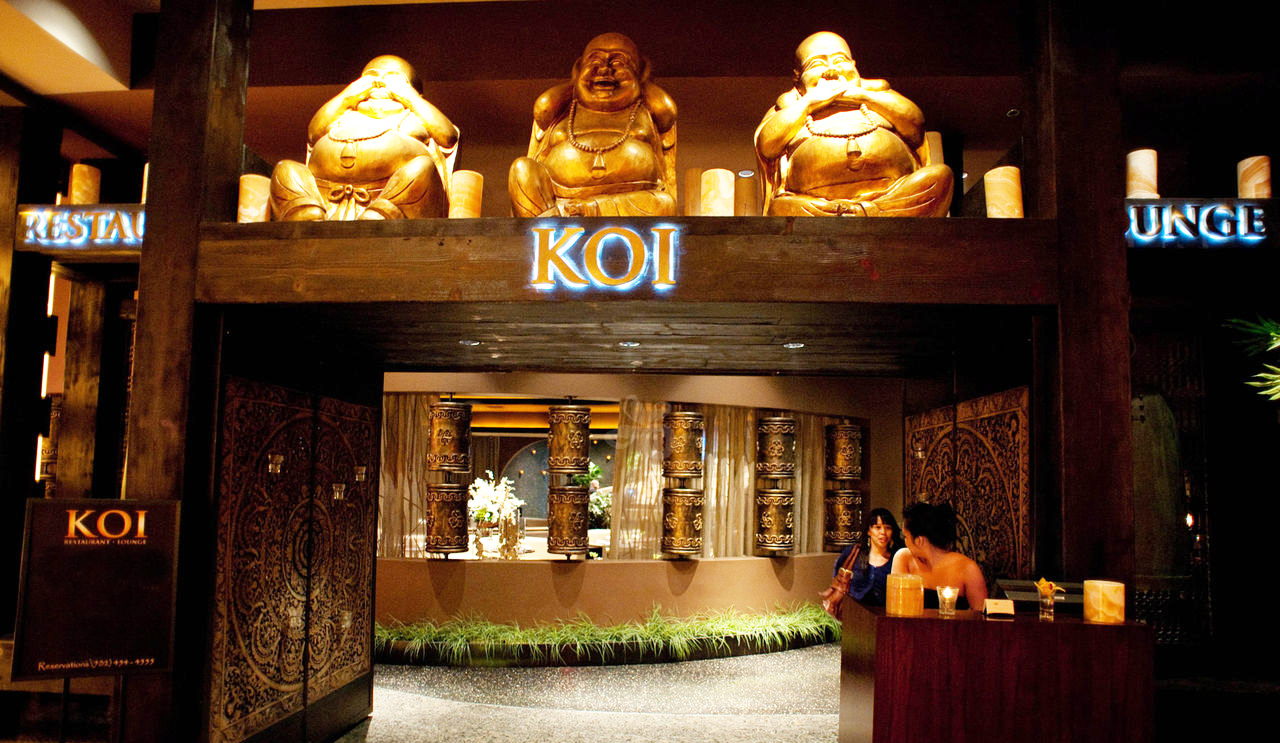 The menu at Koi Las Vegas is naturally inspired by traditional Japanese dishes with a touch of modern Californian cuisine. Once again, we were fortunate to have the guidance of Autumn Patterson, the manager on site that night who recommended the Chef's tasting menu which consisted of: Crispy rice-pan seared sushi rice with clarified butter and deglazed pan with soy sauce. Topped with fresh, spicy tuna and garnished with a slice of jalapeno and served on a bamboo leaf. Followed by; Hamachi Fusion, Yellowtail drizzled with soy-citrus dressing with truffle essence, garnished with jalapeno slices, micro greens and chopped chives. Salmon Carpaccio: Belly salmon with citrus sauce and truffle peelings.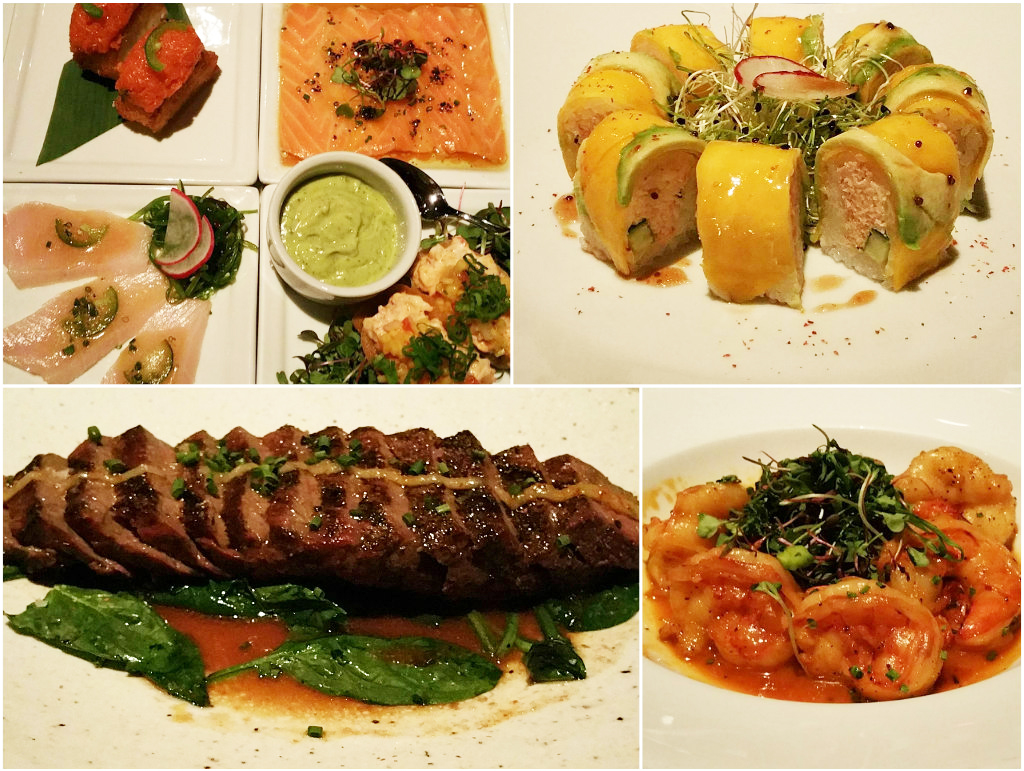 The Lobster Tacos: 4 crisp won ton taco shells, filled with lobster salad topped with mango salsa, served yuzu guacamole. Kobe Sirloin: a 7 oz. Sirloin Steak (wagyu Grade of #7) seasoned with Sea salt and wilted Spinach, Grilled to temperature and sliced, served with slow-roasted Garlic, Togarashi, ponzu sauce.
SunFire Roll: Lobster-crab meat mix, soy paper cilantro and cucumber inside, and avocado and thin sliced mango on top, wasabi-yuzu dressing and sprinkle ichimi pepper
Sauteed Tiger Prawns: 5 large prawns sautéed and finished in a sweet spicy sauce of sake, butter, siracha chili sauce and sweet soy, garnished with micro greens & chives.
It was truly an amazing meal and the service just impeccable. If you are ever in any city where Koi has a restaurant, be sure to dine there.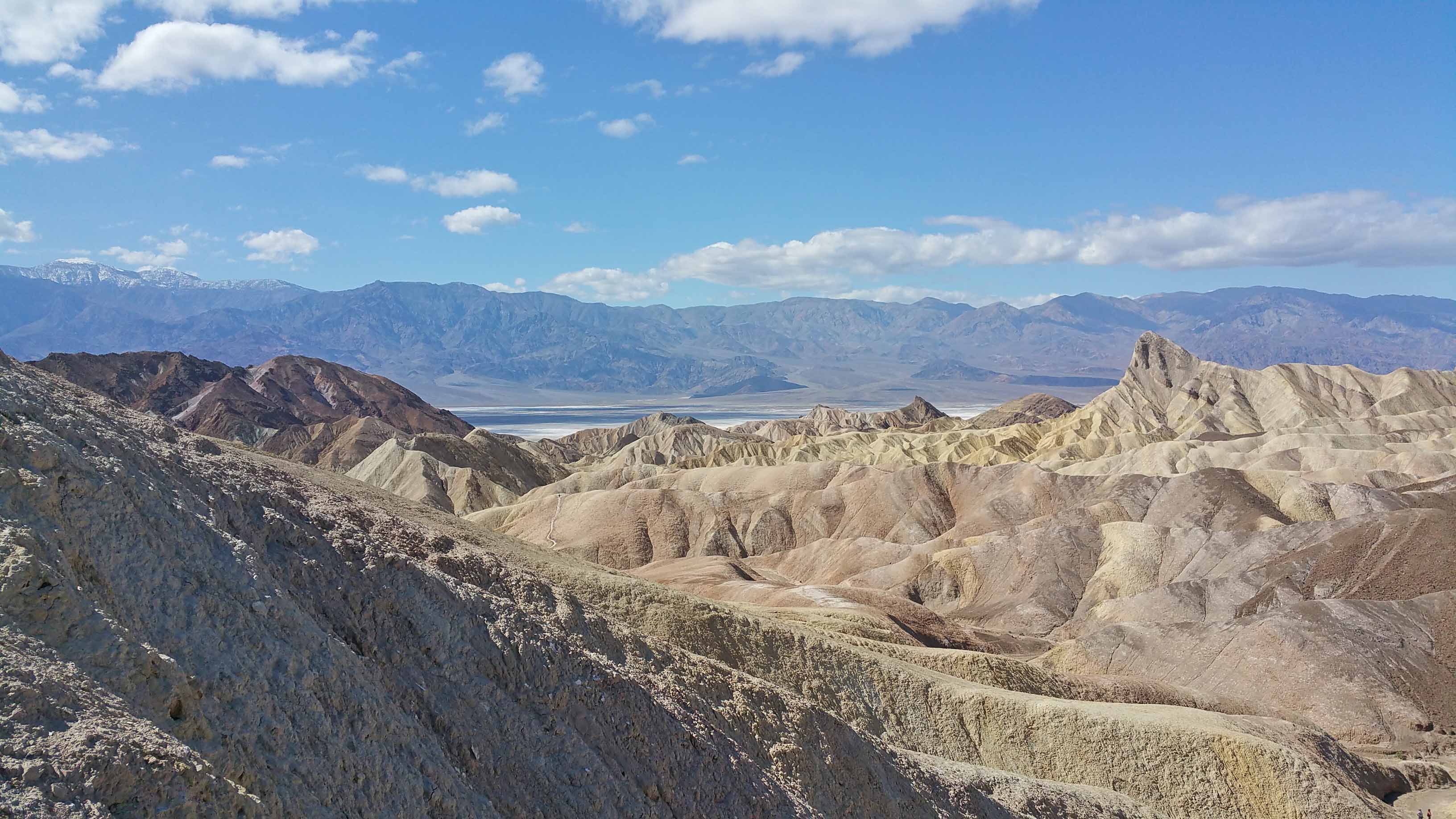 Day 2 – Immediately after breakfast, we took the road to Death Valley, which only took a bit over two hours to reach. I did not realize how close it was to Las Vegas.
A bit of history: Death Valley became a National Monument in 1933 before being declared a National Park in 1994. Bordered between California and Nevada, it's known for Titus Canyon, with a ghost town and colorful rocks, and Badwater Basin's salt flats, which is 282 feet (86 m) below sea level and is North America's lowest point. Above, Telescope Peak Trail weaves past pine trees. Near Nevada is the Spanish-style mansion Scotty's Castle.
As I explained earlier, the park has a very diverse landscape from salt-flats, to sand dunes, to badlands, to valleys, to canyons, and mountains. Many species of plants and animals have adapted to this harsh desert environment. Among them are; creosote bush, bighorn sheep, coyote, and the Death Valley pupfish. Native Americans inhabited the area when the valley floor was a huge lake as early as 7000 BC.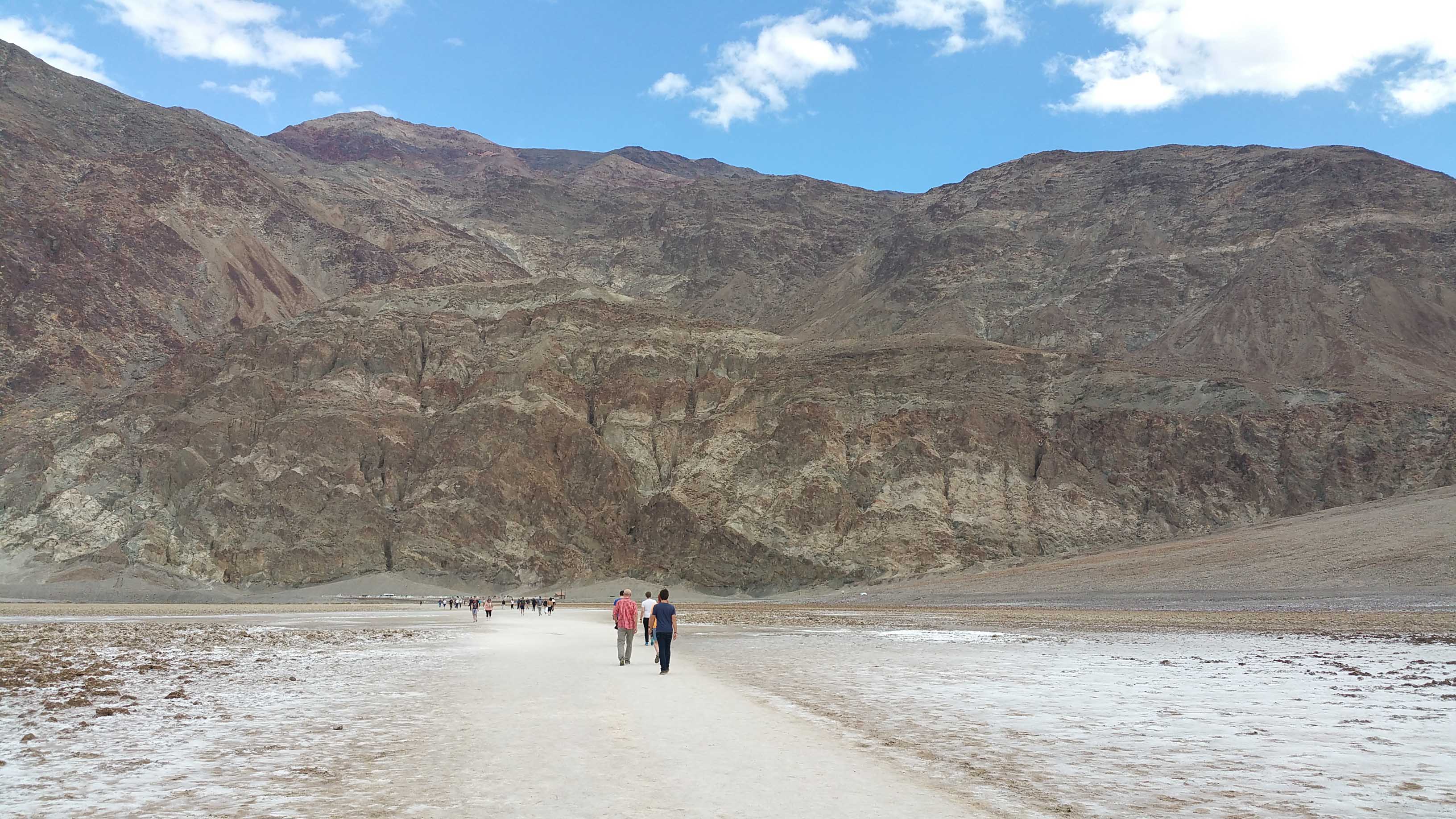 In 1849, a group of people, while trying to reach the gold fields of California, got stuck in the valley and one of the travelers died during the trip. This is how Death Valley acquired its name. Several short-lived boom towns sprang up during the late 19th and early 20th centuries to mine gold and silver. However, the only minerals worthy to be mined were ore and borax, which could only be transported out of the valley with twenty-mule teams. Tourism blossomed in 1920, when resorts were built around Stovepipe Wells and Furnace Creek. Death Valley was declared part of the National Monuments in 1933.
Strangely enough, several of the larger Death Valley springs derive their water from a regional aquifer. Much of the water in this aquifer has been there for many thousands of years, since the Pleistocene ice ages, in fact, when the climate was cooler and wetter.
Entering the valley, the very first scenic point is Dante's View, 5,475 ft. above sea level.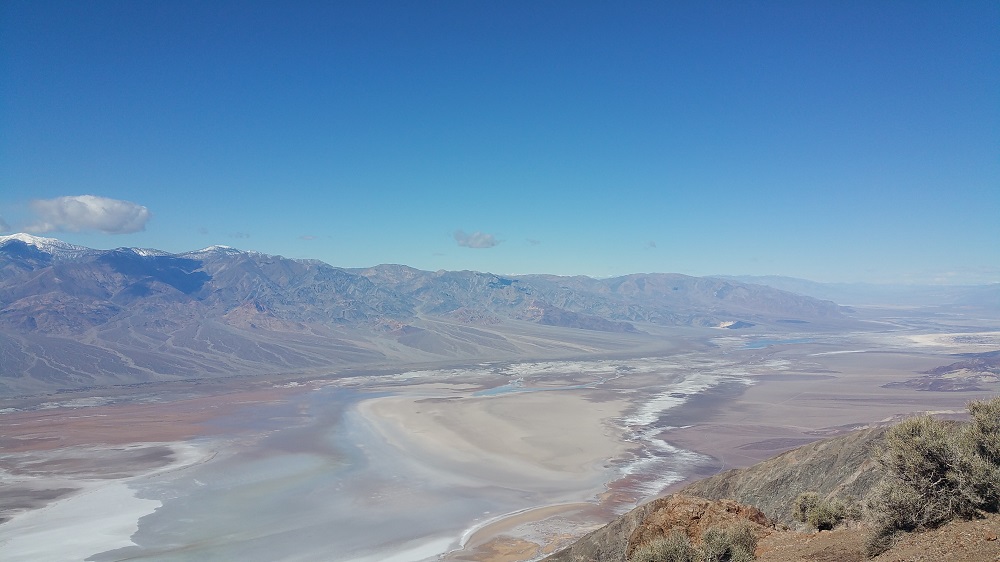 There you can appreciate the vastness and natural diversity of the Valley with its colors and textures. It seems so big that it feels almost impossible to take it all in. Immediately across sits the Panamint Range described as a short rugged fault-block mountain range on the northern edge of the Mojave Desert in eastern California. It is over 11,000 ft. and just below is Badwater, which we drove to next before checking into our hotel "Furnace Creek Inn." The site itself consists of a small spring-fed pool of "bad water" next to the road in a sink; the accumulated salts of the surrounding basin make it undrinkable, thus giving it the name. You can actually take a walk on it. The pool has animal and plant life, including pickleweed, aquatic insects, and the Badwater snail. Significant rainstorms flood the valley bottom periodically, covering the salt pan with a thin sheet of standing water and forming new lakes which do not last long. Actually, we could not visit the Devil's Golf Course or Artist's drive due to a flash flood that had occurred a couple of days before our visit.
It was time to break from our self-guided historical tour and check into our hotel: The famous Furnace Creek Inn. Better known as; "The jewel of Death Valley," and that it was.
An elegant hideaway, an oasis in the middle of the desert, The Inn at Furnace Creek is a resort where guests are transported into another world and where time stands still. It's the perfect place to relax, either near the spring-fed pool, or take a stroll, which I did, through the palm gardens to the sound of the flowing natural springs. Death Valley is known for its glorious sunset, which you can watch from the quaint stone patios adjacent to your room or while sipping a glass of wine in the lobby of the hotel while admiring the spectacular views of Death Valley and the Panamint Mountains to the west. The colors are unforgettable and change so rapidly. It is an amazing experience.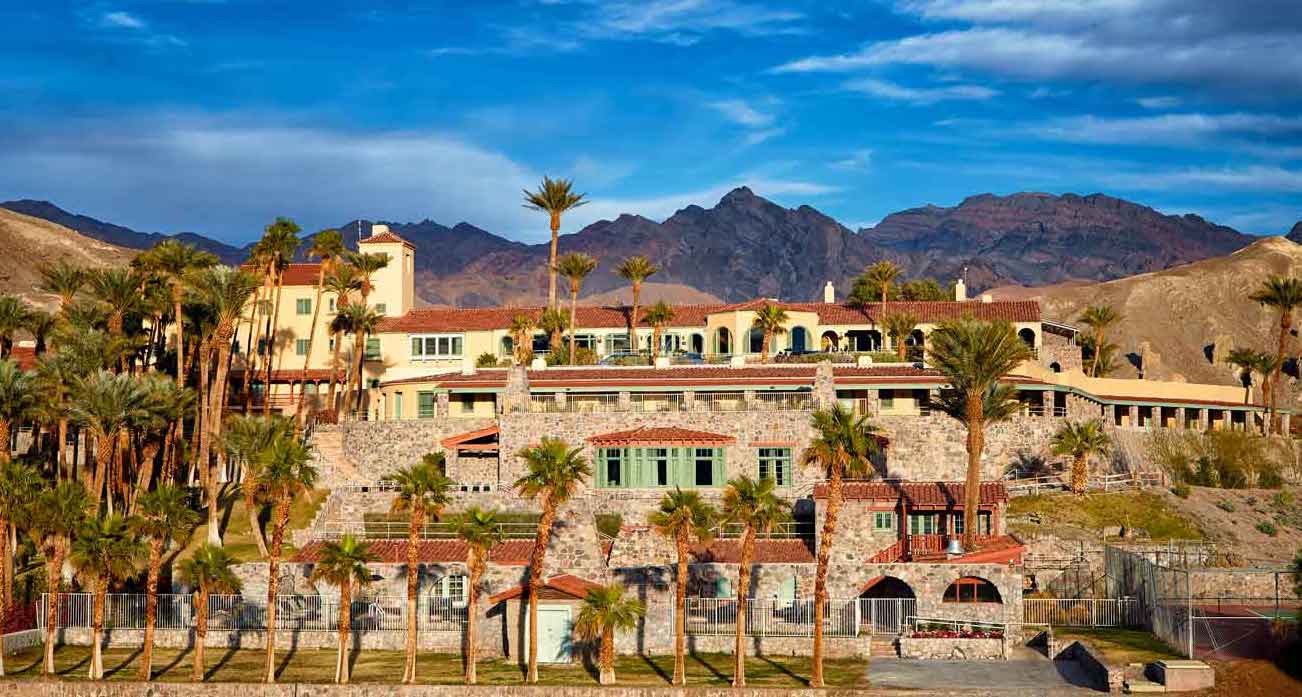 The historic Furnace Creek Inn was built by the Pacific Coast Borax Company as a means to save their newly built Death Valley Railroad. It was designed by Los Angeles architect Albert C. Martin and landscape architect Daniel Hull. Their design incorporated red tile roofs, stucco exteriors, archways, arcades and a tower all inspired by the old Spanish Missions on the California Coast. It opened for business on February 1, 1927 with 12 guest rooms, a dining room and lobby area. Room rates were $10 per night and included meals. The construction was finished in 1935 and contained 66 rooms.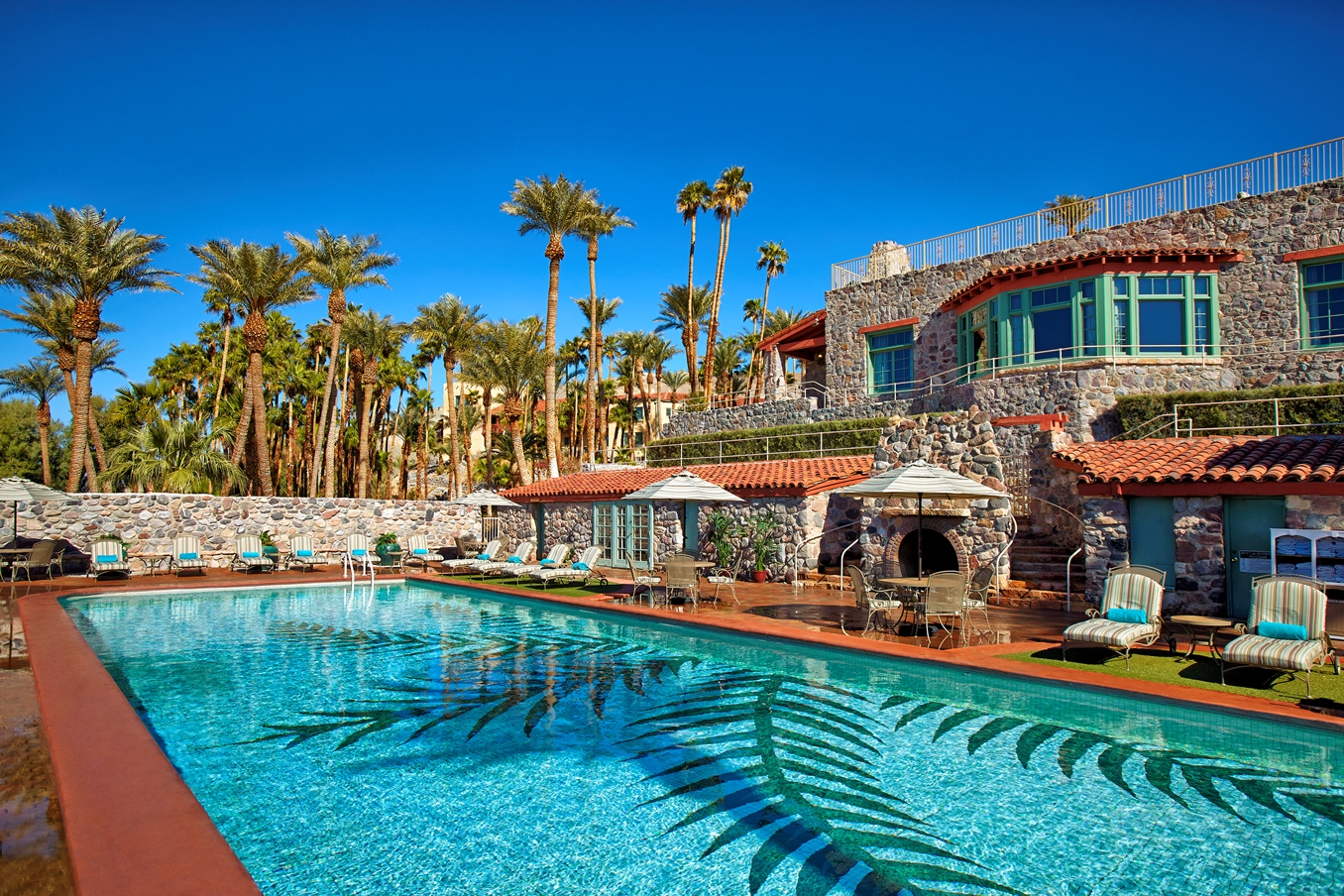 Soon after checking in, we decided to do a little more exploring. Furnace Creek is also where the resorts are located including: Furnace Ranch, also operated by the same group. A bit more casual, it is perfect for families with children. It has all the charm of the West with today's amenities: a spring-fed swimming pool, tennis courts, a children's playground, two restaurants, a camping ground and the National Park Service Visitor's Center not far from the Ranch with a small museum mainly about borax, a general store, restaurants, and a saloon. The general store sells everything from food to postcards and souvenirs. It also offers an 18-hole golf course, with an individual cabin very well appointed. There is even a post office at Furnace Creek.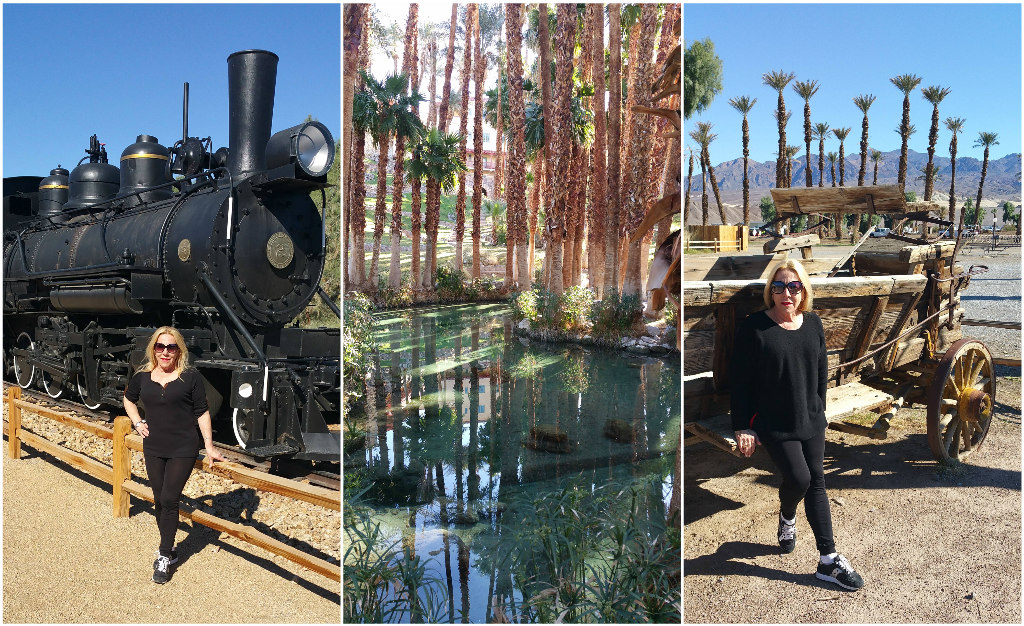 We then took the road towards Mesquite Flat Sand Dunes, which are surrounded by mountains on all sides. Regularly reshaped by the wind, the dunes, which have been used in countless movie scenes, including the Star Wars series, render a surreal landscape. Their depth of sand at the crest varies between 130–140 ft. (40–43 m) up to 600–700 ft. (180–210 m) deep. Mesquite was the dominant plant here before the sand dunes took over and that's where its name comes from. The dunes have a remarkable natural beauty, not to miss. Then it was onto The Harmony Borax Works.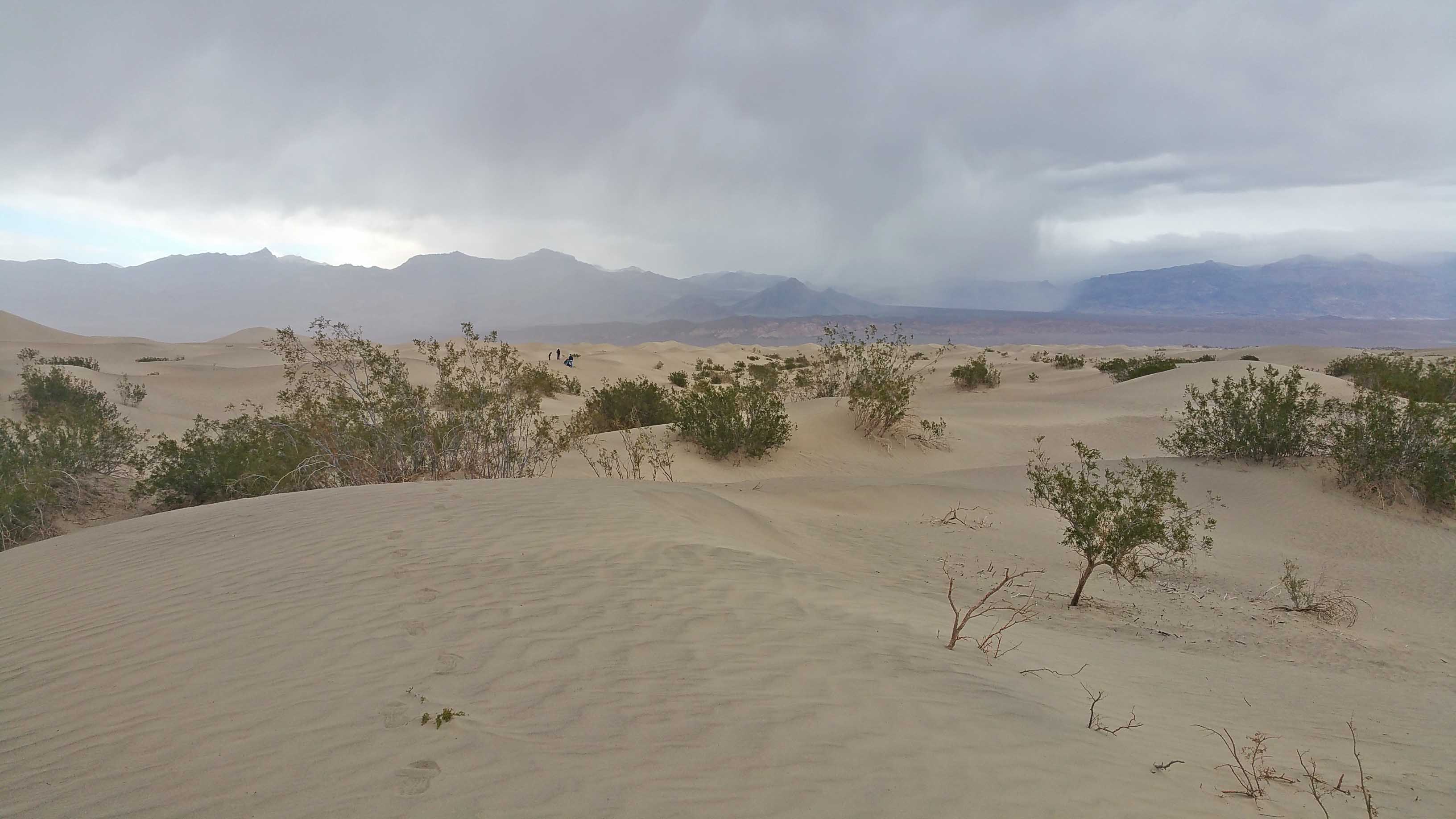 After the discovery of Borax deposits in 1881, William Tell Coleman and Francis Marion Smith paved the way for borax mining in Death Valley. The Harmony operation became famous through the use of large Twenty-mule teams and double-wagons which hauled borax the long overland route to the closest railroad in Mojave, California. As the evening was rapidly descending on us, it was time to return to our hotel and get ready for a sumptuous dinner.
I had heard about the fine dining that the Inn offered, but I never expected what we experienced. Our waiter was one of the best that I've encountered in a very long time, anticipating our every need and providing thoughtful extra touches to add to our experience. Once again we followed our waiter's recommendations. Sharing our meals as we usually like to do, we started with:
Beet Salad: citrus vinaigrette crumbles of feta cheese and toasted pistachios.
Strawberry Salad, with a spring mix: honey and poppy-seed vinaigrette with candied walnuts and smoked Gouda. And the Pan-seared Diver Scallops with radish and a sweet pea puree.
For the main course I ordered the Pan-seared Rainbow Trout: served on a bed of jasmine rice with grilled asparagus and a pickled onion & red pepper salad. Delicious!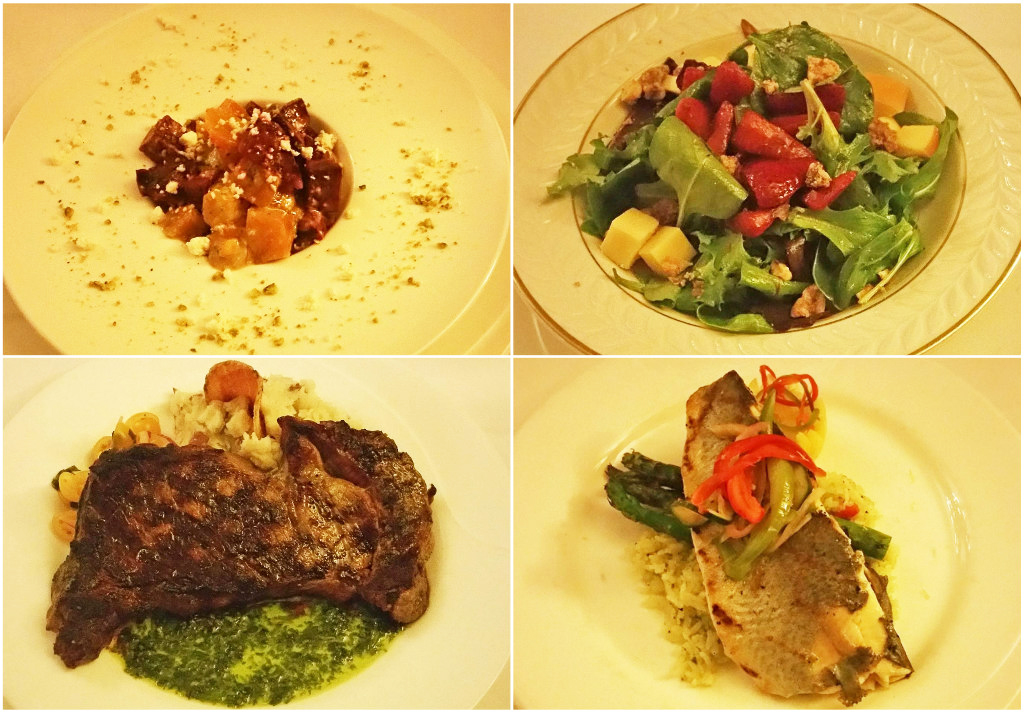 My brother went for the 14 oz. Dry-Aged Grilled Ribeye with chimachurri, crushed red potatoes and a yellow & red cherry tomato salad. While my sister-in-law settled on Roasted Rack of Lamb served with a Rosemary "bordelaise" sauce, grilled asparagus and red potato croquette. All exquisitely prepared by Chef Steven Skaggs. Our splendid dinner was the perfect finish to a wonderful outing in California. And as bedtime was closing in on us, it was time to get some rest before traveling the road back to Vegas to catch a plane. Although it was only a couple of days, it felt like a mini-vacation and a trip I definitely would recommend to anybody who has very little time and wants a real change of scenery.
Meanwhile it is not too late to make a reservation for Mother's Day brunch if you spend the weekend in Las Vegas.
The hotel will be closed from Monday May 15, through late October – early November. However, it is not too late to book your reservation for the fall as the hotel is always full.
Today, the hotel is open during the months of November through May. I strongly suggest that you make your reservation now because the hotel is always sold out. I felt very privileged to have been able to stay at the Inn Furnace Creek. The service was impeccable and we felt welcomed.
To plan your weekend getaway visit:
https://www.caesars.com/planet-hollywood
http://www.furnacecreekresort.com/lodging/the-inn-at-furnace-creek/