It's a thing... a vegan rainbow grilled cheese sandwich! Yes, we love cheese here at LATF, but many of our Angeleno readers live the Vegan lifestyle and we respect that. So, let's make National Grilled Cheese fun with this recipe from PETA!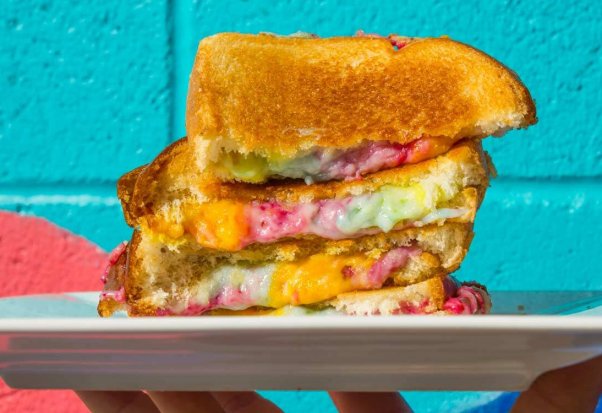 WHAT YOU NEED:
2 pkgs. Daiya mozzarella-style vegan cheese shreds
5 colors cruelty-free food coloring
3 Tbsp. vegan butter or mayo
10 slices bread
WHAT TO DO:
Divide the vegan cheese shreds evenly among 5 small bowls—1 per color—and add 3 to 6 drops of food coloring to each, mixing well to distribute the color evenly.
Warm a large pan over medium heat.
Spread the vegan butter or mayo on one side of each bread slice. Place 5 slices butter-side down in the pan.
On each slice, create colorful rows made out of the vegan cheese shreds. Top with the remaining bread slices, butter-side up.
Fry until golden brown, then flip and fry the other sides until golden brown and the vegan cheese has melted.