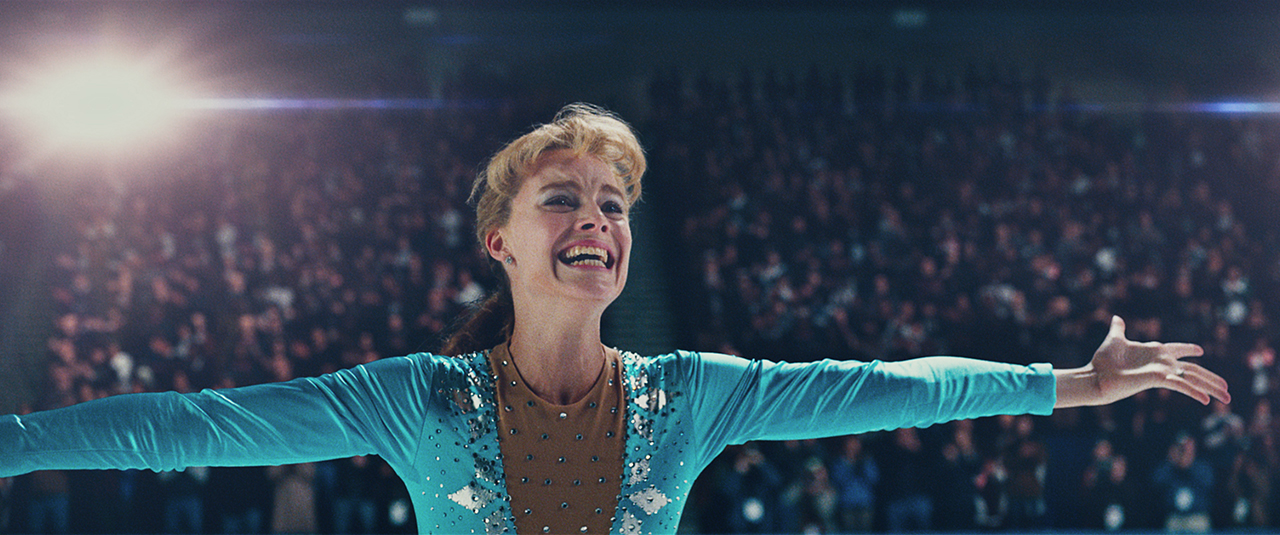 The fascinating true story of underdog figure skater Tonya Harding and her involvement in the infamous 1994 attack against fellow skater Nancy Kerrigan is told in aptly chaotic fashion in "I, Tonya" a ferociously funny and consistently engaging biopic starring Margot Robbie, Allison Janney ("Mom," "The Girl on the Train") and Sebastian Stan ("Logan Lucky," "Captain America: Civil War")
Spiritedly directed by Craig Gillespie ("Lars and the Real Girl," "The Finest Hours") from a narratively ambitious script by Steven Rogers ("Love the Coopers," "P.S. I Love You"), this lively and spectacularly vulgar sports biopic revels in the contradictions and calamities of its main subject and those inhabiting her world, though the film trips over its own skates when dealing with the more depressing elements of her story. Told from multiple, wildly contradictory perspectives, and allowing the viewer to piece together their own version of the "truth," Rogers' script nicely captures the chaos of Harding's unconventional life, while Gillespie lands on the right energetic tone to properly relate her anarchic spirit. Part sports spectacle, part mother-drama drama, part crime comedy, for all its different genre elements, "I, Tonya" still manages to cohere into a satisfying and epically entertaining whole, and is rounded out by a string of gold medal-worthy performances.
Told in a pseudo-documentary style with the main subjects looking back on Tonya's career and the events leading up to the attack, "I, Tonya" charts Harding's rise to figure skating glory, beginning when she was just a four year-old pain in her waitress mother LaVona's (Allison Janney) neck in Portland, Oregon. When her father (Jason Davis) abandons her at an early age, leaving her in the clutches of her monstrous mother, Tonya dedicates herself fully to figure skating, developing an admirable spunk and competitive feistiness along the way.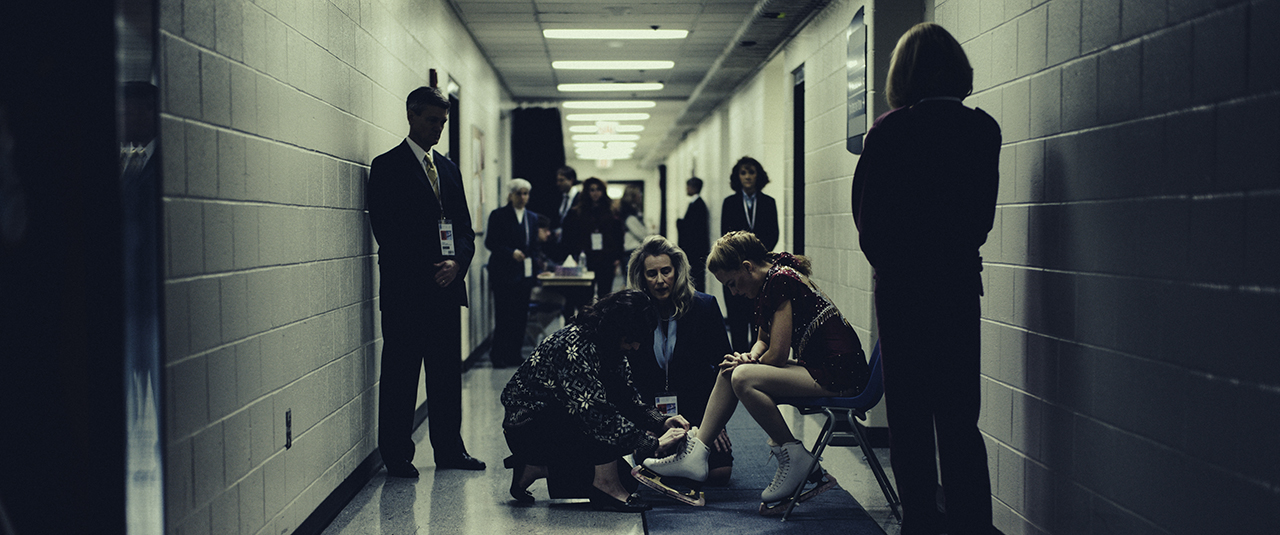 With the help of her skating couch (Julianne Nicholson), Harding's career begins to blossom in her teenage years, though it's around this same time that her private life grows even more dysfunctional thanks to her volatile relationship with an older admirer, Jeff Gillooly (Sebastian Stan). After marrying Gillooly and becoming the first woman ever to land a triple axel, Harding's career takes on an Olympic trajectory, even though her cheap homemade outfits, rock n' roll musical choices and domestic incidents continue to undermine her goals.
After some hard living that nearly derails her career, Harding refocuses on Olympic glory when the committee decides to hold the next Olympic Games two years later instead of four, giving Harding one last shot while still in her skating prime. But things quickly spin out of control when Gillooly and his delusional best friend and occasionally Harding bodyguard Sean Eckardt (Paul Walter Hauser) cook up one of the most notoriously harebrained conspiracies in the history of sports, all while Tonya tries to qualify for the 1994 Olympics in Lillehammer.
Steven Rogers' comprehensive and comically rich script delves deep into Harding's backstory and the forces, both good and bad, that shaped her into the Olympic competitor that she became. Although some characters are better sketched than others – Sean Eckardt, perhaps deservedly so, never registers beyond buffoon status, while Jeff Gillooly's characterization feels imperfect, perhaps on account of the intentionally contradictory nature of the narrative – by and large, "I, Tonya" is populated by a range of deeply eccentric and utterly memorable characters. Using the pseudo-documentary format, Rogers and Gillespie bring both humor and intrigue to the proceedings, and ratchets up the viewer interest by allowing them to decide which character's account to believe.
As for the behind-the-scenes work, the cinematography by Nicolas Karakatsanis is superb throughout, particularly the graceful and energetic skating sequences as well as his imitation of the documentary and news formats. Tying this wonderfully realized biopic together is the standout work production design of Jade Healy, who captures the 80s and 90s setting with nostalgia-laden accuracy, and costume designer Jennifer Johnson, who nicely recreates Harding's trashy homemade skating outfits and grungy 90s fashion sense.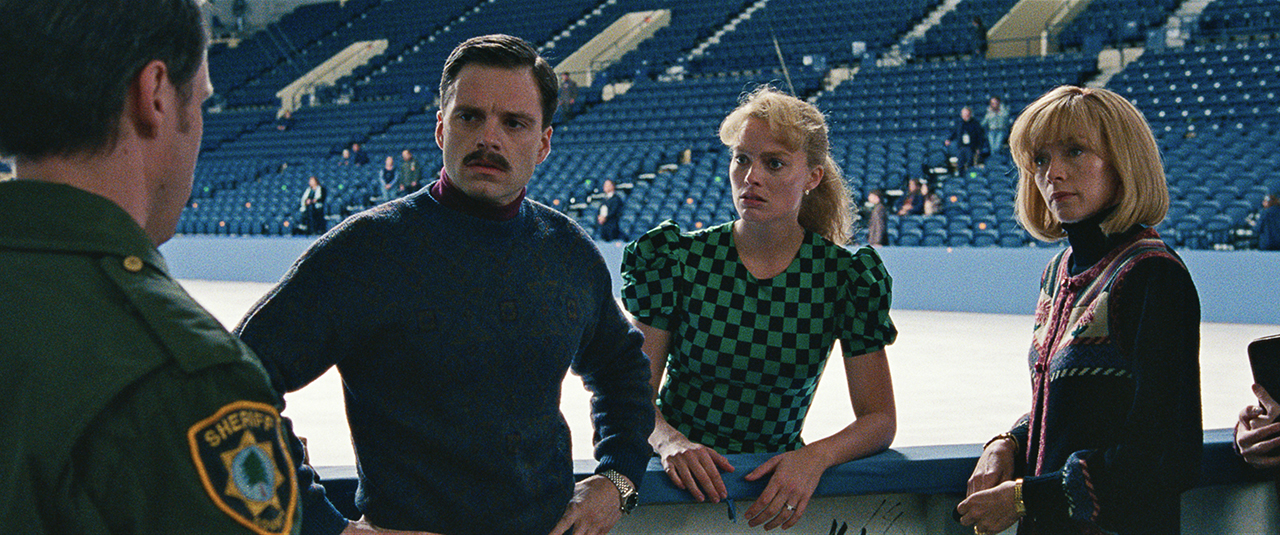 To portray the ill-fated title character, Margot Robbie sat down with Harding and drew from hours of archival footage – Harding's infamy arrived at a particularly ravenous time with the onset of gossip shows like "A Current Affair" and "Hard Copy" – and her dedication to authenticity pays off in spades. From the impressive physical transformation to the uncanny similarities of her mannerisms, Robbie inhabits her character with ease, and manages to bring sympathy and complexity to a misunderstood and misrepresented sports figure. As her chain-smoking, curse-dropping mother, Allison Janney very nearly steals the show with her pessimism and mother-from-hell antics that incite hatred and ambition from Tonya in equal measure. As previously noted, Sebastian Stan delivers a nuanced turn as Harding's loving but boneheaded husband Jeff Gillooly, but the film's largely comic tone is thrown into disarray with depictions of his domestic abuse. Finally, as criminally stupid mastermind Sean Eckardt, Paul Walter Hauser is a rascally delight whose delusions of grandeur and hilariously gutless interactions with the FBI perhaps earn the most laughs of all.
Much like the troubled figure at its center, "I, Tonya" is a messy but mightily entertaining biopic.
By Lucas Mirabella
Rated R for pervasive language, violence, and some sexual content/nudity.
Running Time: 119 minutes