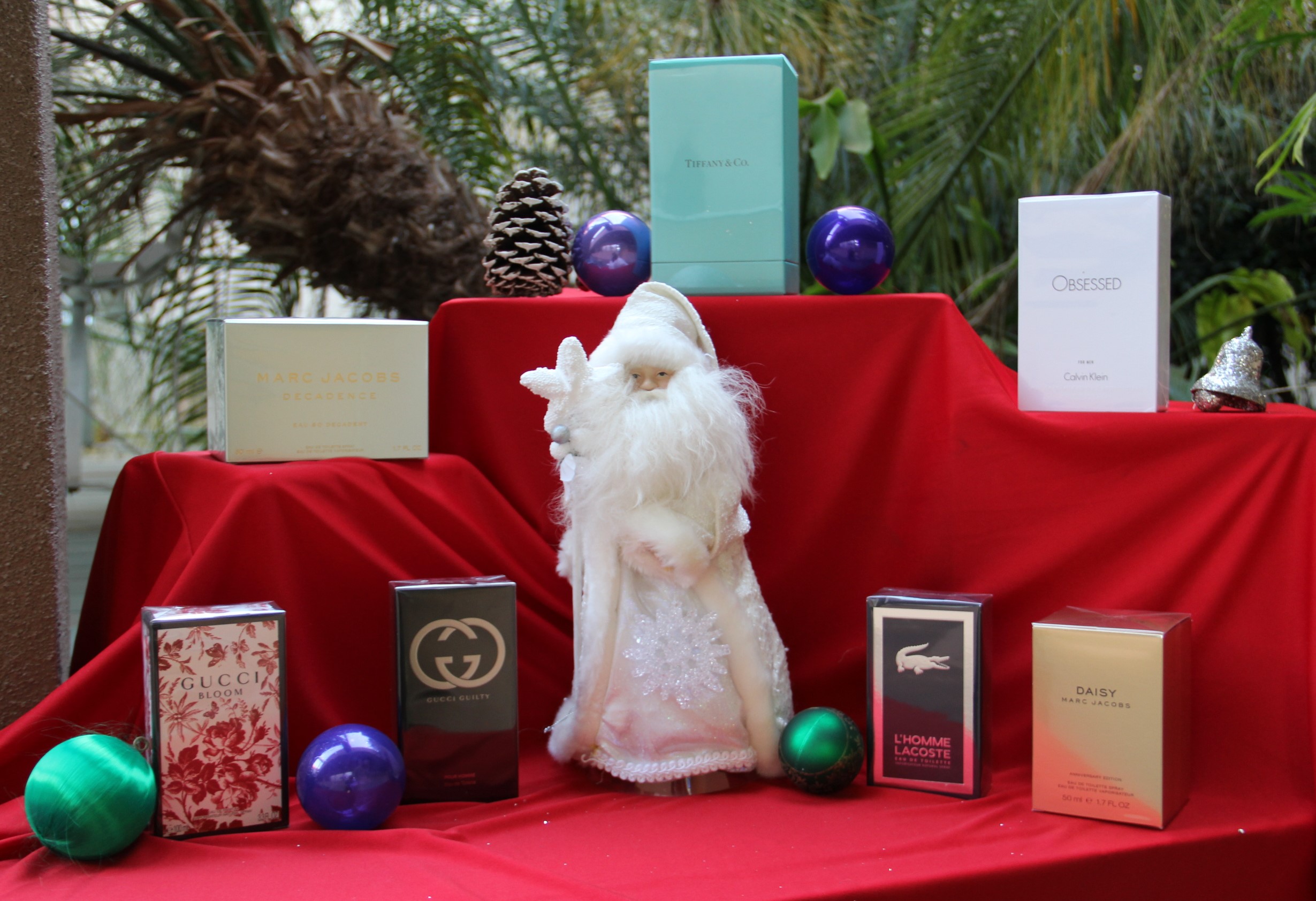 For Women
Anyone into luxury is into Tiffany.
Indulge with Tiffany & Co Eau de Parfum Limited Edition NYC Skyline Coffret.
This modern, artisanal scent, with the noble iris at its heart, is as exhilarating and inspired as love itself. Tiffany Eau de Parfum is surrounded by the New York City skyline in this limited edition Tiffany Blue Box®.
Top note: Vert de mandarine
Middle note: Noble iris
Base notes: Patchouli and musk
A must have for Christmas!
Price: 2.5 Fl. Oz. for $130
From the house of Marc Jacobs: Decadence Eau So Decadent
Great for any time of day, it provides a new way to indulge. Sheer, light, and lavishly luxurious, the fragrance introduces juicy fruits with notes of Nashi Pear and radiant florals. Lily of the Valley to create an enticing feminine signature, while White Amber reveals a hypnotic sensuality for a luminous and soft dry down.
Price: 1.7 Fl. Oz. for $87.00
Also from Marc Jacobs and a favorite of many – Daisy Marc Jacobs Anniversary Limited Edition
Handcrafted with a crystal pavé design, this limited edition offers a stunning keepsake to celebrate the 10th anniversary. Notes of wild strawberry, violet leaves, red grapefruit, gardenia, violet, jasmine, musk, vanilla and white woods.
Price: 3.4 Fl Oz. EDT for $100.00
Gucci Bloom
Gucci Bloom is created to unfold like its name, capturing the rich scent of a thriving garden filled with an abundance of flowers. Tuberose and jasmine combine with Rangoon Creeper—a unique flower discovered in South India that is being used for the first time in perfumery to create a rich fragrance that transports the wearer to an imaginary garden. Natural tuberose harvested from India
Jasmine bud extract, obtained through an exclusive method of co-extraction to impart a fresh green and petal scent on the skin
Rangoon Creeper, embodying the fragrance's concept and name, the slightly powdery floral scent is captured as the flower blooms from white and gradually darkens to pink, then red
Price: 100ml EDP for $124.00
For Men
Gucci Guilty
A smooth and light interpretation of the classic Guilty men's fragrances, Gucci Guilty Eau breaks the tradition of sparkling, cool eau de toilettes, conveying a more delicate, romantic attitude. Guilty Eau for him creates a heady contrasting aromatic blend of lemon and bergamot top notes with noble woody orris, bringing an intriguing infusion to the orange blossom signature of the original scent.
Top notes of lavender and lemon
Middle note of orange flower
Base notes of cedar wood and patchouli
Price: 90ml EDT for $90.00
Lacoste
L'Homme Lacoste which launched in 2017 is a woody spicy fragrance with top notes of mandarin orange and sweet orange, quince and rhubarb, followed by middle notes of almond, ginger, black pepper, jasmine before finishing notes of cedar, amber, vanilla and musk.
Price: 100ml EDT for $78.00
Calvin Klein Obsessed For Men
The strength of Obsessed For Men resonates through the black vanilla infusion that mirrors the sensuality of the original Obsession. A modernized oriental that has a unique link to the original scent re-interpreted through the lens of masculinity with fresh cedar leaves and resinous amber. The overdose of vanilla is addictive and disruptive while remaining true to the Calvin Klein DNA.
Top Note: Cedar Leaves
Middle Note: Black Vanilla
Base Note: Amber
Price: 4.2 Fl. Oz. EDT $82.00