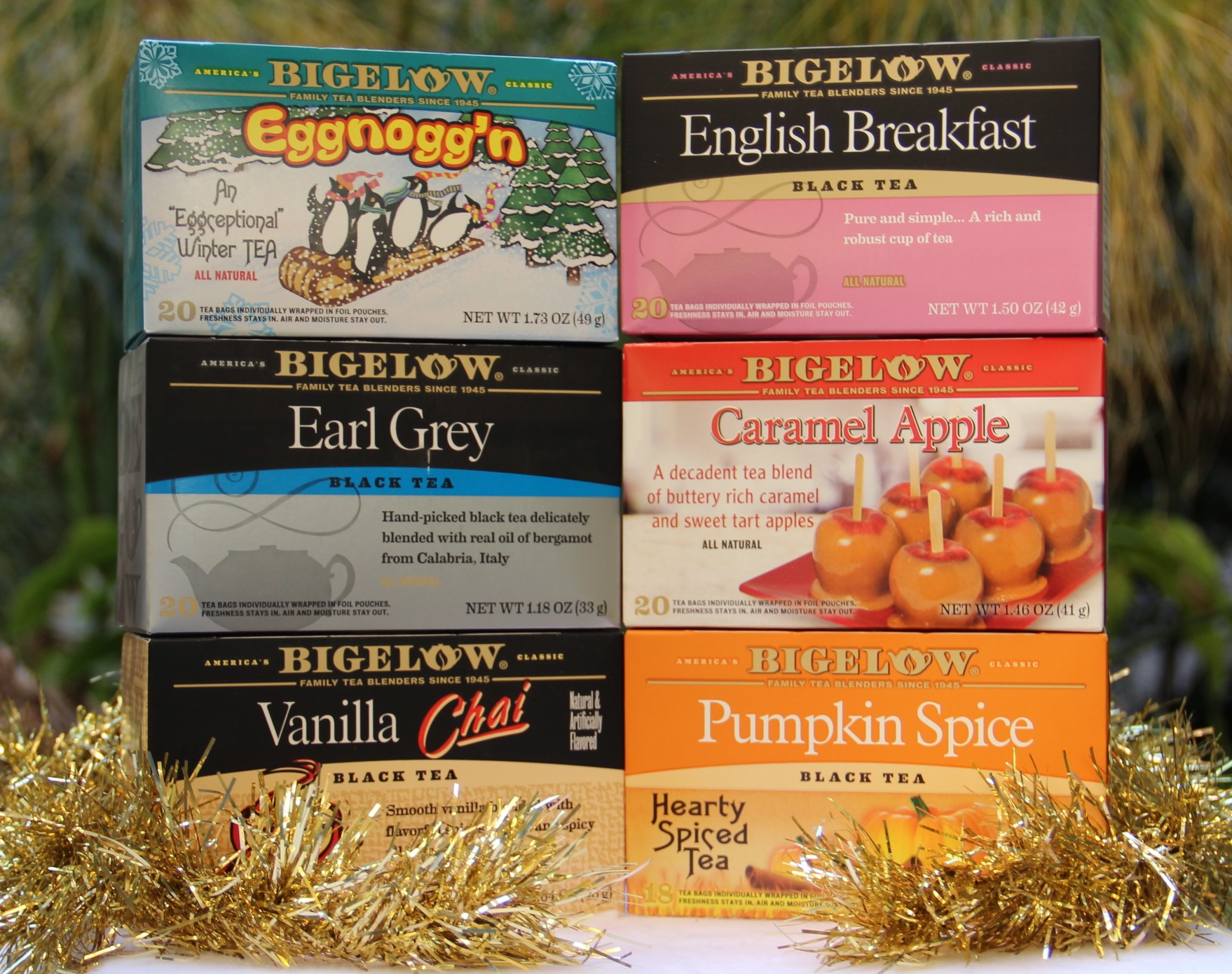 Sure, we can stick to our daily Green Tea.. .but why not spice it up for the holiday break? These are our tip 6 flavors for the winter season by Bigelow…
1. Pumpkin Spice Tea – Case of 6 boxes (120 tea bags total)
A Pumpkin Spice blend black tea with delicate spices and pumpkin flavors. Each cup of this holiday brew is filled with a rich inviting aroma like a freshly baked pumpkin pie. This is the perfect calorie-free treat to make every gathering a cause for celebration.
2. Vanilla Chai Tea – Case of 6 boxes (120 tea bags total)
Adding creamy vanilla flavor to this hand-picked black tea with the right balance of exotic spices was a natural marriage. A touch of milk and a little sweetener brings out the rich vanilla creating a superb flavor sensation. Sweet and spicy all at the same time.
3. Caramel Apple Tea – Case of 6 boxes (120 tea bags total)
The exciting flavors of buttery rich caramel and sweet tart apples pair perfectly with their bold black tea for a decadent treat unlike any other. So sit back, relax and savor this delight that brings the harvest fair right into your home.
4. Earl Grey Tea – 40 count Case of 6 boxes (240 tea bags total)
Made with the best bergamot oil, sourced from the same garden in Calabria, Italy year after year. Then they carefully blend this flavorful and aromatic bergamot with a bold handpicked black tea… a recipe like no other.
5. Eggnogg'n Tea – Case of 6 boxes (120 tea bags total)
Perhaps our favorite of the bunch. This "Eggceptional" winter tea is a smooth and delicious blend of black and green teas with the creamy flavor of Eggnog. Indulge in this all natural seasonal classic that is perfect to sip on a cold winter's day. Add a splash of milk and your favorite sweetener for a taste that will melt away the winter blues.
6. English Breakfast… always a classic with holiday cookies.