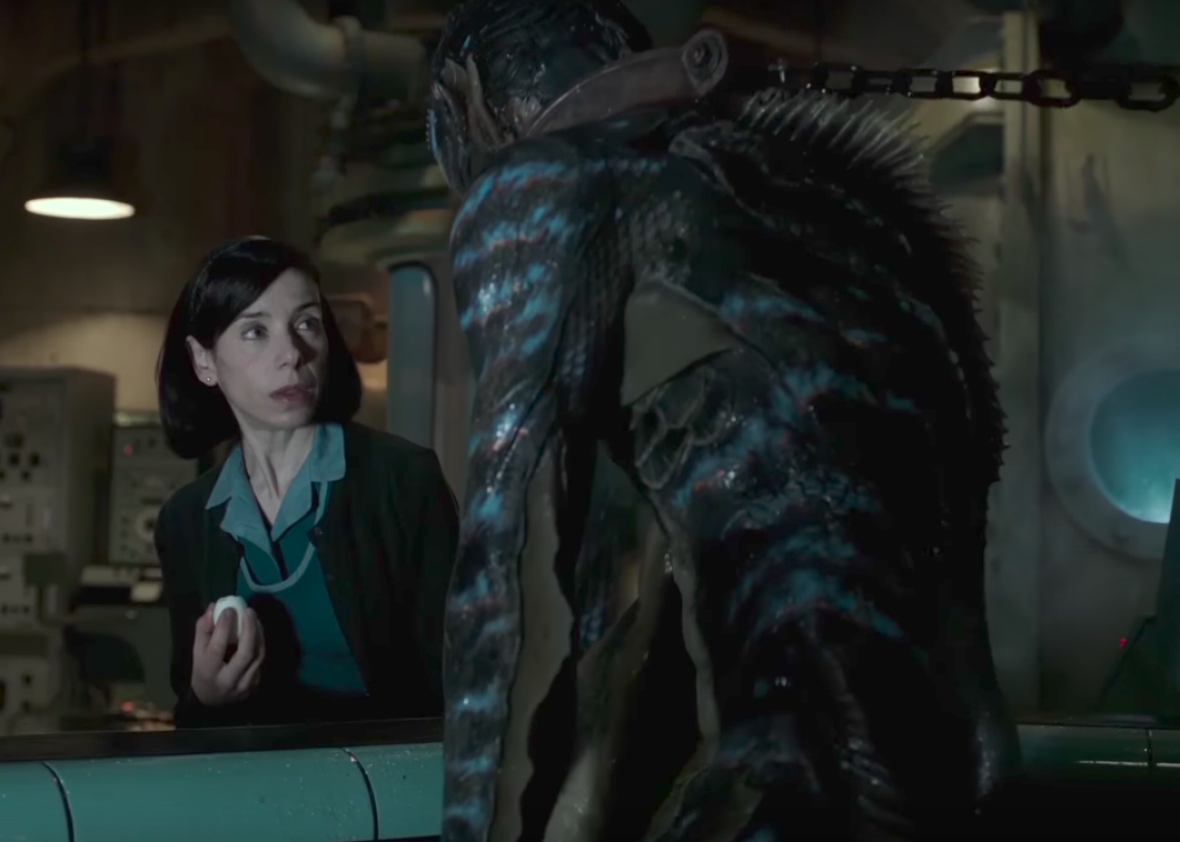 A mute cleaning lady in a secret government laboratory falls for an amphibious Amazonian creature in "The Shape of Water," an unexpectedly romantic and immensely imaginative adventure fantasy starring Sally Hawkins, Octavia Spencer, Michael Shannon and Richard Jenkins.
From the boundlessly creative mind of director Guillermo del Toro ("Pan's Labryinth"), this fabulously delightful adventure set against the backdrop of Cold War America manages to reach surprising emotional depths without sacrificing the storyline's inherent suspense and adventure. There is much to marvel at in this brilliant piece of filmmaking, from the sumptuous cinematography by Dan Laustsen ("John Wick: Chapter 2"), to the astonishing production and costume designs by Paul D. Austerberrry and Luis Sequeira, to name a few of its many beautiful realized qualities. But it's the boldness of del Toro's vision paired with the impressively layered silent performance of Sally Hawkins that steals the show and your heart along with it.
Set in Baltimore in the early 1960s, "The Shape of Water" centers on Elisa (Sally Hawkins), a mute cleaning woman who, along with her coworker and best friend Zelda (Octavia Spencer), works at an undisclosed government facility housing many secrets. Living in Cold War America, which is beset by inequality and fear of nuclear war with the Soviet Union, Elisa finds solace during these tumultuous times in her friendship with Giles (Richard Jenkins), her gay artist neighbor, and in the B-movie palace below her apartment.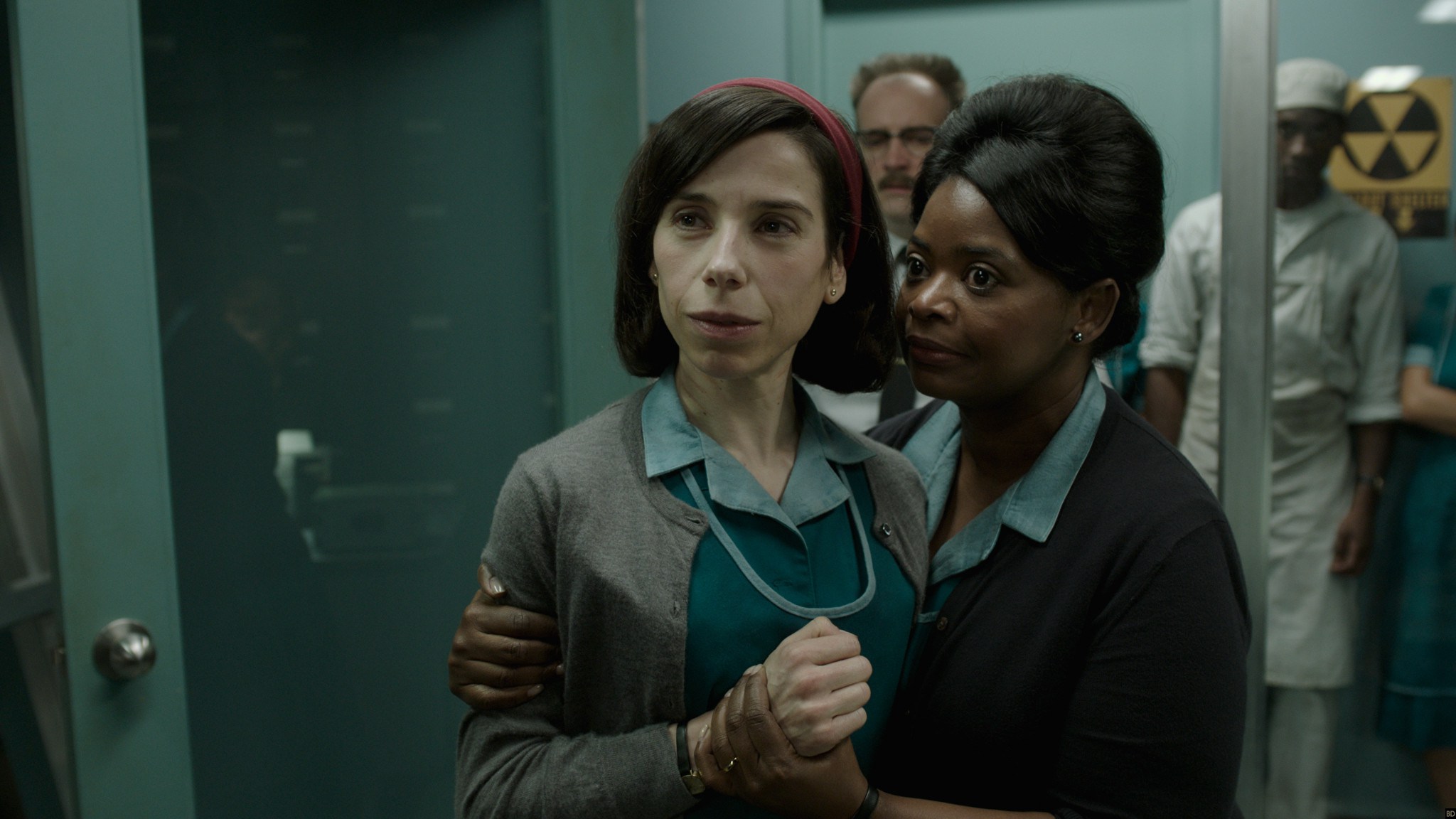 As Elisa comes to learn, one of the many secrets kept under wraps at her workplace is a manlike amphibious creature (Doug Jones) hailing from the Amazon that was captured by relentless G-Man Richard Strickland (Michael Shannon). Appalled by the cruelty with which the career-minded Strickland treats this creature, Elisa sneaks into the unit where he's kept and develops a relationship with him that soon takes on romantic elements. But as Elisa's secret relationship blossoms, other forces are at work that will soon pull them apart. With the help of a similarly sympathetic marine biologist (Michael Stuhlbarg) in charge of studying the creature's unique lung structure, Elisa and her friends stage a daring breakout to remove this exceptional being from his dire situation.
For those concerned that the admittedly eccentric storyline is perhaps too strange to succeed as a love story, rest assured that the screenplay by Guillermo del Toro and Vanessa Taylor manages to hit some genuinely tender and passionate notes despite the otherworldly elements. If it were merely a love story, it would still warrant a trip to the theater, so deeply moving and fully realized is del Toro's cinematic vision, but "The Shape of Water" is just as notable for its unrelenting suspense, its inviting humor and its effectively unsettling Cold War milieu. Also notable is Alexandre Desplat's emphatic score that nicely compliments the film's varying genres, as is Dan Laustsen's truly unforgettable imagery and the knockout visual effects courtesy of Dennis Berardi.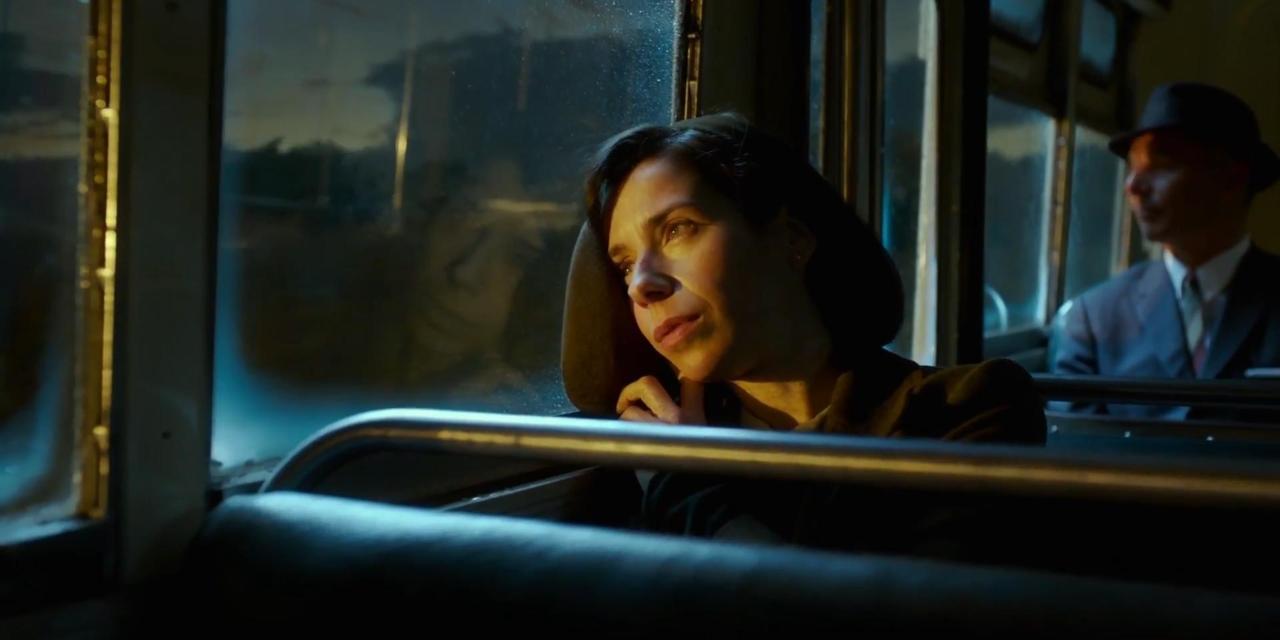 Now on to the most magnificent element of "The Shape of Water," the acting; more specifically, the mind-boggling lead performance of the incomparable Sally Hawkins ("Happy Go-Lucky," "Blue Jasmine"). Portraying a lonely mute woman whose means of communication are essentially limited to facial gestures and sign language, Hawkins not only gives a believably lived-in performance but imbues it with an emotional complexity that is nothing short of astonishing. Giving solid support to Hawkins in her otherworldly adventures is Richard Jenkins as her down-on-his-luck, repressed neighbor Giles, as does Octavia Spencer in the role of Elisa's coworker Zelda. On the more dramatic end, Michael Shannon is effectively ruthless as the archetypal G-Man whose abuses of the amphibious creature prompt Elisa's escape plan, while Michael Stuhlbarg delivers yet another memorable performance as a double-dealing marine biologist and possible Soviet spy.
"The Shape of Water" is a ravishing romantic fantasy that will sweep you away.
By Lucas Mirabella
Rated R for sexual content, graphic nudity, violence and language.
Running Time: 123 minutes