DOC LA kicked off on Thursday night at Raleigh Studios with the premiere of the highly anticipated documentary, "VIF," about the life of Christian Audigier.
"VIF" producer Fabrice Sopoglian and director Didier Beringuer
The film, which retraces Audigier's rise to fame as he built the Ed Hardy clothing empire, went home with big wins. Director Didier Beringuer and producer Fabrice Sopoglian took home Best Director and Best Producer for their filmmaking efforts.
"We made a promise to Christian and his family that the project would be completed and would live on..and I'm happy to say, this is only the beginning! This is for you Christian!" Beringuer told LATF USA.
Both Sopoglian and Beringuer expressed how honored they were to be in competition with great filmmakers, including producer Marion Cotillard, Alfred Molina, Oscar-nominated director Joe Berlinger and more.
"VIF" is a touching tribute documentary which properly illustrates and follows intimate accounts with the fashion icon's friends, including Snoop Dogg, Michael Madsen, and Stephen Dorff. "VIF" also features Sylvester Stallone, Don Cheadle, Kim Kardashian, Daymond John and Ed Hardy. Called "The King of Fashion" by Michael Jackson himself, Audigier tragically passed away after fighting a rare form of cancer.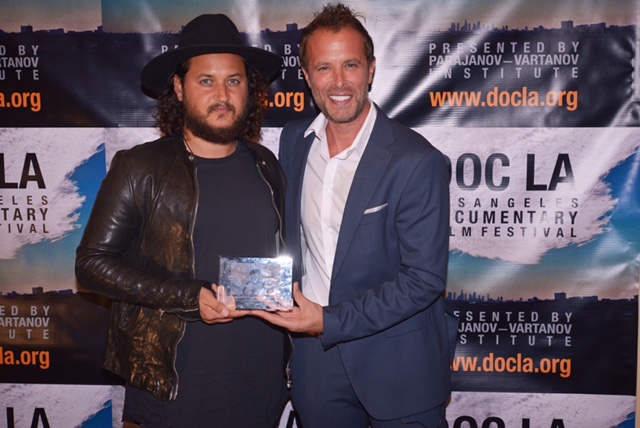 Sopoglian (L) with co-executive producer Samuel Boutboul
DOC LA is produced by Parajanov-Vartanov Institute and will run screenings through to October 22nd.
Other documentaries include:
Marion Cotillard's environmental documentary "The Girl and the Typhoons"
Alfred Molina-narrated "Erdogan: The Dictator's Republic" by Ryan & Joe Heilman
Inga Bremer's "Franco's Legacy: Spain's Stolen Children"
Sebastien Paquet's "Mind Over Matter"
"Grab and Run," directed by Roser Corella
"Mothers in the Middle" by Lauren Hollingsworth
"He She I" by Carlotta Kittel
Michael Weatherly's Telluride documentary, "Jamaica Man"
"The Incursion" by Sasha-Gay Lewis
David Koch's "Witnesses"
Click here for more info: http://www.docla.org