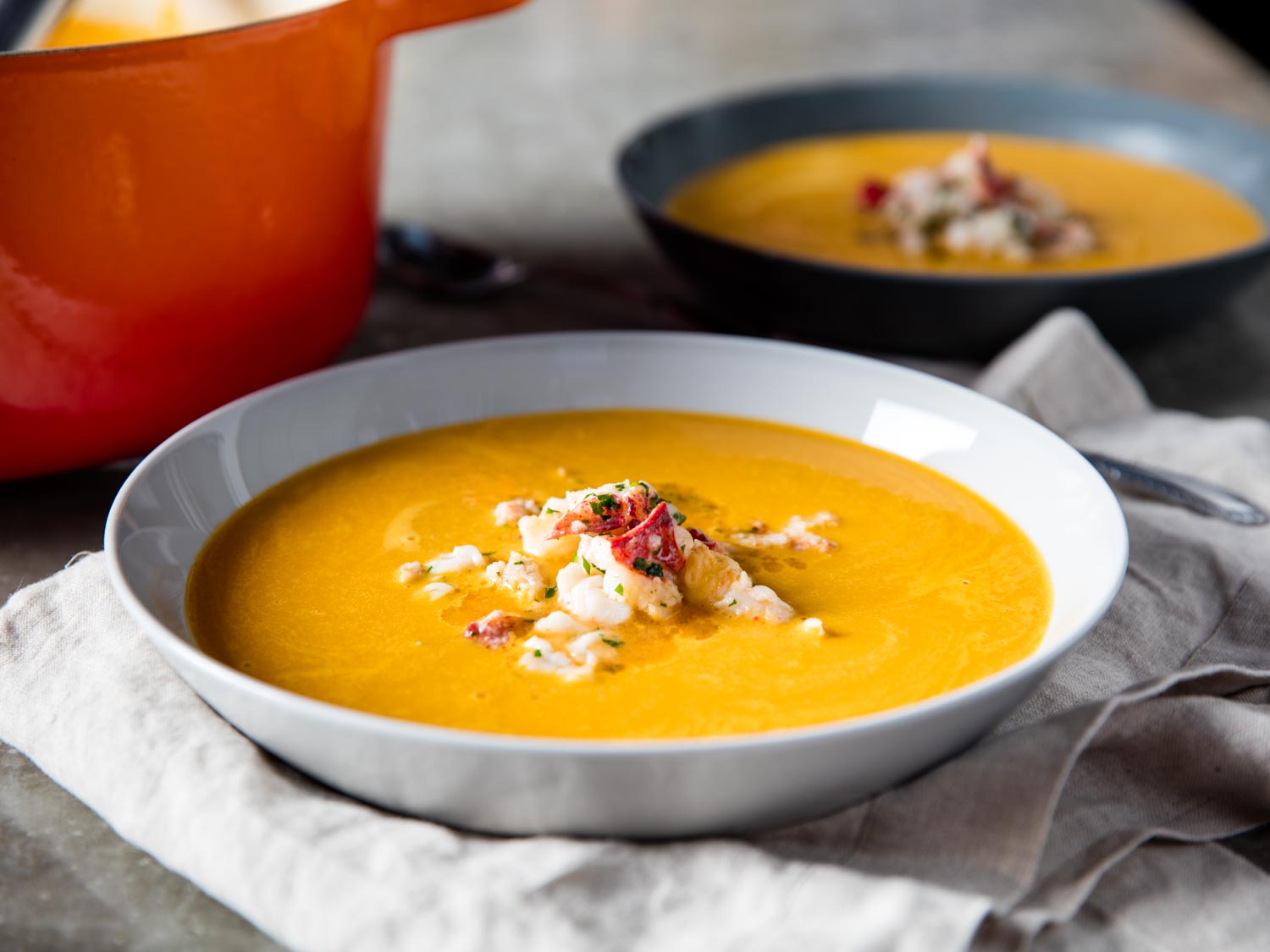 It's National Lobster Day! As someone who was raised in Maine, lobster runs through my veins! Lobster rolls, lobster stew, lobster bisque, or simply dipping boiled lobster in melted butter… the ways in which you can eat lobster is endless. Fun fact, we even had lobster rolls on our McDonalds' menu.
One of my favorite recipes is lobster bisque. With most of the country shifting into that crisp fall weather, a bowl of bisque is just what the doctor ordered.
Whole Foods offers a delicious Lobster Bisque Recipe with a punch: Lobster Bisque with Sherry and Smoked Paprika
WHAT YOU NEED:
4 tablespoons unsalted butter, divided

1 tablespoon extra-virgin olive oil

1 large onion, chopped

1 large carrot, chopped

1 celery stock, chopped

1 (32-ounce) quart fish or lobster stock, preferably homemade*

1 (15-ounce) can tomato purée

2 whole frozen lobsters, thawed according to package directions

3 tablespoons all-purpose flour

1/4 cup dry sherry

1 cup heavy cream, divided

Sea salt and ground white pepper, to taste

2 teaspoons smoked paprika (Spanish pimentón)

Whole or chopped chives for garnish (optional)
WHAT TO DO:
In a large stock or soup pot, melt one tablespoon of butter with the olive oil. Cook onion, carrot and celery over low heat for about 20 minutes, stirring occasionally, until soft but not browned. Add stock and tomato purée and simmer 20 minutes. Strain mixture through a fine sieve and return to pot. Measure out 1 cup of strained liquid and set aside. Meanwhile, boil lobster according to package directions, then transfer to ice water to cool quickly. Remove meat from tails and claws and discard shells (*see note below). Cut meat into small pieces, reserving whole claw meat for garnish, if desired. Add any juices to stock.
Melt remaining butter in a small saucepan over low heat. Whisk in flour and stir until smooth. Very slowly stir in sherry and the cup of reserved liquid. Add this mixture to the large stock pot and bring to boil, whisking until smooth. Reduce heat, add lobster meat and simmer 10 to 15 minutes.
In a small bowl, blend 1/4 cup cream with smoked paprika. Set aside. When ready to serve bisque, whisk remaining 3/4 cup cream into bisque and adjust seasonings. Ladle bisque into bowls and top with reserved claw meat pieces. Garnish with paprika-spiced cream and chives if desired.
*If you don't have homemade fish or lobster stock, you can boost the flavor of store-bought stock by crushing the discarded shells and simmering them with stock for 20 minutes. Strain stock and discard shells before using.
More recipes at: http://www.wholefoodsmarket.com/recipe