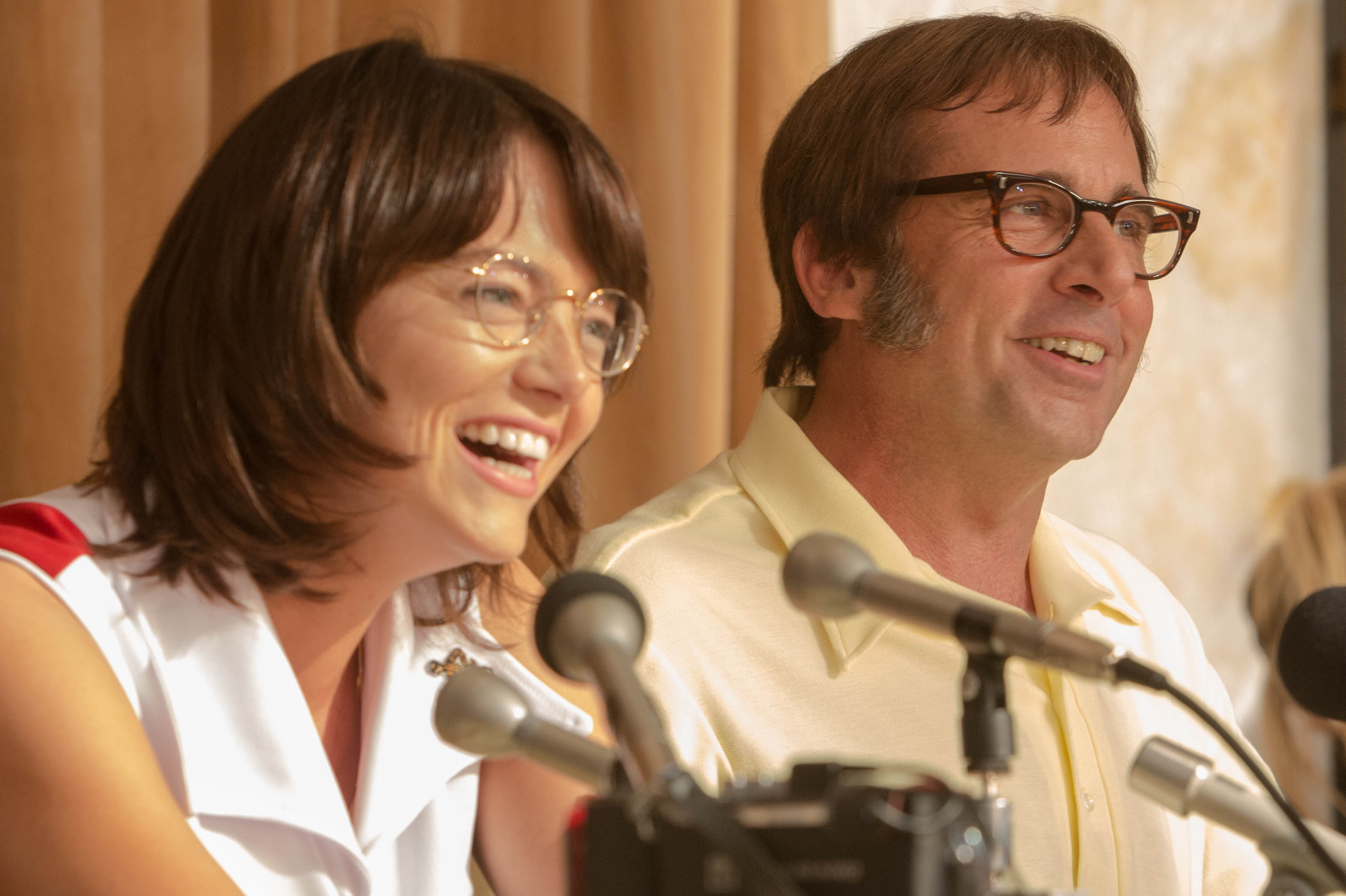 The legendary 1973 tennis match between women's champion Billie Jean King and ex-men's champ turned hustler Bobby Riggs is resurrected for the big screen in "Battle of the Sexes," an ace sports biopic and sure-fire awards contender starring Emma Stone and Steve Carell.
Exceptionally directed by the husband and wife filmmaking team of Jonathan Dayton and Valerie Faris ("Little Miss Sunshine") from a Grand Slam script by Simon Beaufoy ("Slumdog Millionaire"), this insightful and boundlessly entertaining sports biopic beautifully balances its many moving parts, resulting in a feel-good film at turns poignant and hilarious. Seamlessly shifting between comedy, sports, period piece and family and political drama, "Battle of the Sexes" looks beyond the absurd spectacle to reveal the complicated figures at the center of these historic moments in sports and politics. Boosted by yet another arresting performance from Oscar winner Emma Stone as well as a lovably crass Steve Carell, and featuring top-notch tech credits from the period appropriate cinematography, on down to the top-notch production and costume design, "Battle of the Sexes" is a definite winner.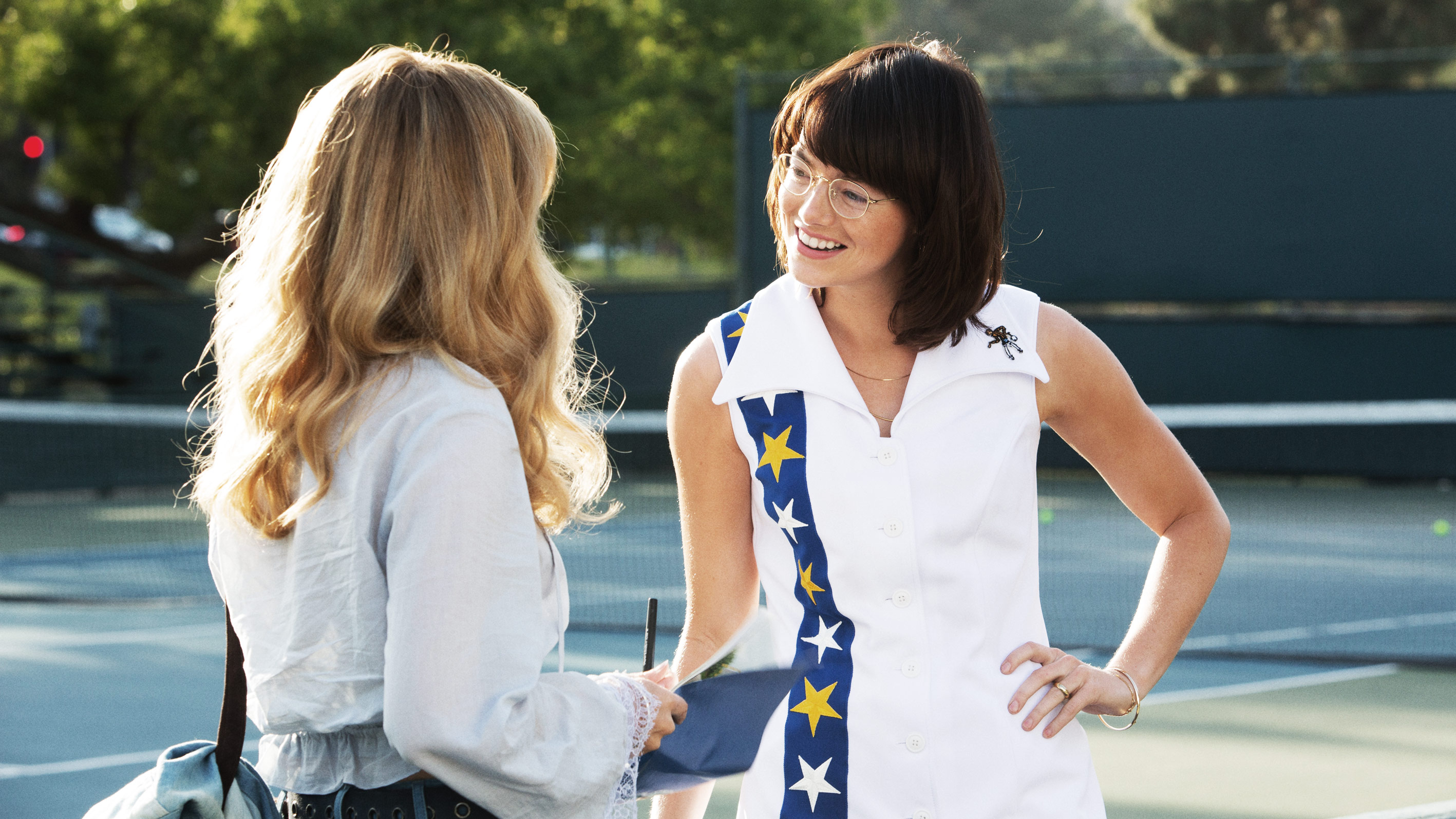 "Battle of the Sexes" begins in the early 70s when Billie Jean King (Emma Stone), the number one ranked player in women's tennis, organizes a walk-out of the Pacific Southwest Tennis Tournament due to unequal prize money being offered to the women's players. This bold move earns King and her fellow women's players a ban from the USLTA's Grand Slam events, resulting in King and Gladys Heldman (Sarah Silverman), the founder of World Tennis magazine, forming a circuit of their own, the Virginia Slims Tour.
As the Virginia Slims Tour ramps up, earning publicity and devoted support from the women's liberation movement and tennis fans alike, Billie Jean's marriage to husband Larry (Austin Stowell) grows complicated due to a budding relationship between Billie Jean and her hairdresser, Marilyn Barnett (Andrea Riseborough). But given the stigma associated with a same-sex relationship, along with the infidelity factory, Billie Jean is forced to keep her feelings private, which takes its toll on her game as well as her personal life.
Meanwhile, after taking notice of the endless publicity for the Virginia Slims Tour, aging ex-mens tennis champ Bobby Riggs (Steve Carell), a funny but flawed degenerate gambler and shameless self-promoter, decides it's time to capitalize on the moment. Claiming the female sex to be vastly inferior, Riggs sets the publicity machine in motion by declaring that he could defeat any female player, no matter her ranking. Not wanting to degrade her women's lib message with trashy spectacle, Billie Jean declines the lucrative offer. But when Aussie player Margaret Court (Jessica McNamee) agrees to take on Riggs, and is subsequently humiliated, Billie Jean sees no choice but to accept the challenge, leading to the unbelievable "Battle of the Sexes" match that captivated the nation.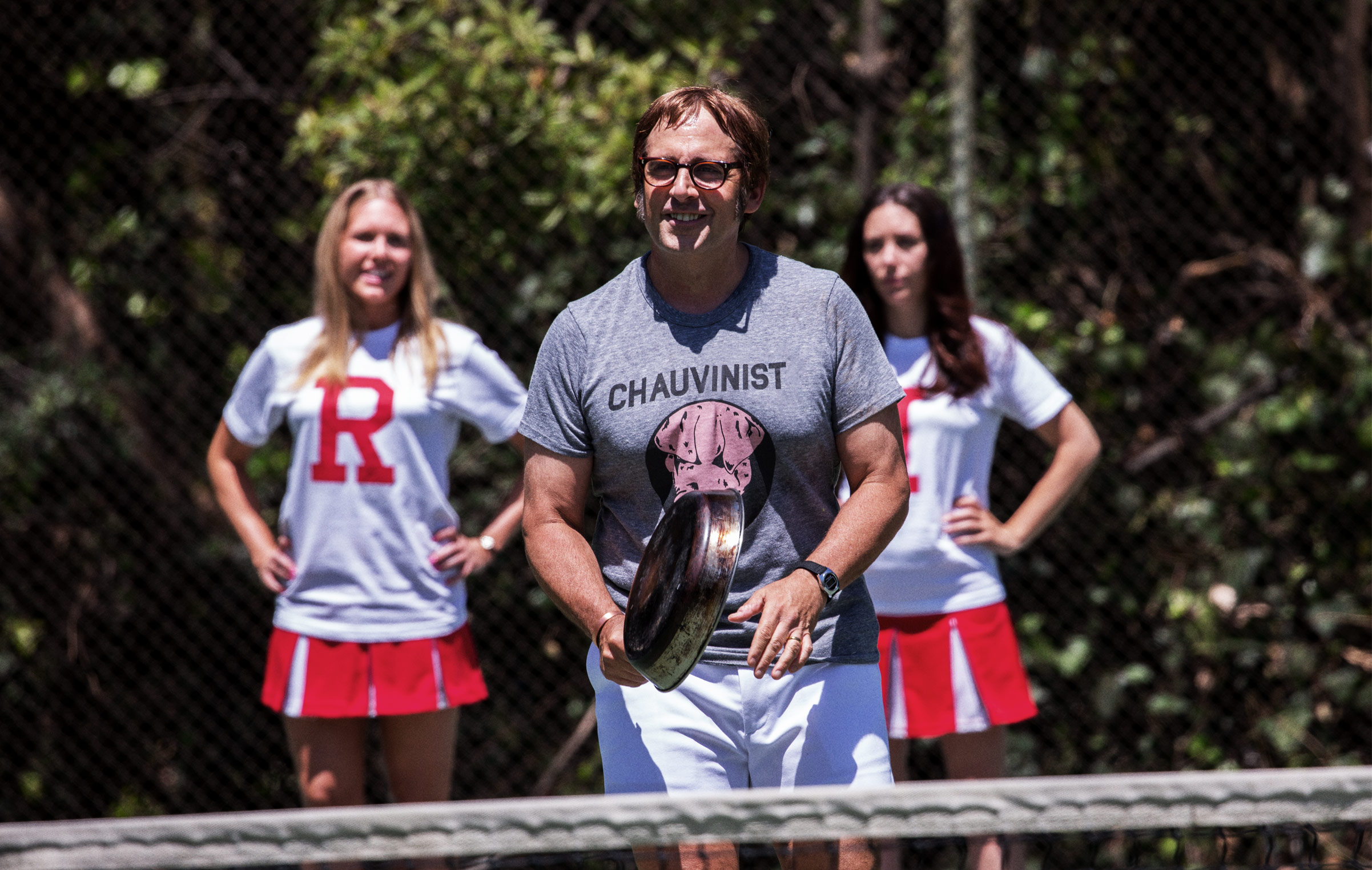 Striking a pitch-perfect tone, even when the circumstances surrounding the match venture into absurd territory, directors Jonathan Dayton and Valerie Faris never lose sight of the powerful drama at the story's center. Thanks to the incisive and comprehensive script by Simon Beaufoy, the film beautifully articulates the importance of Billie Jean's cause, and even manages to humanize the outwardly contemptible Riggs by shining a light on his troubled personal life. From the thrilling sports scenes and tender romantic moments to the welcome humor and passionate social commentary, "Battle of the Sexes" is thoroughly absorbing from start to finish. Linus Sandgren's appealingly muted cinematography, paired with Judy Becker and Mary Zophres' spot-on production and costume design, help immeasurably in bringing this monumental match to life, as does Pamela Martin's smooth editing, which flawlessly intercuts archival footage with reenactment.
As the boundary breaking women's tennis champion, Emma Stone captures the complex emotional and physical demands of portraying Billie Jean King with admirable authenticity. However, while King's struggle is the film's dramatic core, Steve Carell is equally impressive, providing plenty of laughs and surprising emotional depth, even somehow making Bobby Riggs, a self-described "male chauvinist pig," a sympathetic character. For supporting performances, Elisabeth Shue is predictably excellent as Riggs' forgiving but fed up wife Priscilla, and Sarah Silverman excels as Gladys Helldman, the fiery cofounder of the Virginia Slims Tour, but Andrea Riseborough earns top honors as Billie Jean's free-spirited lover Marilyn.
Timely as ever considering the ongoing fight for equality, not to mention the parallels with our ludicrous political climate, "Battle of the Sexes" is a captivating crowd-pleaser.
By Lucas Mirabella
Running Time: 121 minutes
Rated PG-13 for some sexual content and partial nudity
http://www.foxsearchlight.com/battleofthesexes/