Many years ago, injections were reserved mostly for cosmetic surgery buffs, but today injectables overall (including Belotero, Botox, Dysport, Juvederm Ultra, Juvederm Ultra Plus, Perlane, Poly-L-Lactic acid, Radiesse, Restylane, Voluma, Xeomin, etc.) is something both women and men are doing on a large scale. In fact, 2016 saw a 10% increase in injectables. Americans spent more than $15.5 billion dollars on combined (surgical and nonsurgical) aesthetic procedures in a single calendar year, according to the American Society for Aesthetic Plastic Surgery (ASAPS). 58% of the total expenditures, surpassing the 8-billion-dollar mark for the first time ever, and nonsurgical procedures accounted for 42% of the total expenditures, surpassing the 5-billion-dollar mark for the first time ever.
I recently met with Dr. Michael Godin, a highly-acclaimed, Facial Plastic and Reconstructive Surgeon. He is Board Certified by both the American Board of Facial Plastic and Reconstructive Surgery and the American Board of Otolaryngology. In addition to his private surgical practices in Richmond, Virginia and Los Angeles, California, he is a Clinical Professor at the Virginia Commonwealth University Medical Center and has served as the Director of Facial Plastic and Reconstructive Surgery in the Department of Otolaryngology/Head and Neck Surgery since 1993.
A dedicated educator and researcher, he is also a prolific author, having published numerous academic books and scientific articles on facial plastic surgery (as well as a work of fiction). As a member of the National Medical Education Faculty for Botox® education (Allergan Corporation) and Radiesse® (Bioform Medical Corporation), he is also a nationally-recognized expert on non-surgical rejuvenation, which is how we met.
With so many plastic surgeons in Beverly Hills, why did you come back?
Well, I came back to a group at Cedar's, because I train a young doctor every year. It's a fellowship, and they spend one year with me. And my fellow, actually, is the principal now in one of the groups at Cedars. I trained him in 2005. When it came time to look for a group here, I thought well, "Who better to work with than somebody that I know so well?" It's called the Osborne Head & Neck Institute, that's who we work with and they're wonderful.
What is your specialty?
I'm a facial plastic surgeon. I specialize in aging-face surgery. I do more facelifts and necklifts than anything else. That's a big specialty. I created a lift called the micro-mini lift, which I actually trademarked and have talked about all over the world. You can see the link on my website.
What's the trend right now?
People don't like a lot of downtime. They want to get everything quickly. What we can do with injectables we do, but there comes a time when you need something else. That is when we go to the operating room.
Where do you operate?
I operate at Cedars or the Osborne Head & Neck Institute. We have our own operating room. It's accredited. It's a great place.
What is the trend right now in the U.S.?
In facial rejuvenation, I see everything. People come to me for everything, but maybe a little earlier, maybe a little younger now. They're starting to see a little bit of relaxation with the jaw, and at the top of the neck. They hate it. A few years ago, we probably would have said, "Come back in five years." But that's one of the reasons why I created that micro-mini lift – was to help your 45-year-old who's just starting to see a little bit here. There are some people who don't need it, but others do.
It's basically a lift.
It's a lift. Yeah, and I think the trend is younger.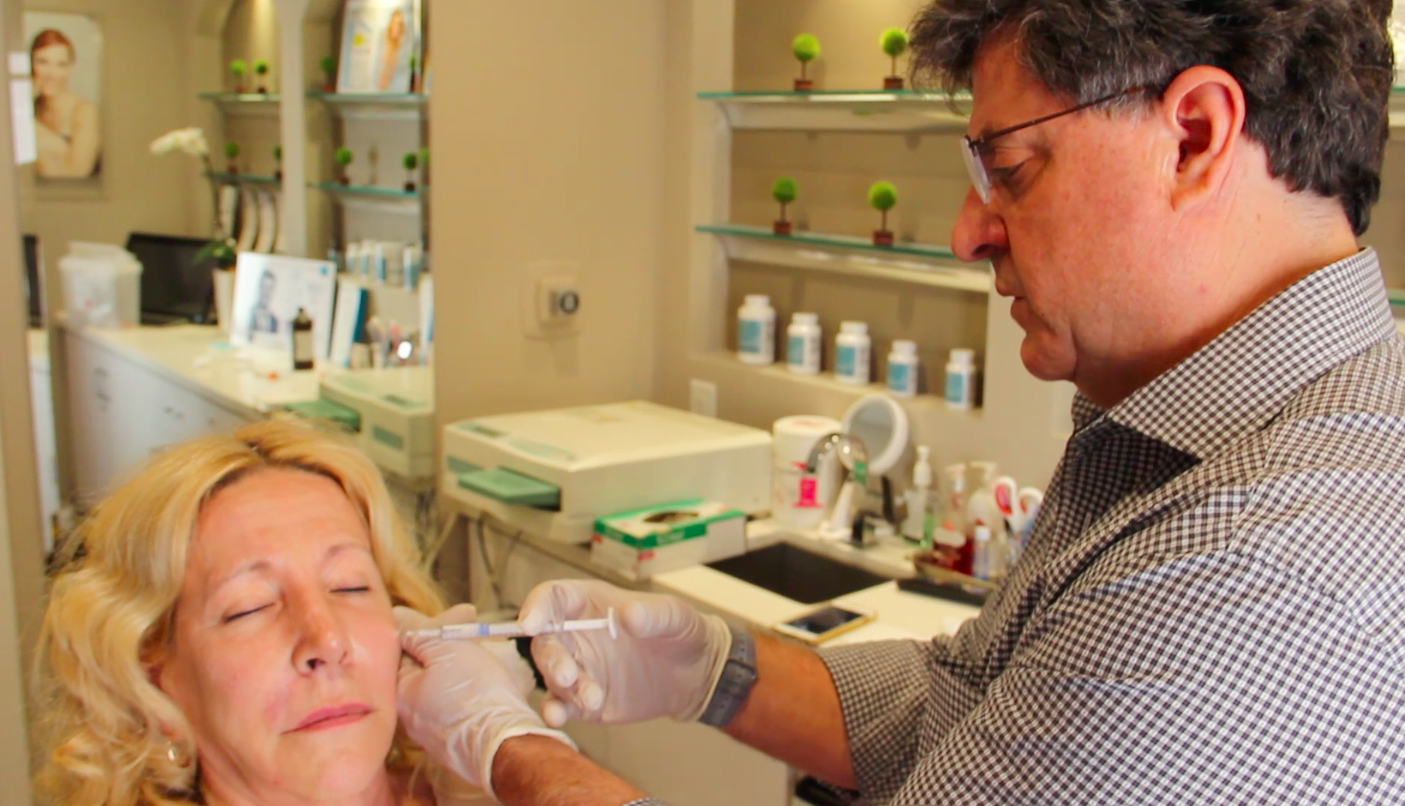 What are the popular injectables?
We have three botulinum toxins right now. We have Botox, Dysport, and now we have Xeomin.
I am not familiar with Xeomin. What is it?
It's the same molecule. It's all botulinum toxin type A. It's just the delivery system is a little bit different for each one.
How do you decide which you are going to use?
Some of it, is patient comfort and what they're used to. Botox is first and everybody knows the name Botox.
Many think that Botox doesn't work very well.
It will work as well as the other ones. In other words, there's no big advantage in any of them. And they've had studies; they've shown pretty much equivalency.
Where do you use Botox?
Well, the most beautiful place we use Botox when people need it is the frown area under the glabella (reflex in forehead) because they make these vertical lines, and there's nothing really pretty about being able to corrugate your brow. The muscle we treat is called the corrugator. By treating that, we can relax that, and that will help soften these lines. It doesn't take it away completely, because those lines have been – people have been bunchy since they were a baby. This is a place where we commonly use out here in what they call the crow's feet. From squinting lines and smile lines — interestingly people want relief with Botox from smile lines, but it doesn't really do that because when you smile, your cheek rises up. It has to bend. It's like the hinge of the door. It has to go up. So you get some relief out here.
Then here's the area (gestures to top of forehead) where you have to be the most careful, because some people hate their lines, but at the same time, if you do too much up here, it will drop and you'll look tired.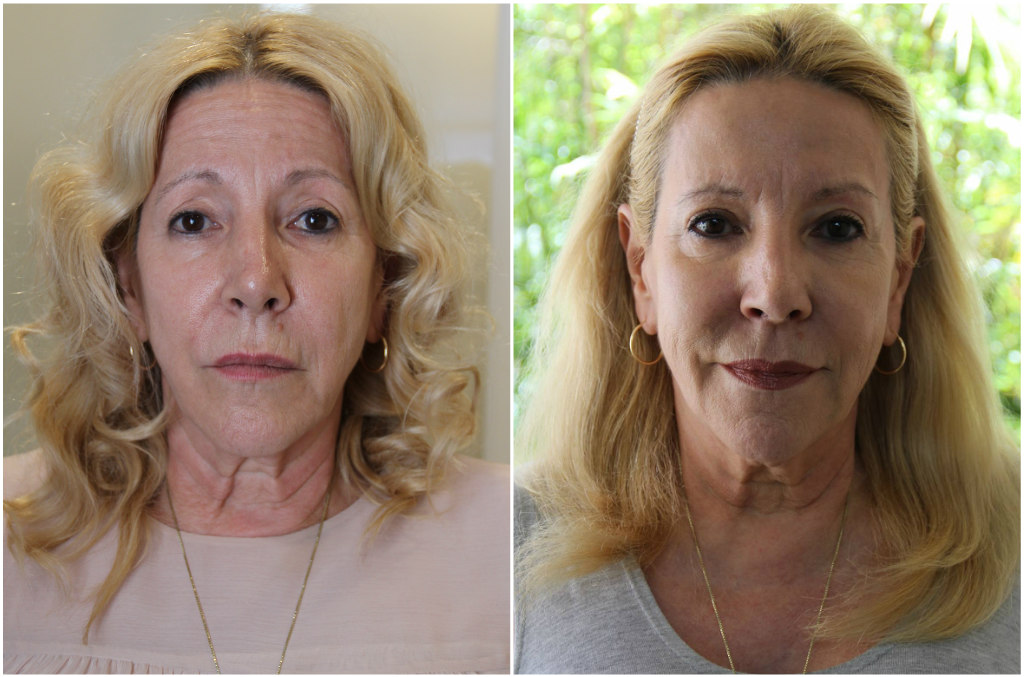 Before & After
What do you call too much?
Too much is when they look unnatural.
Botox dissolves rapidly.
Yes, the effect does, but it can take three months or more to go away.
Do you still work with Juvederm?
Of course.
Is that one of your preferred?
Yes, I like Juvederm. Lips. I do a lot of that. It's just one of the many great products. They have Voluma, Volbella and Vollure.
Vollure — that seems to be a trend.
Then they have the Juvederm. And then Galderma has the Restylane, and they have the Restylane Lyft, which is thick. Then they just came out with the Refyne and the Defyne. And I like Radiesse, too – it's calcium-based. It's very nice.
Is there a product that's better than another for a different type of skin?
Absolutely. It is a giant algorithm. I look at the patient, look at the skin, look at what they need, where they're losing volume, where they're sagging. And there are very different types of skin on a face. I have to advise them on what is the best treatment.
———————————
Although, I am a firm believer in fillers, make sure to ask any and all questions that you may have. Sometimes, after receiving fillers, you may have bruising for a week to ten days which you can cover with makeup. You also may notice some swelling for a week or so. So my advice is to do your fillers when you do not have any event to attend. Choose your doctor carefully. Do make sure that the doctor lives in your area simply because you may need a retouch. At the end of the day it is worth it…
To learn more about Dr. Godin visit: http://drgodin.com/