Associated with luxury, celebration, and romance, the region of Champagne is home to the world's most prized sparkling wine.
Champagne Bochet – Lemoine – 'Cuvée Selectionnée' & Brut Rosé
Well-drained limestone and chalk soil defines much of the region, lending a mineral component to the wines. The climate here is marginal — ample acidity is a requirement for sparkling wine, so overripe grapes are to be avoided. Weather differences from year to year create significant variation between vintages, and in order to maintain a consistent house style, non-vintage cuvées are produced annually from a blend of several years.
Three varieties are permitted for use in Champagne: Chardonnay, Pinot Noir, and Pinot Meunier. Chardonnay, the only white variety, contributes freshness, delicacy, and elegance, as well as bright and lively acidity and notes of citrus, orchard fruit, and white flowers. Pinot Noir and its relative Pinot Meunier provide the backbone to many blends, adding structure, body, and supple red fruit flavors. Wines with a large proportion of Pinot Meunier will be ready to drink earlier, while Pinot Noir contributes to longevity. Whether it is white or rosé, most Champagne is made from a blend of red and white grapes — and uniquely, rosé is often produced by blending together red and white wine. A Champagne made exclusively from Chardonnay will be labeled as "blanc de blancs," while one comprised of only red grapes are called "blanc de noirs."
The Champagne Bochet-Lemoine was born from the merger of two domains. Champagne Lemoine & Fils was created in 1945 by winemakers Charles and Theresa Lemoine. It was in 1957 that The Champagne Bochet-Massart, created by Jacques and Lucie Bochet, came to life. In 1989, Valérie Lemoine met Jacky M. Bochet. They fell in love, a year later they were married and in 1992 the Champagne Bochet-Lemoine was born. They made it a point to keep both family names on their brand. They are located in Cormoyeux France.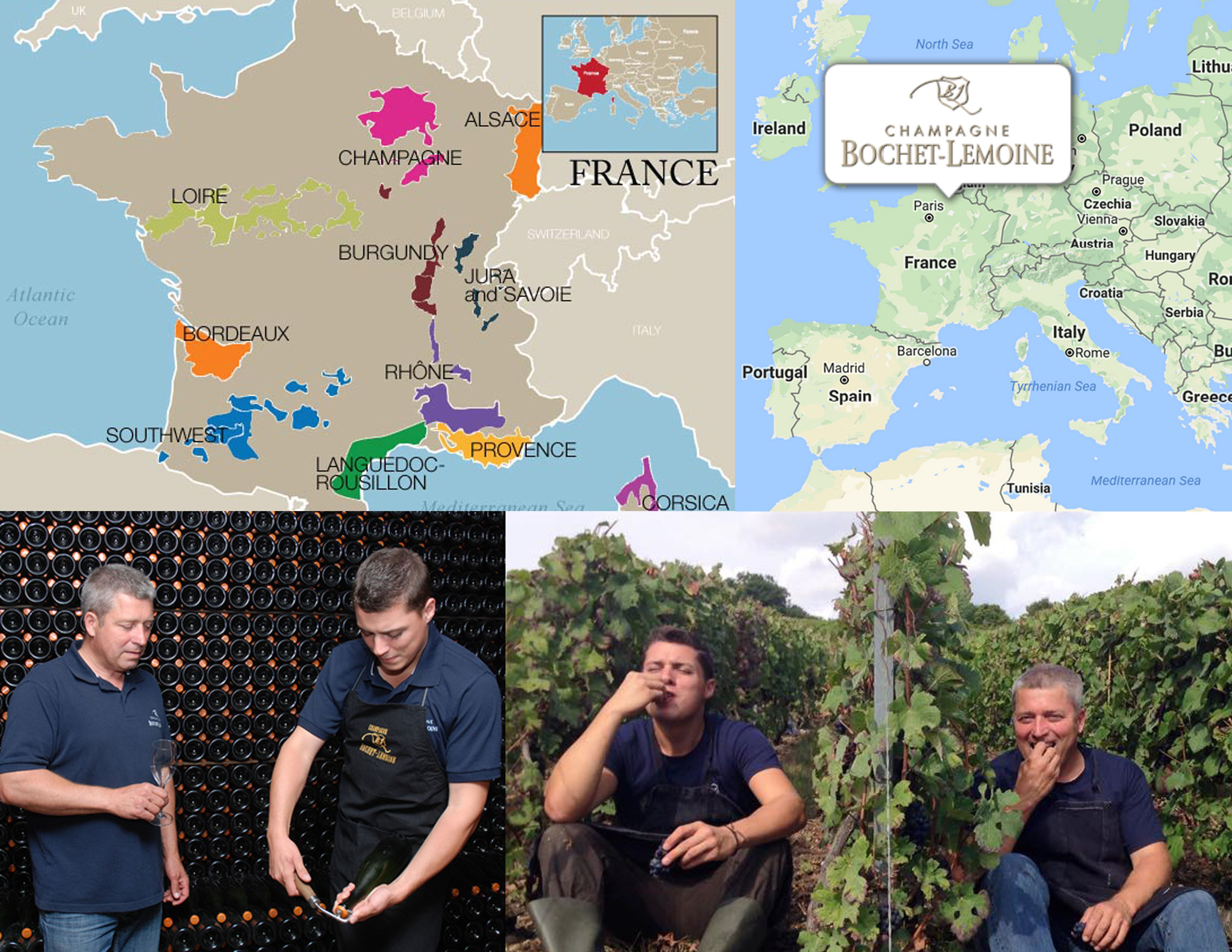 Map of Champagne – Pierre et Jacky Bochet – Lemoine
I recently discovered Champagne Bochet-Lemoine and it was nothing else but delightful. I sampled two of their champagnes, the first was:
The 'Cuvée Selectionnée' with a pale gold color is made ​​from a blend of three grape varieties, Pinot Meunier (55%), the Pinot Noir (30%), and a touch of Chardonnay (15%). Well balanced and crisp, it has subtle aromas of white flowers with lingering vanilla and citrus notes on the palate. Quite pleasant.
And the second was the Brut Rosé. This gorgeous Salmon-pink color is obtained by adding red wine to the blend which is made of 65% Pinot Meunier, 25% Pinot Noir and 10% Chardonnay. Opening up to notes of red fruits, the raspberry and strawberry overtones give the champagne a fresh and racy taste. You must give it a try.
https://www.champagne-bochet-lemoine.com/fr/