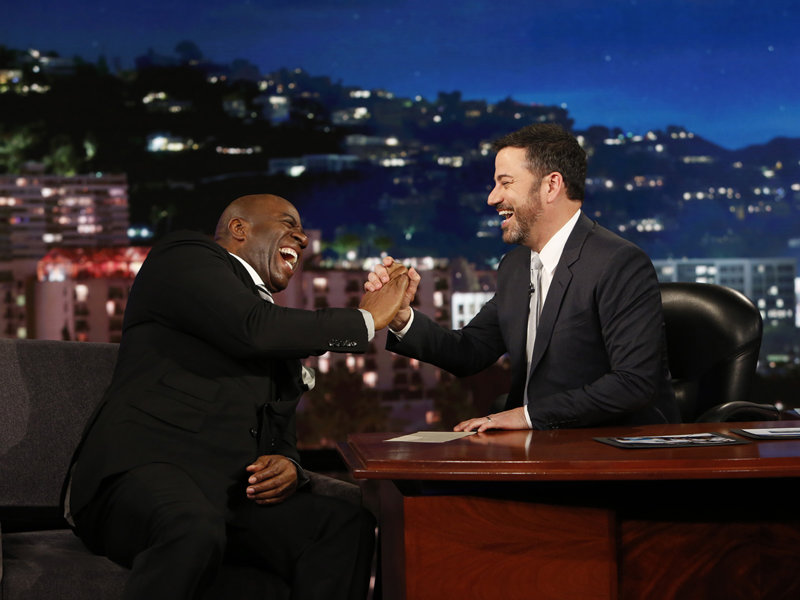 The NBA must be starving for attention because they have launched a formal investigation into possible tampering by the Los Angeles Lakers. For now, the investigation appears focused on comments made by Lakers President Magic Johnson during an appearance on the "Jimmy Kimmel Live" show which aired on April 21, 2017. During the interview, Kimmel introduced the discussion of tampering in a very light-hearted way. He asked Johnson if he was looking to add Chris Paul, Paul George or Teen Wolf — yes Teen Wolf — to the Lakers roster.
Kimmel then posed a hypothetical question to Johnson about whether Johnson could talk to George — who is set to become a free agent in 2018 — if the two men happened to run into each other while on vacation. Kimmel wanted to know if Johnson could say anything in that circumstance and yet still comply with the NBA's anti-tampering rule. Johnson replied, "We're going to say 'hi' because we know each other."
Had Johnson ended his answer at that point, his response would have been fully compliant with league rules. Saying hello to a person who is employed by another team isn't tampering. It's basic manners. But Johnson continued in his answer. He added, "You just can't say, 'Hey, I want you come to the Lakers,' even though I'm going to be wink-winking." Johnson then complemented his answer by offering an exaggerated wink. He then joked, "You know what that means, right?" Johnson, Kimmel and the audience all laughed.
If the NBA concludes that the Lakers and/or Johnson tampered, potential penalties would range from a warning, a fine that wouldn't exceed $5 million, a suspension of Johnson for a definite or indefinite period, forfeiture of Lakers' draft picks, transfer of Lakers' draft picks to the Pacers or — and this is the big one — a prohibition placed on the Lakers from signing George for a definite or indefinite period.