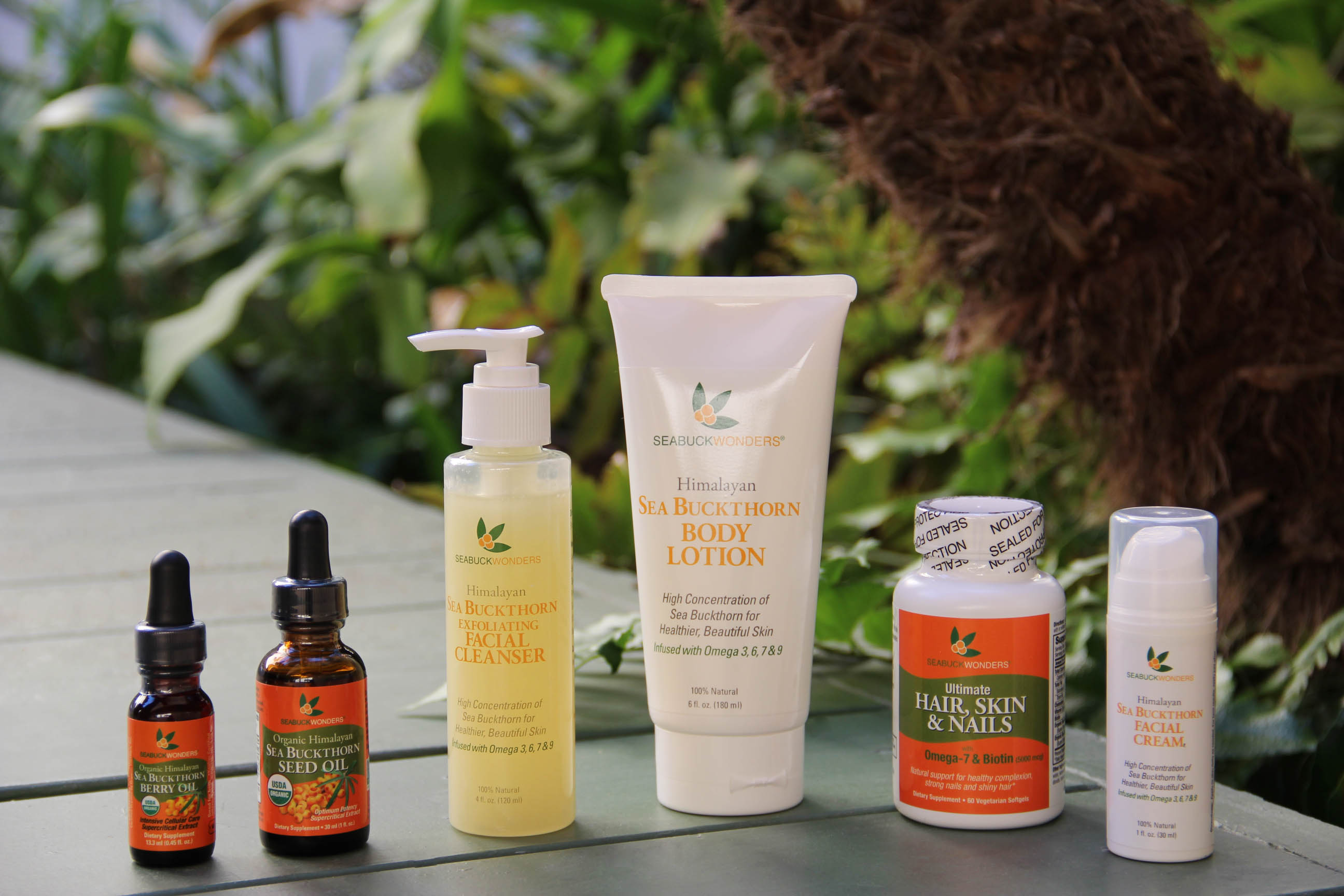 Seabuck Wonders is something quite exceptional!
I love beauty and I love products. I have to admit, in writing about different brands, I learn something new everyday! Today is no exception. I recently discovered the Seabuck Wonders products which are made of sea buckthorn oils extracted from the plant bearing the same name. This plant is only found on the Tibetan Plateau. The high altitude, strong ultraviolet radiation, severe cold, scorching heat, and dry and barren soil have equipped the remarkable sea buckthorn plant with an extraordinary bio-defense mechanism that breeds substantial life-giving nutrients for enhancing health and beauty.
The Tibetan local green environment makes the sea buckthorn oils amazingly pure, which naturally boost the content of essential fatty acids and Vitamin E over other varieties.
What is Sea Buckthorn?
This incredible berry has a legendary history dating back to Genghis Khan and Mythical Greece. Known historically for its health and beauty boosting properties, sea buckthorn was commonly fed to horses to increase their health and vigor and was noted for giving them shiny fur. Thus, Hippophae Rhamnoides, the botanical name for sea buckthorn, literally stands for "tree that makes horses shine." The sea buckthorn fruit was also used medicinally for various ailments in native cultures and topically for beautiful skin. Today, we know sea buckthorn's health and beauty benefits derive from it's incredible nutritional profile which includes over 190 phytonutrients and the rare, Omega 7.
Why is Omega 7 so beneficial?
Palmitoleic acid, also known as Omega 7, is a rare omega fatty acid gaining notorious momentum in the health and beauty scene. Omega 7 is known for supporting healthy hair, skin, and nails, as well as providing various health benefits for the gastrointestinal tract, immune system, and cardiovascular system.
Here is a line of products that will contribute to your beauty: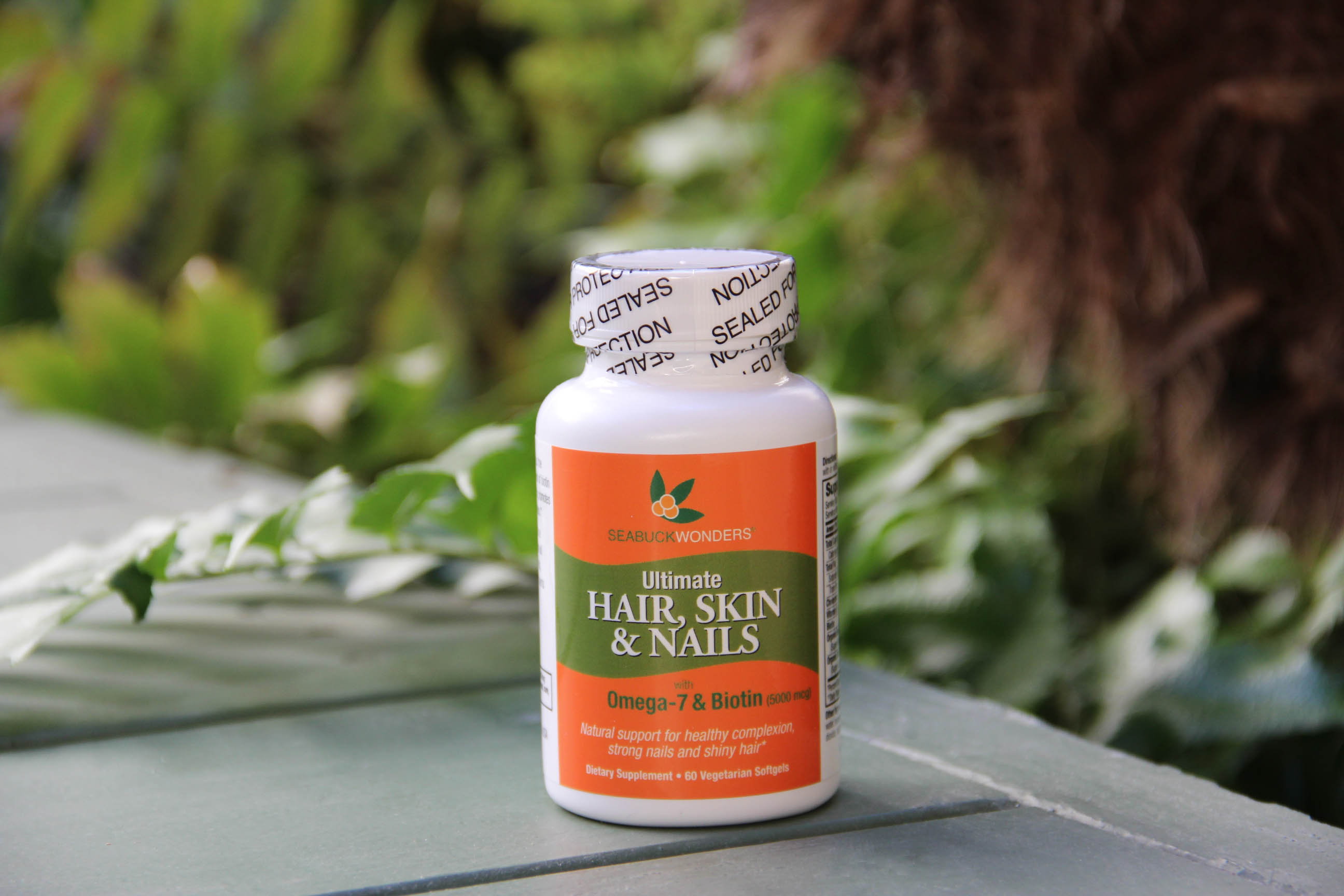 Ultimate Hair, Skin & Nails
With Omega-7 and Biotin (5000mcg). By combining biotin (B vitamin) with the cell membrane nurturing properties of sea buckthorn oil, this powerful blend provides the best support for strength and beauty. Supercharged with Omegas 7,3,6,9 and more than 190 phytonutrients, this formula is the perfect choice for lasting, healthy beauty.
Antioxidants found in sea buckthorn fight free-radical damage that leads to fine lines and wrinkles, while Vitamins A and E provide excellent support for a healthy, bright complexion. Omega-3, another key nutrient in sea buckthorn oil, helps maintain scalp health as well as hydrates the hair and scalp. $34.97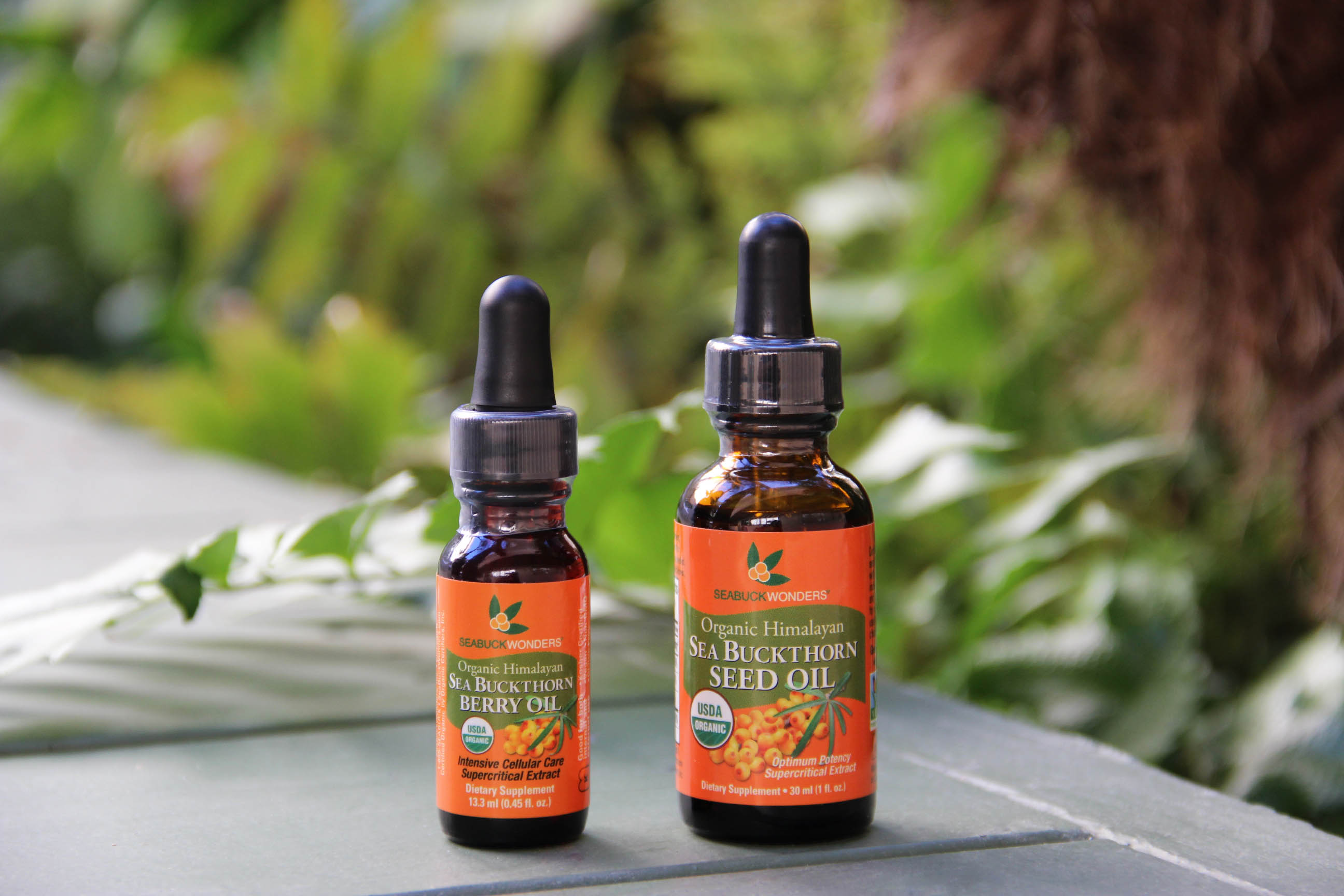 Sea Buckthorn Seed Oil, 1oz
With Omegas-3, 6, 9, vitamins A and E, sea buckthorn seed oil stands out as the best plant based Omega-3 source. Vitamins A and E are powerful antioxidants in sea buckthorn seed oil. They can support immunity and provide support for inflammatory conditions. Antioxidants are known to support healthy white blood cell levels. Omega-3 is known to support heart health. Recent studies have shown that plant based Omegas may be just as effective as fish based Omegas in supporting heart health. Omega-3 is also known to support brain health and liver health. Sea buckthorn seed oil also works wonders as a topical treatment for skin support.
Price: Available in 1 fl. oz. (30ml) for $34.97
Sea Buckthorn Berry Oil, 1.75 Oz
Sea Buckthorn berry oil provides a rich supply of Omega-7 (30-35%) as well as vitamin E, making sea buckthorn berry oil invaluable for your health and beauty routine. Omega-7 may support, replenish, moisten mucus membranes that line the digestive urogenital tracts. Another benefit of the internal use of this oil is that it supports hair and nails. By supporting cell health, sea buckthorn berry oil is also wonderful for topical skin treatments.
Price: Available in 1.76 fl. Oz for $34.97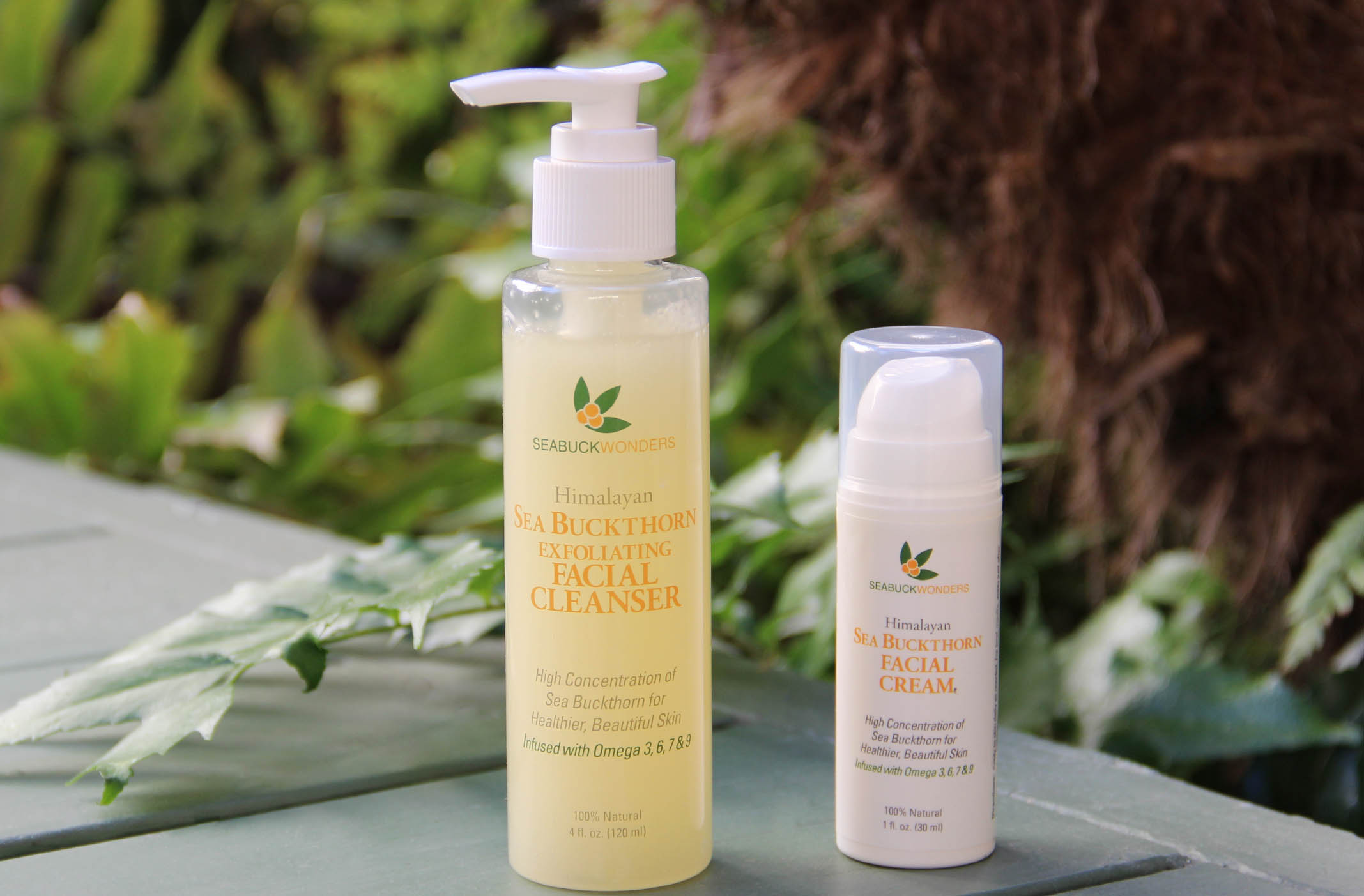 Sea Buckthorn Exfoliating Facial Cleanser
Infused with a potent blend of Omega 3, 6, 9, and the rare Omega-7, SeabuckWonders Exfoliating Facial Cleanser cleans skin gently, yet effectively, without stripping the skin of its natural oils. It exfoliates to remove dirt and impurities, while hydrating skin for a smooth, clear complexion. It enhances skin tone & texture. PH-balanced for all skin types.
Price: 4 fl. oz. (120ml) for $16.97
Sea Buckthorn Facial Cream
With a highly concentrated infusion of Omega 3, 6, 9, and the powerful skin-healing Omega 7, SeabuckWonders Facial Cream offers hydration and protection for radiant skin.
This hydrating, yet lightweight, formula absorbs quickly and nurtures the skin for a soft, smooth complexion. Utilizing the superb age-defying properties, SeabuckWonders Facial Cream minimizes fine lines, while protecting the skin from the damaging effects of the sun and environmental pollutants. For all skin types.
Price: 1 fl. oz. (30ml) for $19.97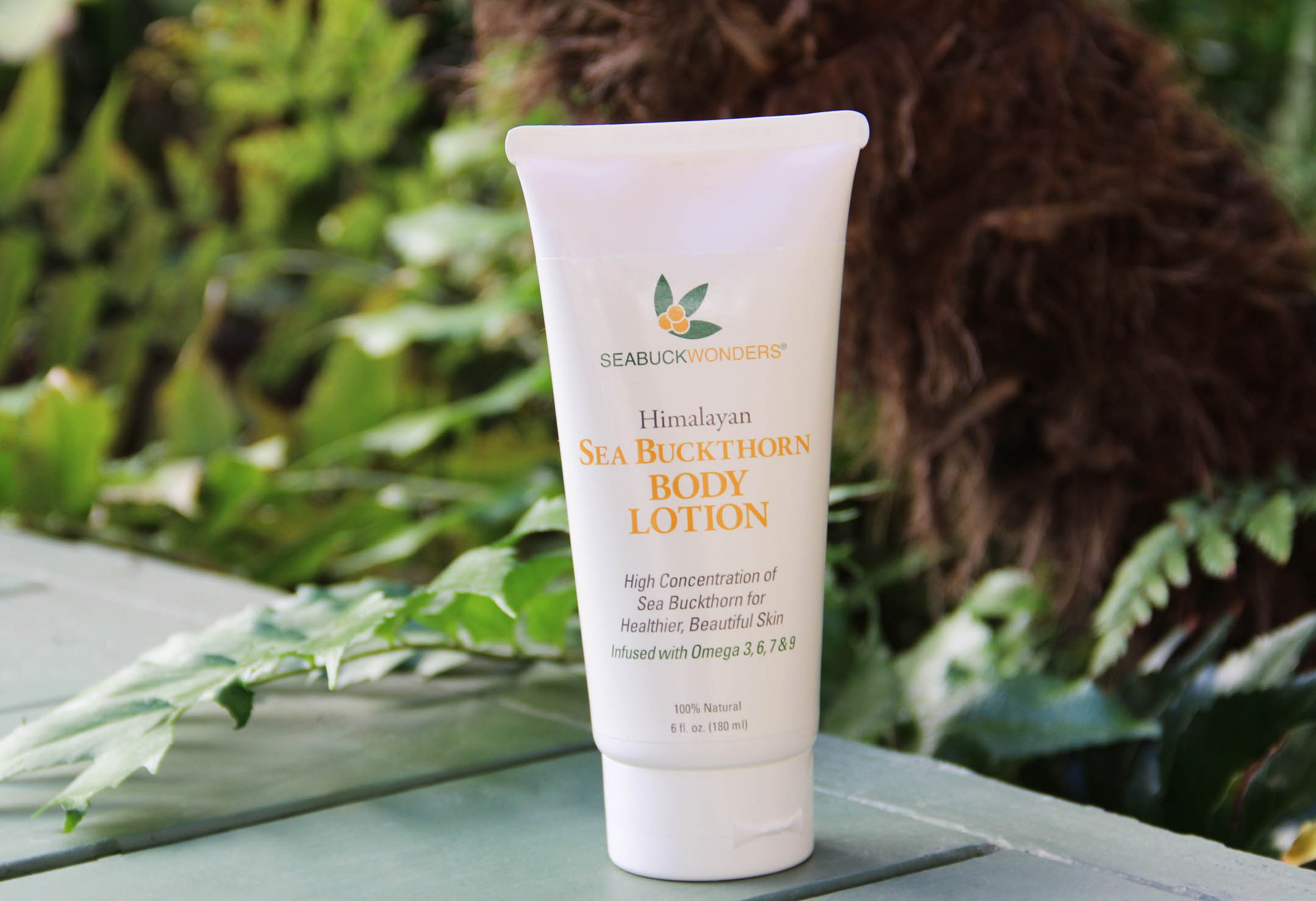 Sea Buckthorn Body Lotion
With a potent infusion of Omega 3, 6, 9, and the powerful, intensly moisturizing, skin-healing Omega 7, SeabuckWonders Body Lotion provides nourishment with age-defying properties for soft, healthy skin.
Price: 6 fl.oz for $14.97