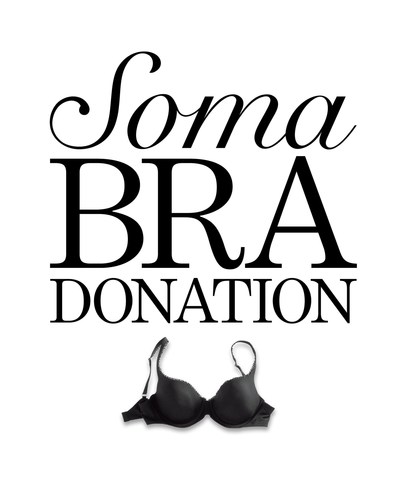 Women's intimate apparel retailer, Soma, announced its 2017 Bra Donation event. With more than 1.3 million bras collected to date, this nationwide charitable initiative to collect bras for women in need is the largest of its kind. Now through January 31, 2017, Soma will collect both new and gently worn bras at all 293 Soma boutiques and outlets across the country and online.
In July 2010, Soma set out on a mission to make a difference. One in every four women will experience domestic violence in their lifetime. Survivors often arrive at shelters with little more than the clothes they're wearing and rely on donated items to get back on their feet. Bras are one of the most needed yet least donated clothing items for women.
In partnership with the National Network to End Domestic Violence (NNEDV), the leading voice for survivors of domestic violence, and their 2,000 shelter programs across the United States, the bras collected are distributed to women in need in local communities.
In addition to NNEDV, Soma partners with The Bra Recyclers, a textile company specializing in the recycling and reuse of new and previously worn bras. The Bra Recyclers mission is to reduce the amount of reusable textiles that unnecessarily go to landfills. Damaged or unwearable bras collected through Soma's Bra Donation are sent to The Bra Recyclers to convert into reusable materials.
To learn more about how donated bras have made a difference, visit www.soma.com/givebras. This online experience shares stories about how donated bras have changed women's lives across the country, and offers information about the NNEDV, how to donate bras, and where to find Soma boutiques nationwide.
For more information about Soma's Bra Donation Campaign, please visit www.soma.com/givebras or contact Kristin McClement: kristin.mcclement@soma.com, (239) 346-4870.