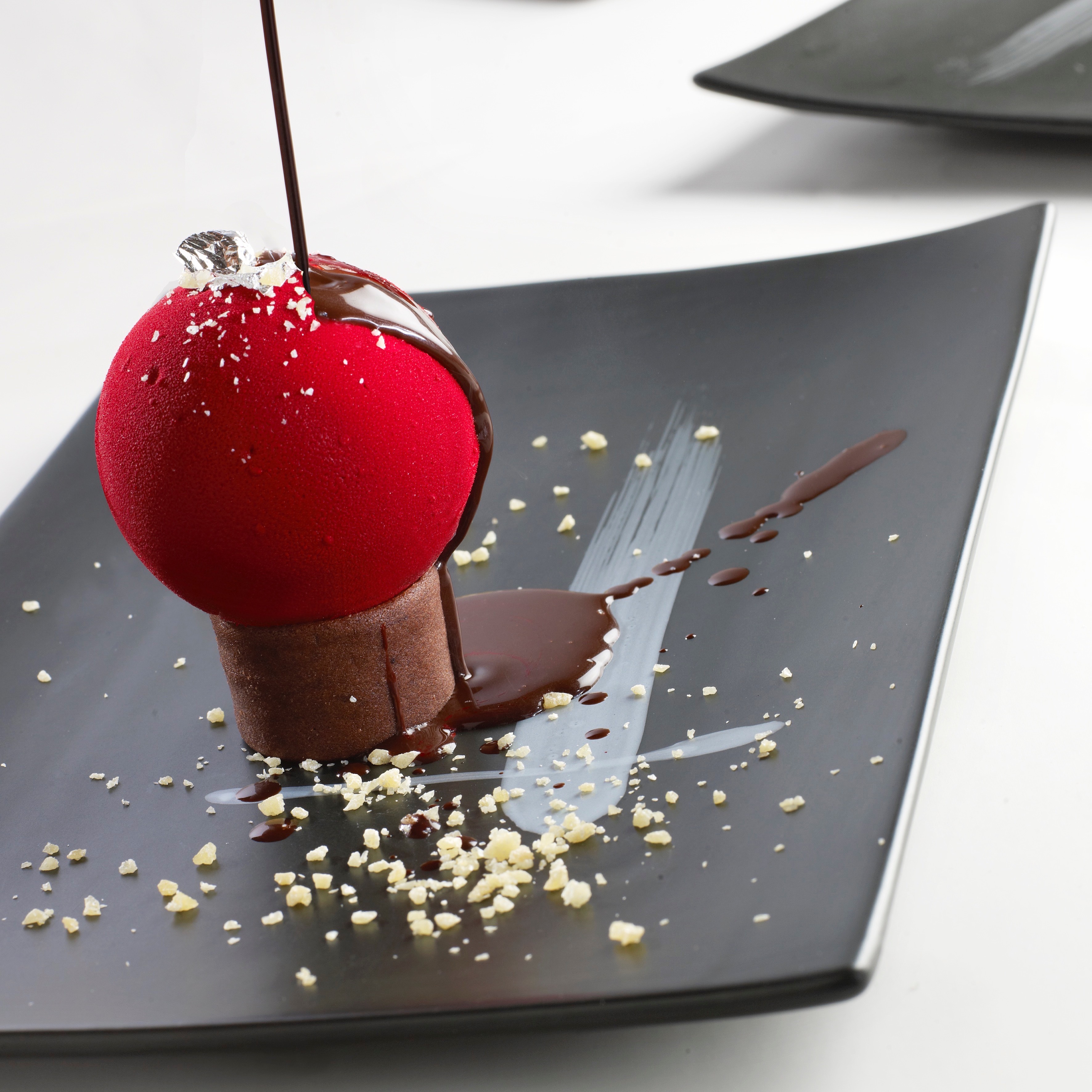 On National Pastry Day we turn to Chef Romuald Guiot, a master of the pastry arts. He shared his MAYA FUSION SPHÈRE recipe with us.
An award-winning Pastry Chef, Guiot was the Head Pastry Chef for Monaco's Maya Bay Restaurant, La Raison Gourmande in the French Riviera and the world-famous Chef Marc Veyrat's restaurant, L'Auberge d L'Eridan. He creates incredible pastries and desserts for Pitchoun Bakery in downtown Los Angeles.
If you're feeling ambitious this weekend and want to impress your dinner party guests… try this challenge. Chef Guiot created this for a restaurant called Maya Bay.
THE SHAPE?
Simple, spheric, and a light beauty.
THE FLAVOURS?
Chocolate and mango, with raspberries for the acidity, with a small fizz which makes the flavors explodes. The contrast of cold and hot with the sauce which melts sphere to discover the mango sorbet.
THE TECHNICAL STEP?
The half spheres should be perfect as well as the assembly, if not the visual aspect won't look quite right.
CAREFUL
It is very important that the chocolate sauce is really hot to have the visual of the chocolate melting and that there isn't too much sauce.
THE CHOCOLATE
Manjari and Araguani, 2 grand crus from Valhrona.
FIZZY PRALINÉ CRUNCH
Ingredients for approximately 1 sheet (40x60cm)
Old style praline – 100g
Milk chocolate – 150g
Feuilletine – 100g
Fizzy sugar – 80g
Mix praline and milk chocolate, fold in the feuilletine and the fizzy sugar.
Roll out in-between two baking sheets and store in the freezer.
MANGO SORBET
Ingredients for approximately 10 portions
Water – 180g
Caster sugar – 60g
Glucose powder – 8g
Stabilizer – 2g
Inverted sugar – 10g
Milk powder 0% fat – 7g
Mango puree – 160g
Heat water with 50g sugar, glucose, inverted sugar and milk powder. Add stabilizer mixed with the rest of the sugar and pour onto mango puree. Pour into canister and freeze.
CHOCOLATE SAUCE
Ingredients for approximately 30 portions
Water – 500g
Caster sugar – 112g
Dark chocolate, Araguani 72% Varlhona – 185g
Cocoa powder – 75g
Boil water and sugar and pour onto the cocoa powder and chocolate. Set aside.
LEMON BALM MANGO CHUTNEY
Ingredients for approximately 30 portions
White wine – 300g
Caster sugar – 90g
Tonka beans – 4g
Lemon balm – 30g
Mango pieces – 500g
Heat white wine with sugar, tonka bean and add lemon balm. Leave to infuse for 20 minutes.
Add mango and leave to compote until the wine has completely reduced.
PANNED MINT RASPBERRY
Ingredients for approximately 20 portions
Honey – 100g
Raspberries – 200g
Verbena from Velay – 50g
Mint – 30g
Heat honey, add raspberries and deglaze with the verbena and mint. Set aside.
FINISHING & DECORATION
In half dark chocolate sphere, place 10g of mint raspberries, 15g pailleté feuilletine, a ball of sorbet and stick a second shell onto the first one, and blast freeze.
Spray with a red chocolate.
Place a cigarette tube and fill it with lemon balm mango chutney and place the sphere on top.
Decoration: gold leave and sparkly crystals.