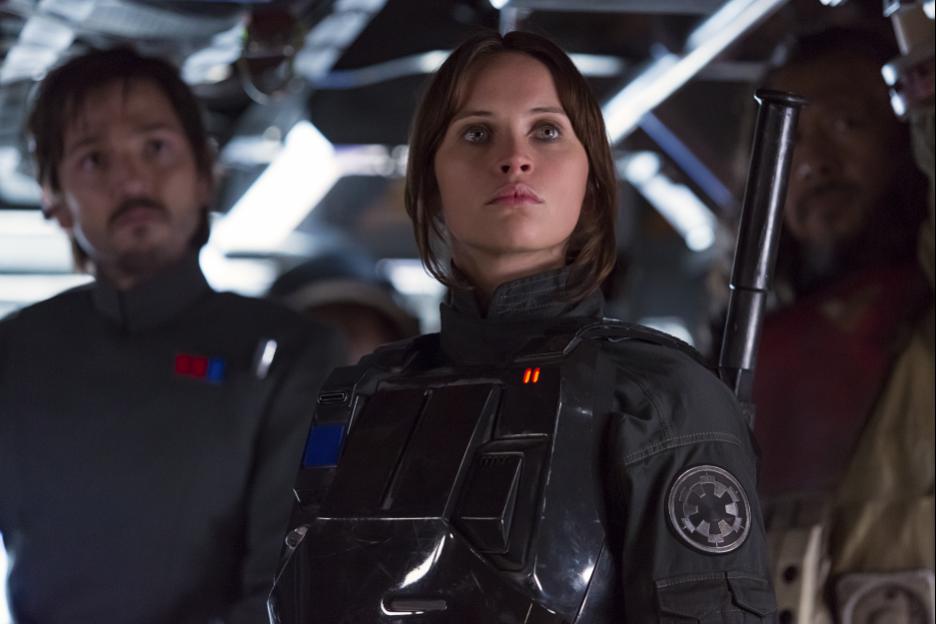 The "Star Wars" universe has now expanded beyond the Skywalker family, into a new anthology of movies which Lucasfilm and Walt Disney Pictures have referred to as 'standalone' films. But despite their intentions to create an entirely new chapter in a galaxy far, far away, "Rogue One: A Star Wars Story" could very well be the prequel to "Episode IV" that Star Wars fans have always hoped for. Directed by Gareth Edwards ("Godzilla"), Academy Award nominee Felicity Jones ("The Theory of Everything") leads a talented cast of gallant and tenacious new characters who will transport audiences to the light side of the force once again.
Although the story of "Rogue One" is derived from George Lucas' original opening crawl in "Episode IV – A New Hope," the idea was that of senior visual effects supervisor John Knoll (Episode I, II, III), who pitched the concept to producer, Kathleen Kennedy. Lucky for those who may not have seen all seven episodes, the first installment of this anthology is good enough as a singular film, whether or not you have a "Star Wars" education.
To recap from the very first 1977 movie; at one point or another, "rebel spies managed to steal secret plans to the Empire's ultimate weapon, the DEATH STAR, an armored space station with enough power to destroy an entire planet." Felicity Jones portrays Jyn Erso, long lost daughter of Imperial officer, Galen Erso (Mads Mikkelson). Growing up an orphan raised by rebel outlaw Saw Gerrera (Forest Whitaker), Jyn is one day called upon by the Alliance to assist in helping to save the galaxy from being annihilated by the Death Star weapon and the dark side.
From start to finish, "Rogue One" is a fantastic action-filled adventure. With a story by John Knoll and Gary Whitta ("After Earth," and a screenplay from Chris Weitz ("The Golden Compass") and Tony Gilroy ("The Bourne Legacy"), they created a band of eclectic heroic characters who are easy to root for. Along the way, "Star Wars" vets are treated to plenty of nostalgic moments, and even a few cameos.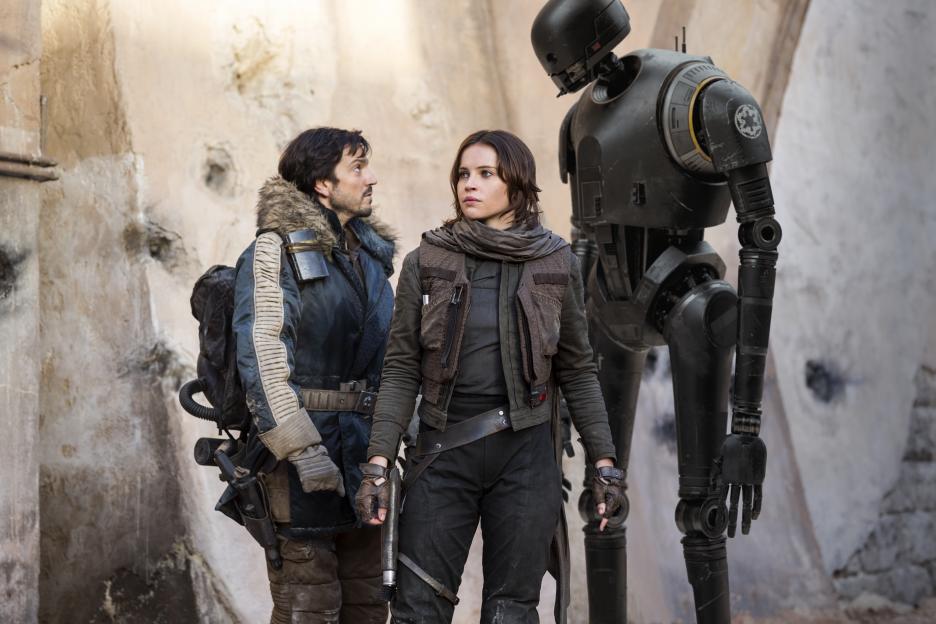 While the film has its fair share of heart and emotional depth, mostly thanks to the performances of Jones, Diego Luna (Cassian Andor), Donnie Yen (Chirrutimwe) and Jiang Wen (Baze Malbus), there is a decent amount of comic relief thanks to the candid K-2SO droid (Alan Tudyk), an ex-Imperial security guard droid and sidekick to Cassian. Rising star and Golden Globe nominee Riz Ahmed, proves his versatility on the big screen, adding an incredible amount of dimension to the small yet memorable role of Bodhi Rook, an Empire cargo pilot turned good-guy.
In the making of the original legacy "Star Wars" saga films, George Lucas was very influenced by various genres of filmmaking, from John Ford westerns to Kurosawa films and WWII movies. Edwards and the production team remained loyal to Lucas' inspirations as "Rogue One" whisks the audience from a shootout in the dry desert to a battle ground in a jungle setting reminiscent of the Vietnam war. And, of course, Michael Giacchino's ("Star Trek Beyond") music along with John Williams' original "Star Wars" composition adds to the grandiose elements of this highly anticipated story.
So, whether you're a die-hard fan or a newcomer to this ever expanding universe, "Rogue One" is a refreshingly entertaining film for all this holiday season.
By Pamela Price
Rated PG-13 for extended sequences of sci-fi violence and action.
Running time: 133 minutes
www.starwars.com/films/rogue-one