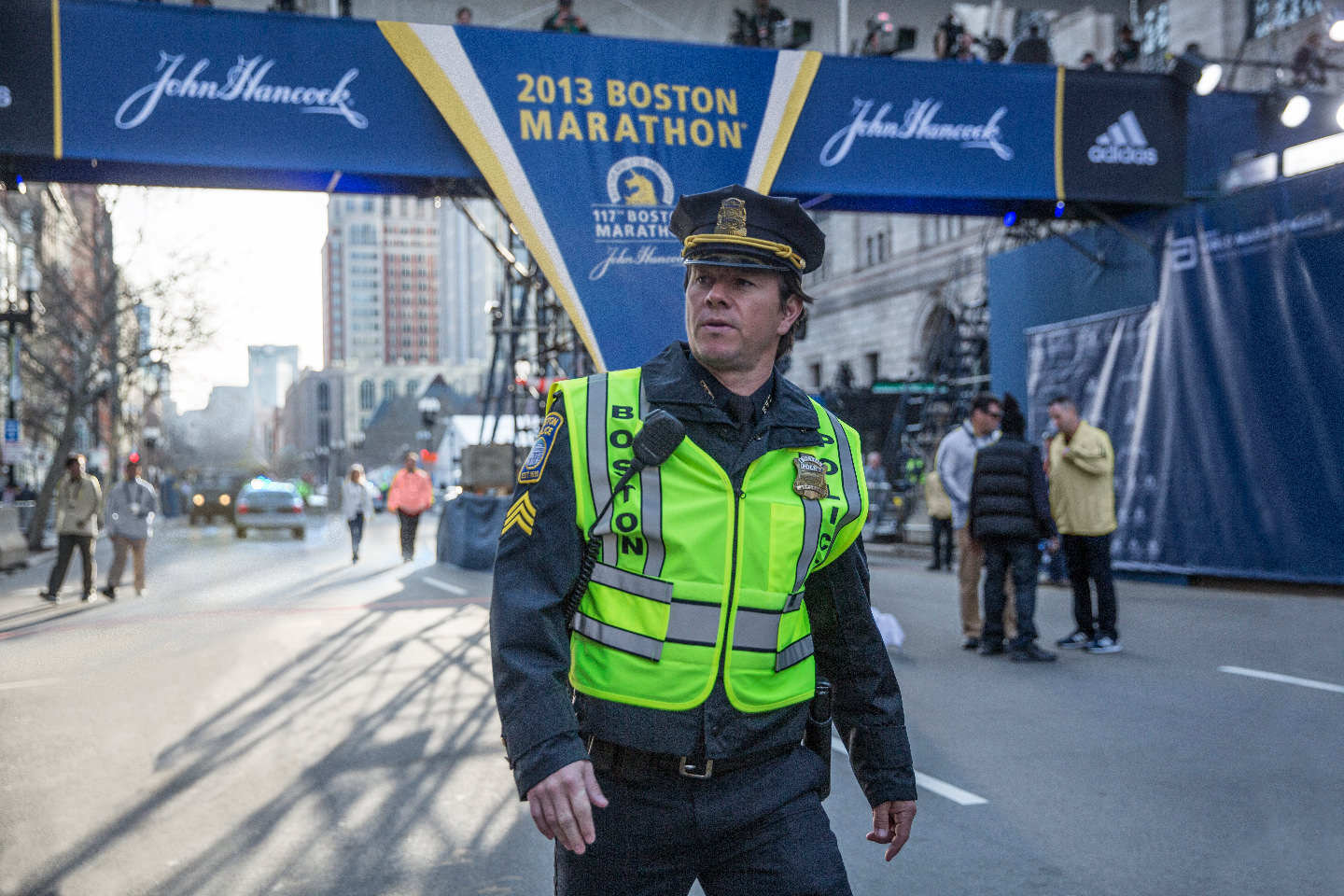 After already taking on one film this fall about a real-life tragedy with the environmental disaster pic "Deepwater Horizon," Mark Wahlberg returns to lend his Boston bona fides to "Patriots Day," a powerful and poignant bio-drama about the 2013 Boston Marathon bombing.
The third collaboration between Wahlberg and his "Lone Survivor" and "Deepwater Horizon" director Peter Berg, this heartbreaking yet hope-filled dramatization is a flag-waving salute to the strength and resiliency of a city shaken, though not conquered, by senseless acts of terrorism. Much like his work in "Deepwater Horizon," Berg captures the chaos and gripping tension of the tragic events and subsequent manhunt with sobering clarity, taking a multi-perspective approach that centers on everyone from victims and first responders to Boston authorities, the FBI and even the terrorists themselves. Utilizing firsthand accounts from the principals involved as well as actual surveillance footage from that tragic day in April, 2013, "Patriots Day" goes far beyond mere reenactment, effectively capturing how an act of terrorism meant to tear a community apart ultimately brought it closer together.
To recap, The Boston Marathon bombing was carried out by Chechen brothers Dzhokhar and Tamerlan Tsarnaev (Alex Wolff and Themo Melikidze) on April 15th, 2013, along the Boylston Street finish line in the heart of the city. Consisting of two pressure cooker bombs that were detonated two hundred yards apart, the blasts killed three people and injured over two hundred sixty more. After identifying the suspects through surveillance footage, the FBI set in motion a massive four-day manhunt that culminated with an intense gunfight on the sleepy streets of nearby Watertown, Massachusetts. While older brother Tamerlan suffered fatal injuries during the firefight, his wounded younger brother managed to escape to a nearby residence, where he hid under the tarp of the homeowner's boat until he was finally captured. During their misguided terror campaign, the brothers also carjacked and kidnapped a Chinese émigré named Dun Meng (Jimmy O. Yang), and shot and killed an MIT policeman named Sean Collier (Jake Picking).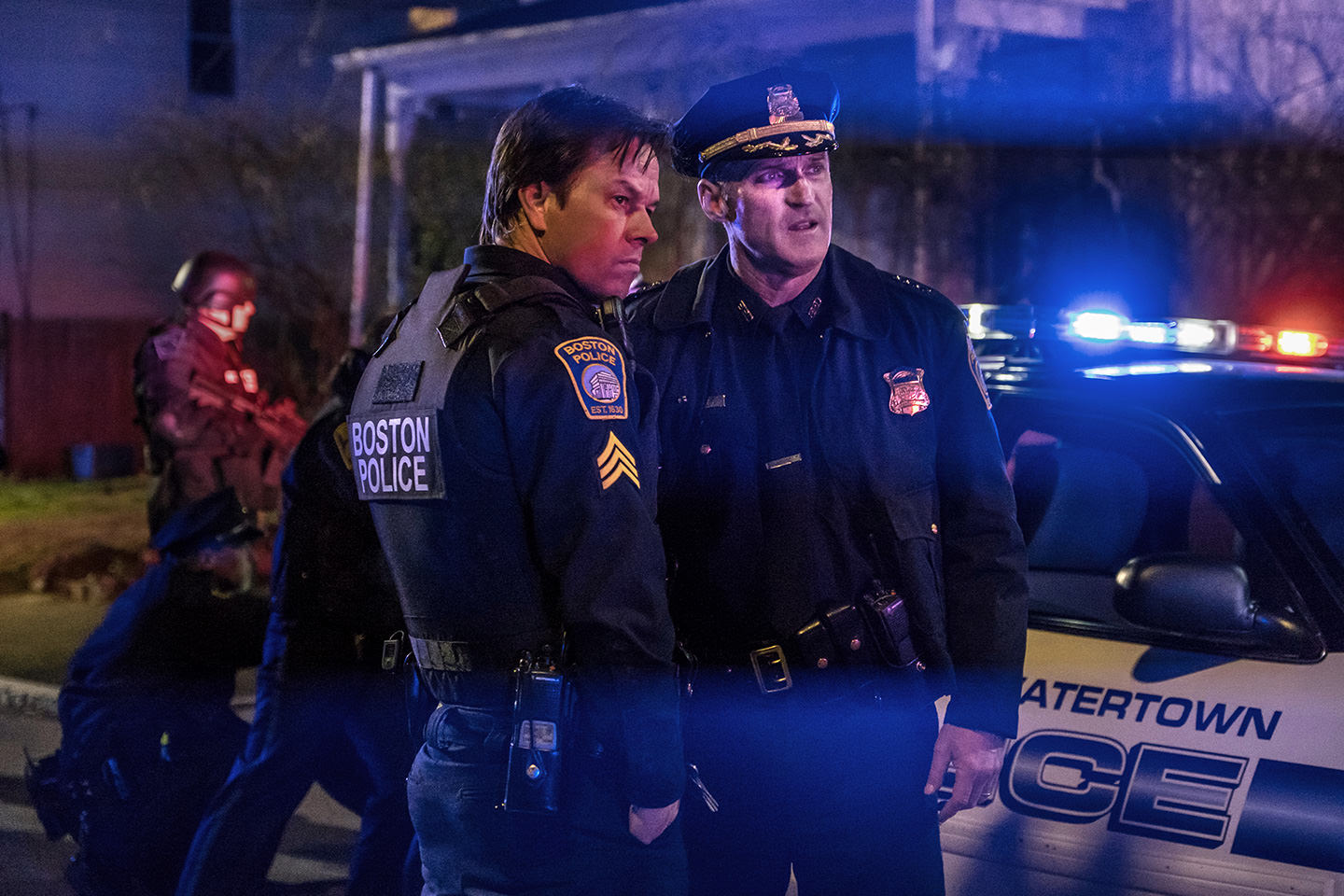 While "Patriots Day" doesn't stray far from actual events, its protagonist is the fictional Sergeant Tommy Saunders (Mark Wahlberg), a composite character intended to represent a number of actual Boston police officers who displayed extraordinary bravery throughout the bombing and ensuing investigation. The film fills in what was left out of abbreviated news reports: the dispute between local authorities and the FBI as to who would spearhead the investigation, the Tsarnaev brothers' private lives and the circumstances that prompted their radicalism, and the individual acts of heroism exhibited that day from civilians and authorities alike.
As he shows once again with "Patriots Day," Director Peter Berg, no stranger to bringing true American stories to the big screen with brio and compassion, clearly has the formula down pat. And while the screenplay by Berg, Matt Cook ("Triple 9") and Joshua Zetumer ("RoboCop") perhaps hits a few too many familiar beats, it still lays the groundwork for a cinematic experience at turns rousing, nerve-racking and heartfelt. Of course, "Patriots Day" largely achieves its power through its personal stories of bravery and perseverance in the face of adversity, but Berg's capacity for crafting extraordinary action sequences is certainly put to potent use here, particularly with respect to the initial Boylston Street explosions, the nail-biting carjacking of Dun Meng, and the explosive Watertown finale.
Berg's directorial efforts are also helped enormously by the top-notch handheld camerawork of Tobias A. Schliesser ("Lone Survivor," "Mr. Holmes") a riveting score by Trent Reznor and Atticus Ross ("The Social Network," "Gone Girl"), and some ace editing by Colby Parker Jr. and Gabriel Fleming, who expertly weave together the story's many moving parts.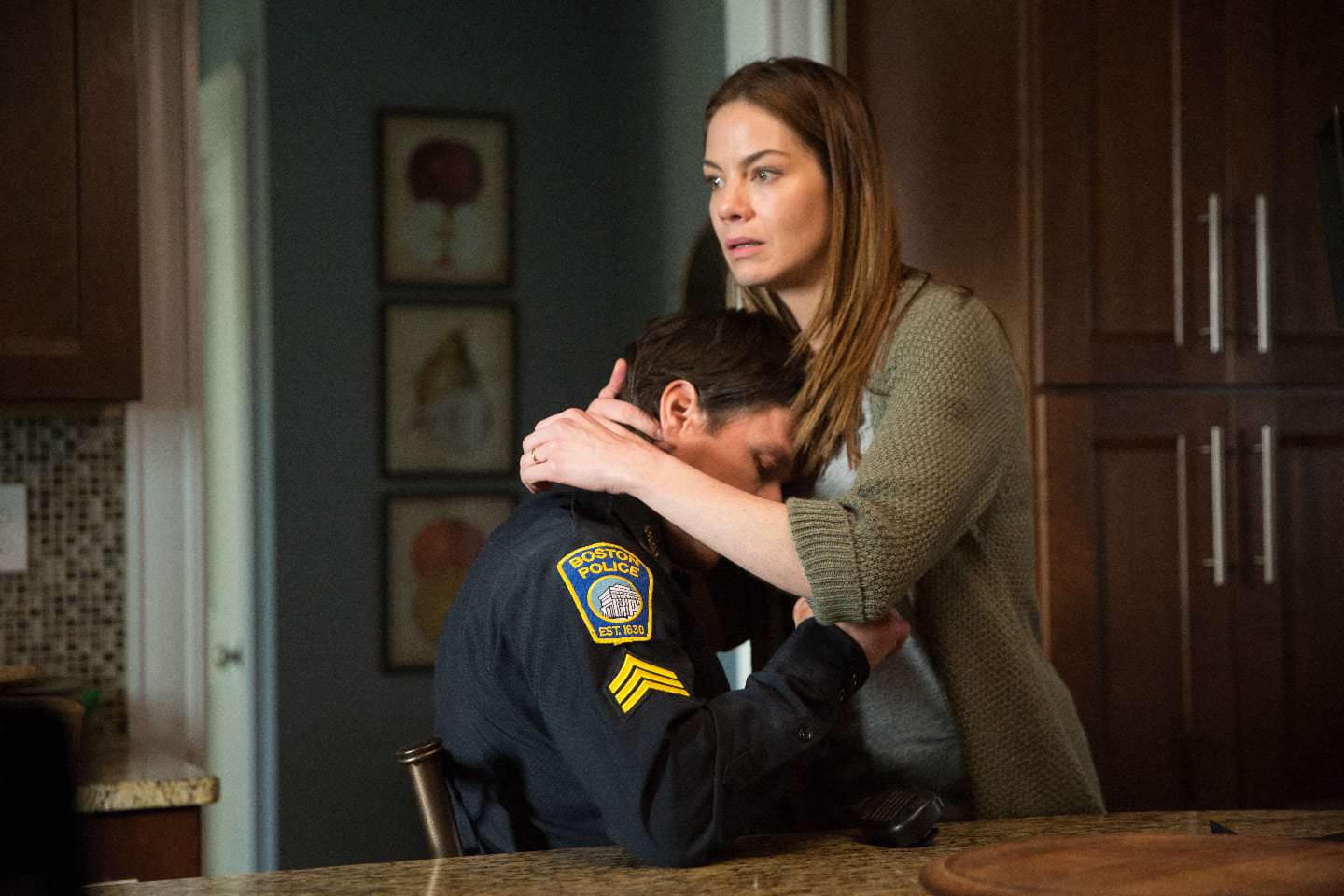 Although the sprawling storyline doesn't leave room for a great deal of character development, "Patriots Day" is aided considerably by an impressive ensemble cast who inhabit their roles with deep dedication. John Goodman proves an imposing presence as Ed Davis, the stalwart Boston Police Commissioner; Kevin Bacon is reliable as ever as Richard DesLauriers, the FBI Special Agent in Charge; J.K. Simmons brings humor and grit to his portrayal of Watertown Police Sergeant Jeffrey Pugliese; and comedian Jimmy O. Yang adds unexpected depth to the role of carjack victim and unlikely hero Dun Meng. As for the Tsarnaev brothers, Themo Melikidze is appropriately menacing as older brother Tamerlan, the boxing enthusiast and brains behind the bombings, and Alex Wolff excels as the impressionable, pot-dealing younger brother Dzhokhar. Finally, Mark Wahlberg puts in a tough yet sensitive performance as the sleep-deprived Sergeant Tommy Saunders, and his onscreen wife Michelle Monaghan leaves a lasting impression despite her minimal screen time.
At heart, "Patriots Day" is a celebration of liberty and courage, and should leave audiences feeling patriotic indeed.
Running Time: 130 minutes
Rated R for violence, realistically graphic injury images, language throughout and some drug use.
http://www.patriotsdayfilm.com