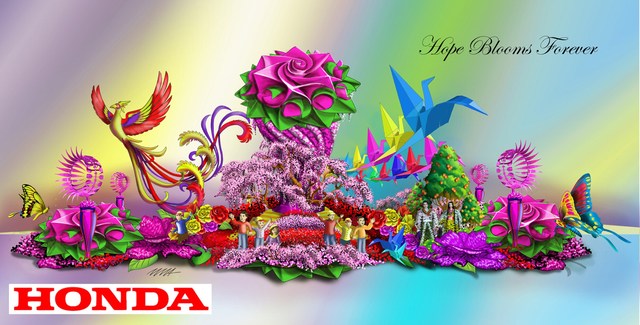 Honda will lead the 128th Rose Parade presented by Honda on Monday, January 2 with its float entry, "Hope Blooms Forever." The float celebrates the friendship shared by the United States and Japan through the TOMODACHI Initiative, and pays tribute to the resilience of the people of Fukushima, Japan.
The float will feature 20 high school students from Japan's Fukushima prefecture, an area devastated by the Great East Japan Earthquake and subsequent tsunami, as part of the TOMODACHI – Honda Cultural Exchange Program. TOMODACHI, which is Japanese for "friend," was established by the governments of the United States and Japan following the 2011 disaster to create new bonds of friendship between Japanese and American youth through educational and cultural exchange activities.
"We were inspired by the 2017 'Echoes of Success' parade theme and thought it was fitting to invite the TOMODACHI students to ride the Honda float," said Steve Morikawa, Vice President of Corporate Relations & Social Responsibility, American Honda. "The students symbolize the renewal of the damaged areas of Japan and exemplify the power of dreams in overcoming tragedy."
The students contributed to the many regional design flourishes seen on the float, each showcasing the natural beauty of Fukushima, including:
A replica of "Miharu Takizakura," one of the most famous cherry blossom trees in all of Japan, located in Fukushima.
Two "Kikuningyo," or chrysanthemum dolls, representing the life-size figures from feudal Japan that are created each fall for the annual Nihonmatsu Chrysanthemum Festival.
A floral display of "Hanami-yama," a flower-filled mountain that Fukushima farmers have developed over the years.
The float design also includes an origami crane, emblematic of healing, and the mythical phoenix, a symbol of renewal. The two converge in the center with a large origami rose that opens in a kaleidoscope effect as doves are released from the center of the float. The float is further brought to life by four rotating, synchronized origami roses, and brilliant butterflies.
The vibrant float is 75 feet long and 24 feet high, punctuated by color and movement. In keeping with Honda's commitment to the environment, it will be powered by a specially configured low-emission, hybrid powertrain. In addition to the float, the Clarity Fuel Cell Vehicle will serve as the parade's official pace car while the Ridgeline will be the official sound vehicle. The parade's theme banner float will also be powered by Honda.