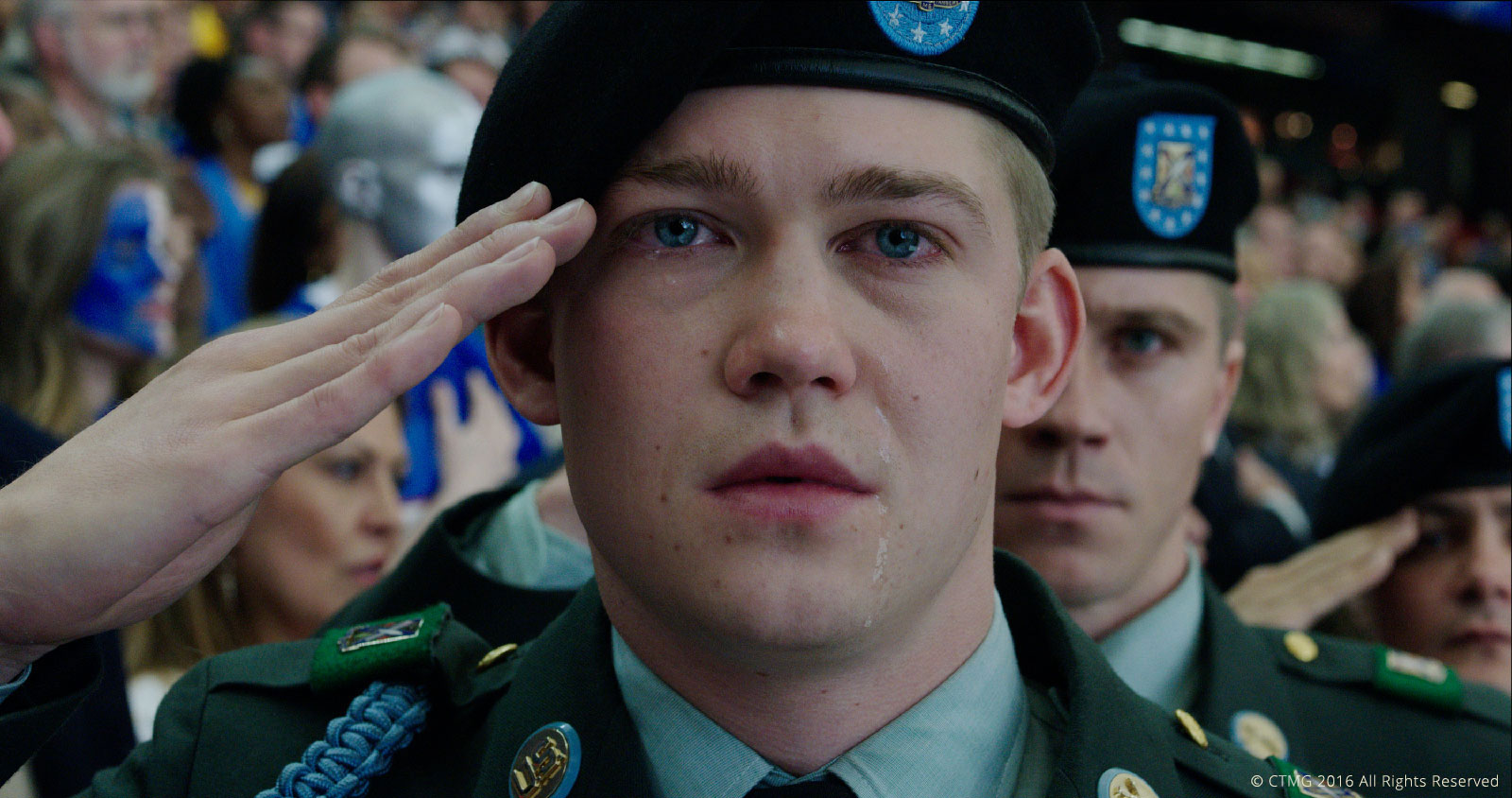 Iraq War hero and his squad members reluctantly embark on a flag-waving victory tour that culminates with an appearance at the Dallas Cowboys' Thanksgiving halftime show in "Billy Lynn's Long Halftime Walk," a hyperreal war drama that makes effective use of a groundbreaking new format.
From visionary director Ang Lee ("Life of Pi"), this adaptation of Ben Fountain's celebrated 2012 novel emphasizes the perspective of the PTSD-plagued protagonist, competently played by newcomer Joe Alwyn, to dizzyingly realistic effect, though the unfamiliar format may prove too jarring for mainstream audiences. Working with three-time Oscar winning cinematographer John Toll ("The Thin Red Line," "Braveheart"), Lee shot the film in 3D with 4K resolution at 120 frames per second, bringing every little detail in the frame into crystal-clear focus, which takes some getting used to but succeeds in relating the immediacy of war and feelings of alienation the soldiers experience back on American soil. Strong performances from a mixture of fresh faces and seasoned actors, including Chris Tucker, Steve Martin, Garrett Hedlund and Vin Diesel, and confident direction help distinguish this experimental effort a potential game-changer.
Set on Thanksgiving, 2004, the film follows young soldier Billy Lynn (Joe Alwyn) and other members of Bravo Squad in the aftermath of a deadly firefight, also known as "The Battle of Al-Ansakar Canal," that claimed the life of their sergeant (Vin Diesel). Having displayed extraordinary courage during the battle, which was captured on camera and broadcasted around the world, Billy and Bravo Squad are suddenly labeled war heroes and paraded around the States on a two-day victory tour.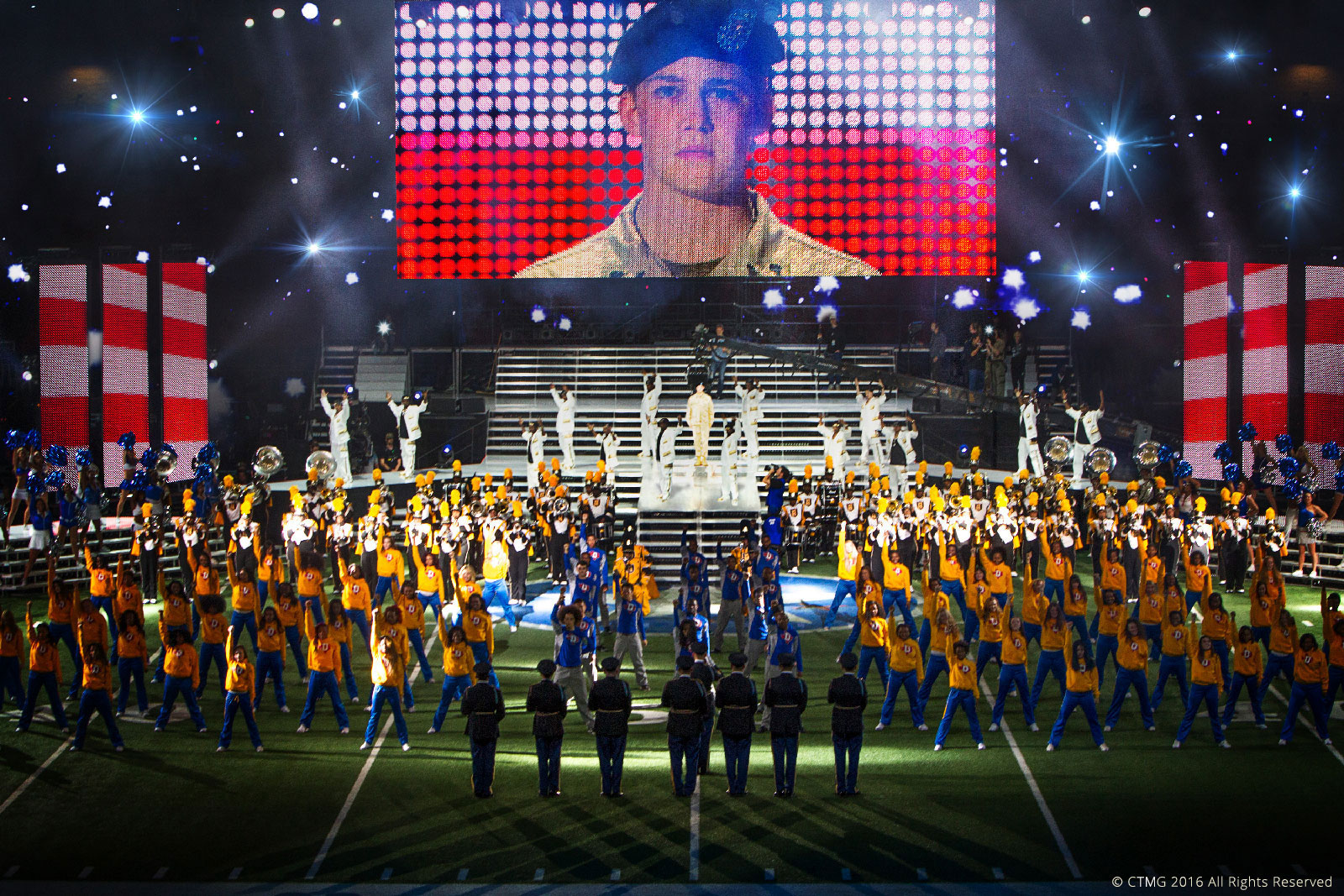 After a brief stop home in his small Texas town, during which his sister (Kristen Stewart) expresses her concern over his traumatized state, Billy's bizarre celebration begins as he and Bravo Squad are whisked away to Texas Stadium in a stretch Hummer. While squad leader Dime (Garrett Hedlund) tries to maintain order among his rowdy soldiers, the Bravos are given the full VIP treatment, from meetings with the players (J.J. Watt, Richard Sherman) and team owner (Steve Martin) to a Jumbotron introduction and all the booze and food they can consume. Accompanying the Bravos is a big-time Hollywood agent (Chris Tucker) who spends every waking minute on the phone trying to seal a movie deal for the soldiers.
As Billy and the Bravos prepare to appear alongside Destiny's Child during the halftime show, the gulf between the reality of war and Americans' perceptions of it is brought into laser-like focus through graphic flashbacks and dehumanizing encounters with football fanatics. Along the way, Billy takes up with a Cowboys cheerleader and considers leaving the military.
Jean-Christophe Castelli's script may not break new ground either in its depiction of war or of soldiers struggling to acclimate to civilian life, but it does nicely capture the Bravos' camaraderie and Billy's psychological trauma as it reaches its hallucinatory climax on the halftime stage. Castelli's sharp dialogue also rings true, particularly the raunchy soldier speak, and brings a little levity to the otherwise heavy proceedings.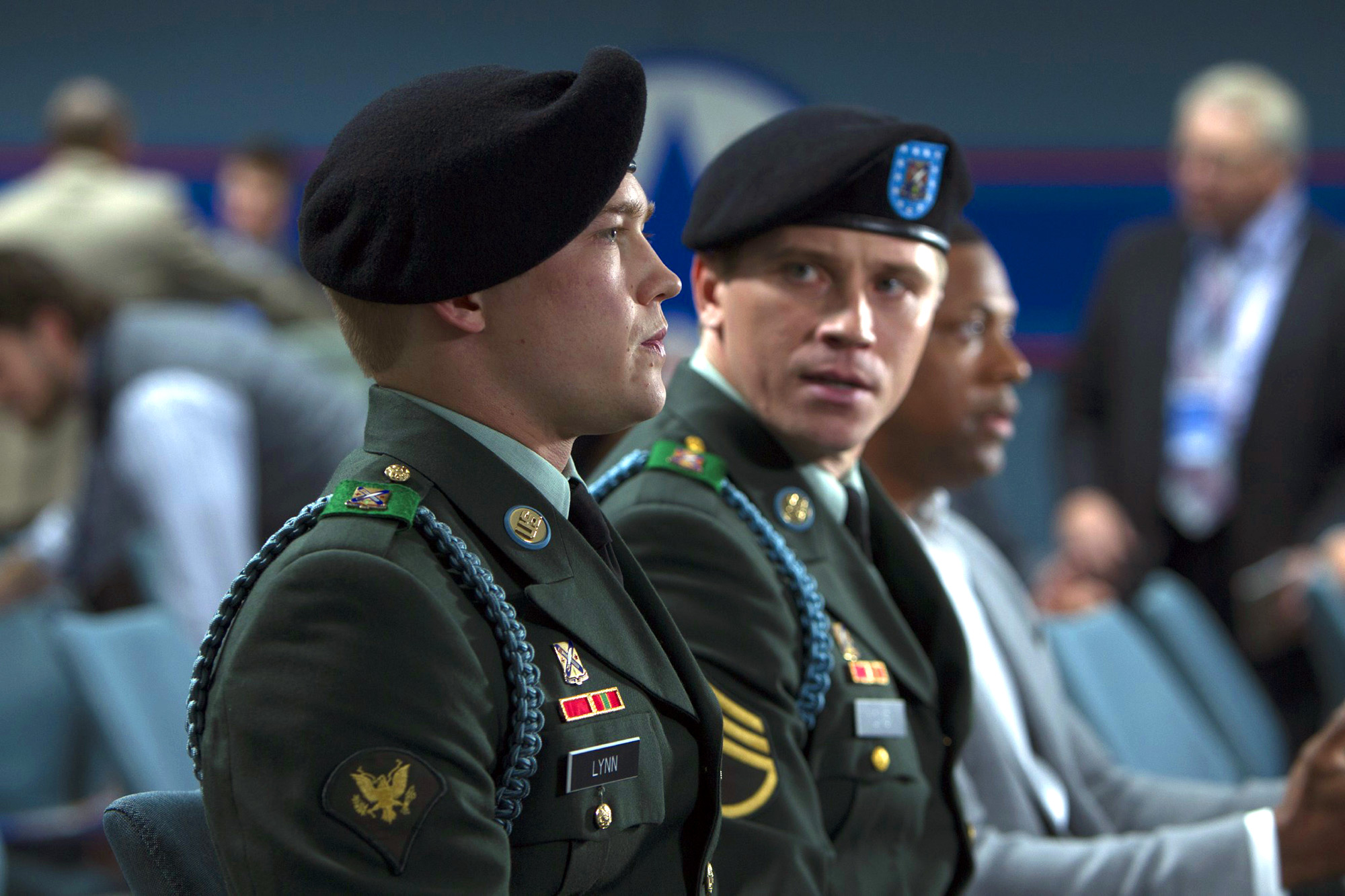 While the striking cinematography succeeds in its intended effect of heightened realism, particularly in the battle scenes and Billy's POV shots during the halftime performance, there are moments when the format results in sensory overload, with the extreme depth of field drawing unwanted attention to background action. Still, if any material was suitable for this format, "Billy Lynn's Long Halftime Walk" is it, and as he proved with his novel use of 3D with "Life of Pi," Ang Lee is the ideal filmmaker to explore new cinematic techniques.
Playing the title role, British newcomer Joe Alwyn makes a startling big screen debut, not only nailing his character's Texas drawl but also convincingly inhabiting the mindset of a battle-scarred soldier suffering violent mood swings and flashbacks. Chris Tucker is an ever-delightful presence as the fast-talking agent whose movie deal for the soldiers grows increasingly unattractive, and Steve Martin excels as the Jerry Jones-like owner of the Cowboys who drives a hard bargain, but it's Garrett Hedlund as Bravo Sqaud's intrepid leader that really makes his presence known among the supporting cast.
For its innovative filmmaking and high-caliber acting, "Billy Lynn's Long Halftime Walk" is an immersive war drama that merits the big screen experience.
Rated R for language throughout, some war violence, sexual content, and brief drug use.
Running Time: 110 minutes