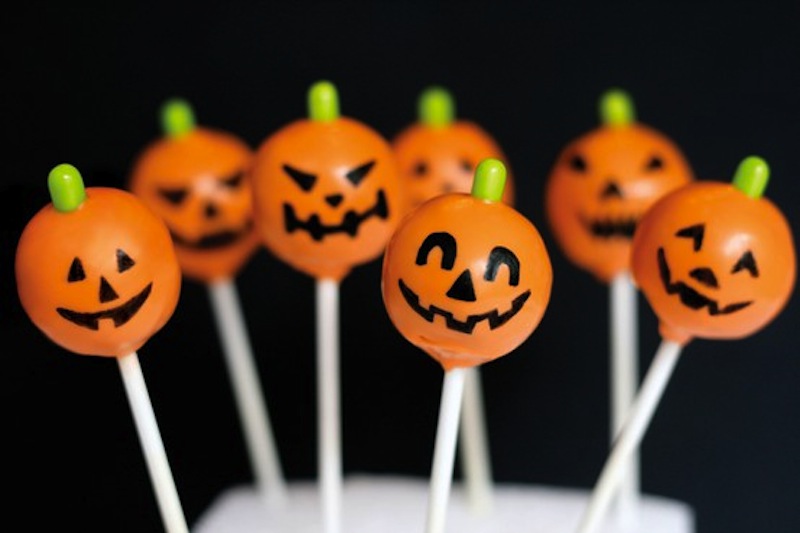 If you're throwing a Halloween bash, dinner or just going to a friend's for spooky celebrations throughout the weekend, why not bring something savory or sweet? We have some go-to Halloween recipes for everyone!
Witch's Brew
Having a Halloween party? Your guests will get a kick out of your green witch's brew!
1quart lime sherbet, slightly softened
1 container (12 oz) frozen limeade, thawed
1 bottle (1 liter) ginger ale
Gummy worm candies
Mix the sherbet, limeade and gingerale into a large punch bowl.
Add gummy worms if you like. Ice cubes if not cold enough
Serve in fun witch's goblets!
—————————————————————————————————————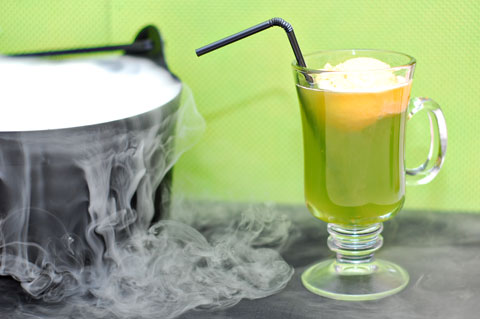 Spiderweb Brownies
¾ cup cubed butter
4oz unsweetened chocolate, chopped
2 cups sugar
3eggs, lightly beaten
1 teaspoon vanilla extract
1 cup unbleached all-purpose flour
1 cup chopped pecans or walnuts
7 oz marshmallow crème
oz semisweet chocolate.
In a large microwave-safe bowl, melt butter and unsweetened chocolate; stir until smooth. Remove from the heat; stir in sugar. Cool for 10 minutes. Whisk in eggs and vanilla. Stir in flour and nuts. Pour into a greased foil-lined 13-in. x 9-in. baking pan.
Bake at 350° for 25-30 minutes or until a toothpick inserted near the center comes out clean (do not overbake). Immediately drop marshmallow cream by spoonfuls over hot brownies; spread evenly. Cool on a wire rack.
Lift out of the pan; remove foil. For web decoration, melt semisweet chocolate in a microwave; stir until smooth. Transfer to a small resealable plastic bag. Cut a small hole in one corner of the bag; drizzle chocolate over top in a spiderweb design. Let set before cutting into bars. Good for 2 dozen delicious bites!
———————————————————————————————————————-
And if you really have time in the kitchen…
Jack-O-Lantern Cake Pops
Emily of Surprise Surprise Bake Shop brings us this decorative recipe for 3 dozen cake pops. www.surprisesurprisebakeshop.com
Wilton orange candy melts (for dipping the cake pops)
green tic tacs (for pumpkin steam)
black edible ink pens (to draw jack-o-lantern's)
lollipop sticks
large cookie sheet
glass bowl or Pyrex pitcher
parchment or wax paper
large Styrofoam block to dry pops on.
1/2 cup (113 grams) unsalted butter, room temperature
1 1/4 cups (270 grams) light brown sugar
2 large eggs
1 cup (240 ml) fresh or canned pure pumpkin (about 1/2 of a 15 ounce can)
1/2 teaspoon pure vanilla extract
2 cups (200 grams) sifted cake flour
1/4 teaspoon baking powder
1 teaspoon (5 grams) baking soda
1/2 teaspoon salt
1/2 teaspoon ground cinnamon
1/4 teaspoon ground ginger
1/2 cup (120 ml) buttermilk, room temperature
cream cheese frosting
8 oz. cream cheese
4 oz. butter
2 1/2 cups confectioners sugar
Cake: Preheat oven to 350. In the bowl of your electric mixer (or with a hand mixer), beat the butter and sugar until light and fluffy (about 2-3 minutes). Add the eggs, one at a time, mixing well after each addition. Scrape down the sides of the bowl as needed. Add the pumpkin puree and vanilla extract and beat until incorporated.
In a separate bowl, whisk together the flour, baking soda, baking powder, salt and spices. Add the flour mixture and buttermilk alternately to the pumpkin batter, in three additions, beginning and ending with the flour mixture. Divide the batter in half and then pour the batter into the prepared pans. Bake for approximately 25 – 30 minutes, or until a toothpick inserted in the center of the cake comes out clean.
Frosting: Mix the cream cheese and butter in the bowl until smooth about 1 minute. Add the confectioners' sugar and whip in the mixer for about 2 minutes. USE 1 CUP FROSTING
Cake pop assembly:
1. Line a large cookie sheet with parchment paper or nonstick foil.
2. Transfer the cake into a large bowl and add in 1 cup of the frosting. Using clean hands, crumble up the cake and mix it together with the frosting.
3. Roll the cake and frosting mixture into rounds that are slightly smaller than a golf ball. Place each ball onto the lined cookie sheet.
4. Melt about one cup of orange wilton candy melts in a glass bowl or small Pyrex pitcher. (You can melt the candy melts in the microwave, in 30-second intervals, stirring after each interval until smooth and glossy.)
5. Dip just the tip of each lollipop stick into orange melts, then immediately insert the stick three-quarters of the way into the cake balls. The candy melts will act like glue, securing the cake ball to the lollipop stick as it chills. (Note: When you are finished with this step and all the cake pops have sticks in them, put the glass bowl or Pyrex pitcher aside. No need to wash it now, because you're going to use it again to melt more orange candy melts.)
6. Refrigerate the cookie sheet with the cake pops for about 2 hours, or until the cake ball batter has hardened.
7. When the cake pops are cold and solid, it's time to dip them into the orange candy melts . Fill the Pyrex pitcher or bowl with more orange melts. (As before, melt the candy melts in the microwave in 30-second intervals, stirring after each interval, until smooth.)


8. Hold onto the stick end and dunk each cake pop into the orange candy melts. Gently twirl it around so the whole ball is coated. Allow any excess to drip off, back into the pitcher or bowl.
9. Stick green tic tac into the top of the cake pops so it dries in the orange candy melts, and looks like the pumpkin steam.
10. The cake pops will dry on the Styrofoam block. Simply poke the sticks into the Styrofoam so the cake pops stand straight.
11. When the orange candy melts have dried completely draw Jack-o-latern faces onto the pops with a black edible ink pen.