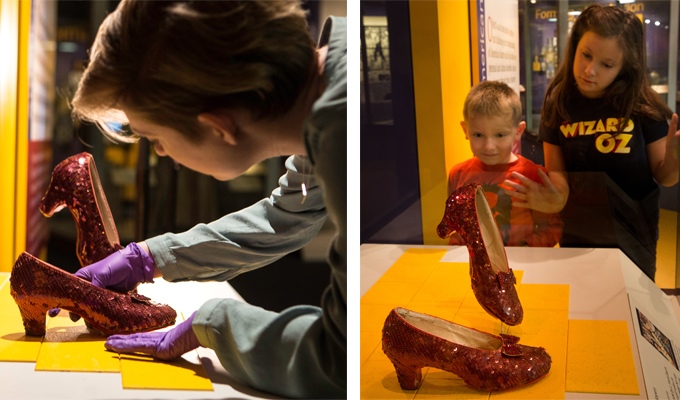 The Smithsonian's National Museum of American History is heading down the Yellow Brick Road on a Kickstarter campaign to fund the conservation and display of Dorothy's Ruby Slippers, made famous by the official landmark 1939 film The Wizard of Oz. The Ruby Slippers have become one of the most iconic artifacts in film history and one of the most asked about objects at the Smithsonian. They have been on view at the museum for three decades, and as a Smithsonian cornerstone, they are deserving of special care and attention as a beloved icon to so many.
While federal appropriations provide the foundation of the Smithsonian's operating budget and support core functions (safeguarding, maintenance, etc.), the institution also relies on private donations to support many of its priorities, including the conservation and exhibition of precious objects such as the Ruby Slippers. The Smithsonian is counting on the participation of Kickstarter backers to fund the preservation work so the Slippers can be displayed in the new popular culture exhibition opening at the National Museum of American History in 2018.
The museum's launched a Kickstarter goal of $300,000. The funds raised will be used for immediate conservation care and a new, state-of-the-art display case designed to protect them from environmental harm and slow their deterioration. The successful campaign ensures that millions more people can enjoy the Ruby Slippers for many generations to come. The public can back the project on the Kickstarter page, si.edu/kickstarter, and can follow the campaign on social media using the hashtag #KeepThemRuby. The campaign ends Nov. 16.
For more information, visit http://americanhistory.si.edu.