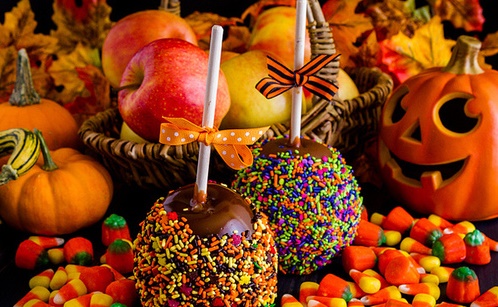 Caramel Apples
WHAT YOU NEED:
6 apples
1 (14 oz) package of wrapped or unwrapped caramels
2 tbs milk
1 package of craft sticks
Chocolate Syrup
Orange & Black sprinkles (any choice of toppings)
1 Butter stick
WHAT TO DO:
1) Remove each stem from the apples and firmly press a craft stick into the top hole. Prepare a baking sheet with a light layer of butter.
2) Place the caramels and milk in a microwave safe bowl. Heat for 2 minutes. Stir and allow to cool for a brief moment.
3) Quickly roll each apple in the caramel sauce until well coated. Place on the sheet with stick up in the air. Add sprinkles and sauce as desired. You may create designs (spider webs, cats, pumpkin carved face, etc.)
4) Let sit and cool. You can place the apples in the fridge as well.
5) Don't be afraid to create your own unique festive apples with any toppings you like, from M&M's to coconat shavings)!