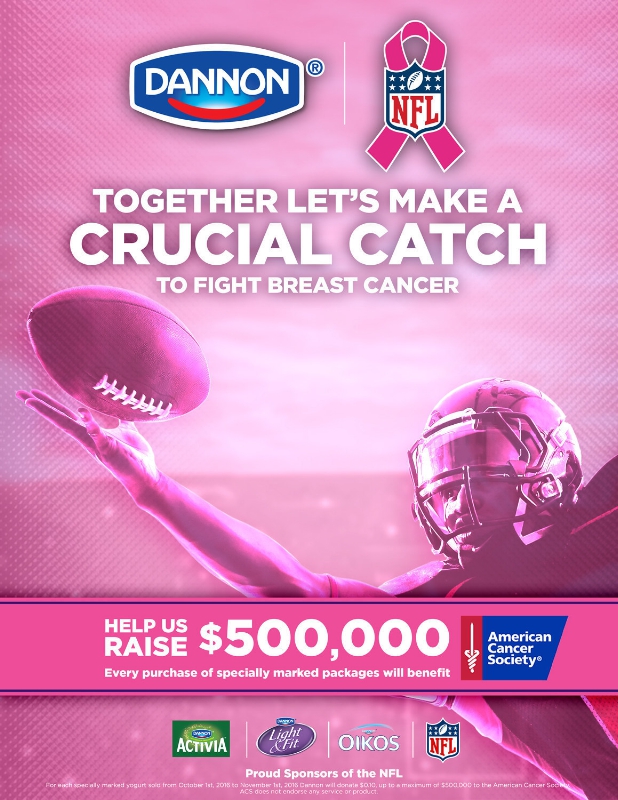 Dannon® announced it will join the National Football League's A Crucial Catch campaign, supporting the American Cancer Society and National Breast Cancer Awareness Month.
Throughout October, Dannon will contribute up to $500,000 of proceeds to support breast cancer screenings and promote awareness through the stories of NFL moms and survivors Sue Olsen and Janice Wilkerson. As the Official Yogurt Sponsor of the NFL since 2015, Dannon is proud to partner with the NFL in its commitment to help save lives through early detection.
Money raised through A Crucial Catch supports the American Cancer Society's Community Health Advocates implementing Nationwide Grants for Empowerment and Equity (CHANGE) program, providing outreach and breast cancer screenings to women in underserved communities. Since 2012, grant recipients have contributed to more than 120,000 breast cancer screenings and provided more than 260,000 education and outreach interventions on the benefits and importance of breast cancer screenings. In 2016, Dannon will join this effort and help to support even more women across the country.
Consumers can look for Oikos®, Light and Fit® and Activia® products with A Crucial Catch packaging in stores or visit Dannon's website to donate directly to the American Cancer Society. Dannon, the NFL and the American Cancer Society are committed to promoting breast cancer education and early detection.
"The American Cancer Society is deeply grateful for Dannon's generous support and joining us in the effort to eliminate breast cancer as a major health problem," said David Doan, Vice President for Strategic Sports Alliances at the American Cancer Society. "Through this partnership, Dannon is helping us in our efforts to diminish the pain and suffering of breast cancer."
For more information:
NFL's A Crucial Catch www.nfl.com/pink
American Cancer Society www.cancer.org