Elvis, Laurie and Casper
Elvis: If I can speak for all of us Pet Corner reporters at LATF, I think we all agree that "bathtime" is not the best time! We're not all fans of the water, but if we want to sleep on the bed or the couch… we have to be squeaky clean.
Most of us have sensitive skin, especially me as a Yorkie Terrier and Laurie, who is a Terrier Spaniel. But we recently found a line of pet products that are gentle on our skin and great for fast grooming from ConairPRO® and ConairPRO Dog™. They have everything from dryers to trimmers for dogs and cats.
I had heard of Conair before because my human Mom uses their blowdryer, but I didn't know that they also had products for dogs too! I always have problems with my skin, so we tried their special line for sensitive doggy skin.
Me and my brother Casper got washed with their Paraben free Sensitive Skin Shampoo and the 2-In-1 Shampoo and Conditioner. They're made with Argan oil, which is derived from the Moroccan argan tree. The fatty acids and oils help our fur coats to look shiny and it hydrates and helps seal in the moisture.
Afterwards, our Mom brushed us and massaged us with Conair's Soft Slicker Brush. The reinforced tips are gentle and don't harm my sensitive skin. It's also super delicate on my face.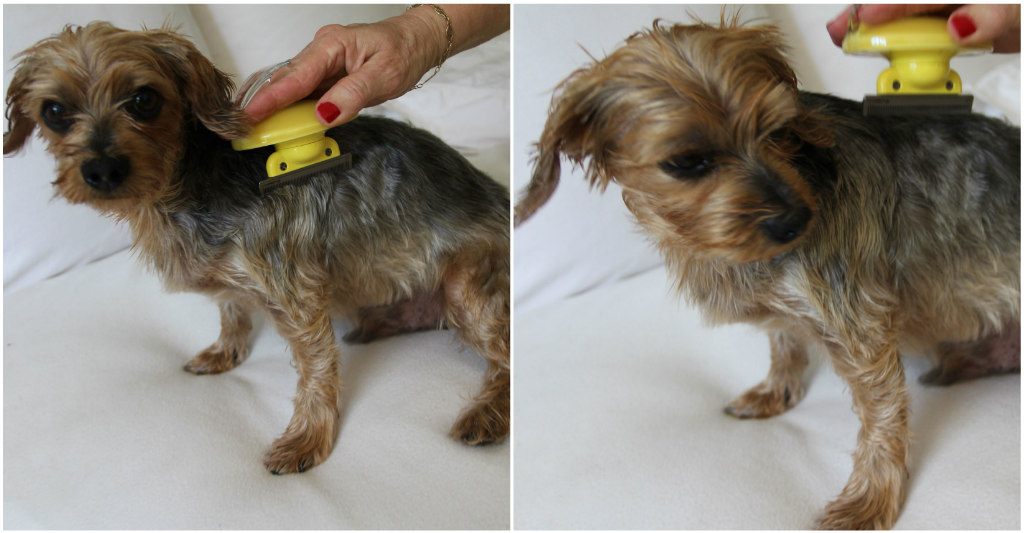 Laurie got lucky because she didn't even need water for her bath…
Laurie: It's true; I don't love the water so I got to be washed with the Waterless Shampoo. It helps remove surface dirt and detangles my hair so it's easy when my Mom brushes me. My coat felt smooth and silky afterwards!
But just because I didn't get a bath, doesn't mean I was free from getting groomed! The good thing is, I didn't have to go to the groomers because ConairPRO Dog™ has a great 16-Piece Pet Clipper Kit for home. With it's powerful magnetic motor, it was a fast and painless process!
Clipper Kit features include:
Turbo button produces 15% additional power when pushed
Cord/cordless rechargeable with 35 minutes of run time on a full charge
Ground-steel blade cuts easily through your pet's coat
5-detent taper lever
8 comb attachments provide a combination of 45 settings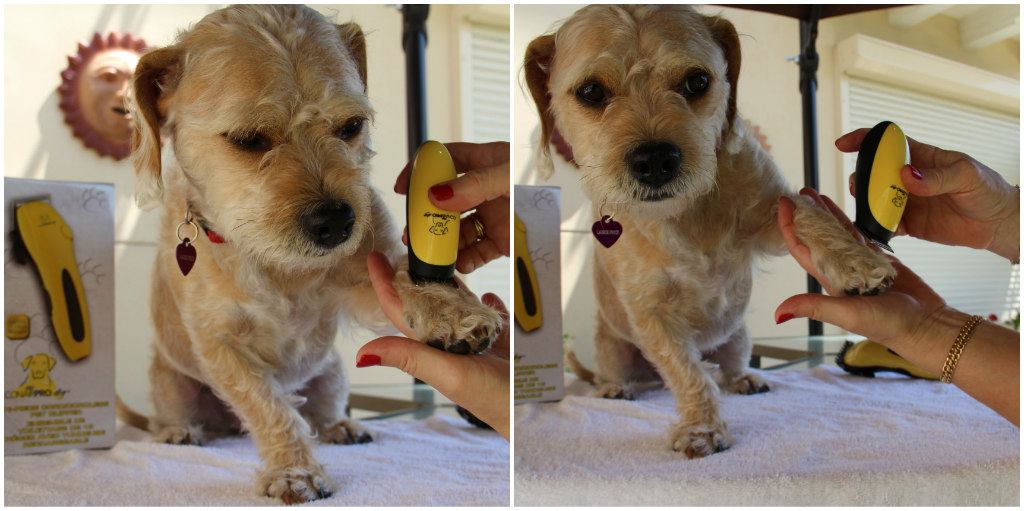 Sometimes it's hard for my Mom to trim my paws so Conair has a mini Palm Pro™ Micro-Trimmer. It's compact, quiet and fits in the palm of her hand. Sometimes I get nervous when it's time to trim my paws, but I was very comfortable with the Palm Pro. The kit includes 2 comb attachments, plus lubricating oil, cleaning brush and 1 AAA battery.
Many dogs and cats have sensitive skin and it's not always easy to find shampoos and conditioners that don't irritate. We definitely recommed Conair's products for your best furry friends!
For more info visit: http://www.conairpet.com/