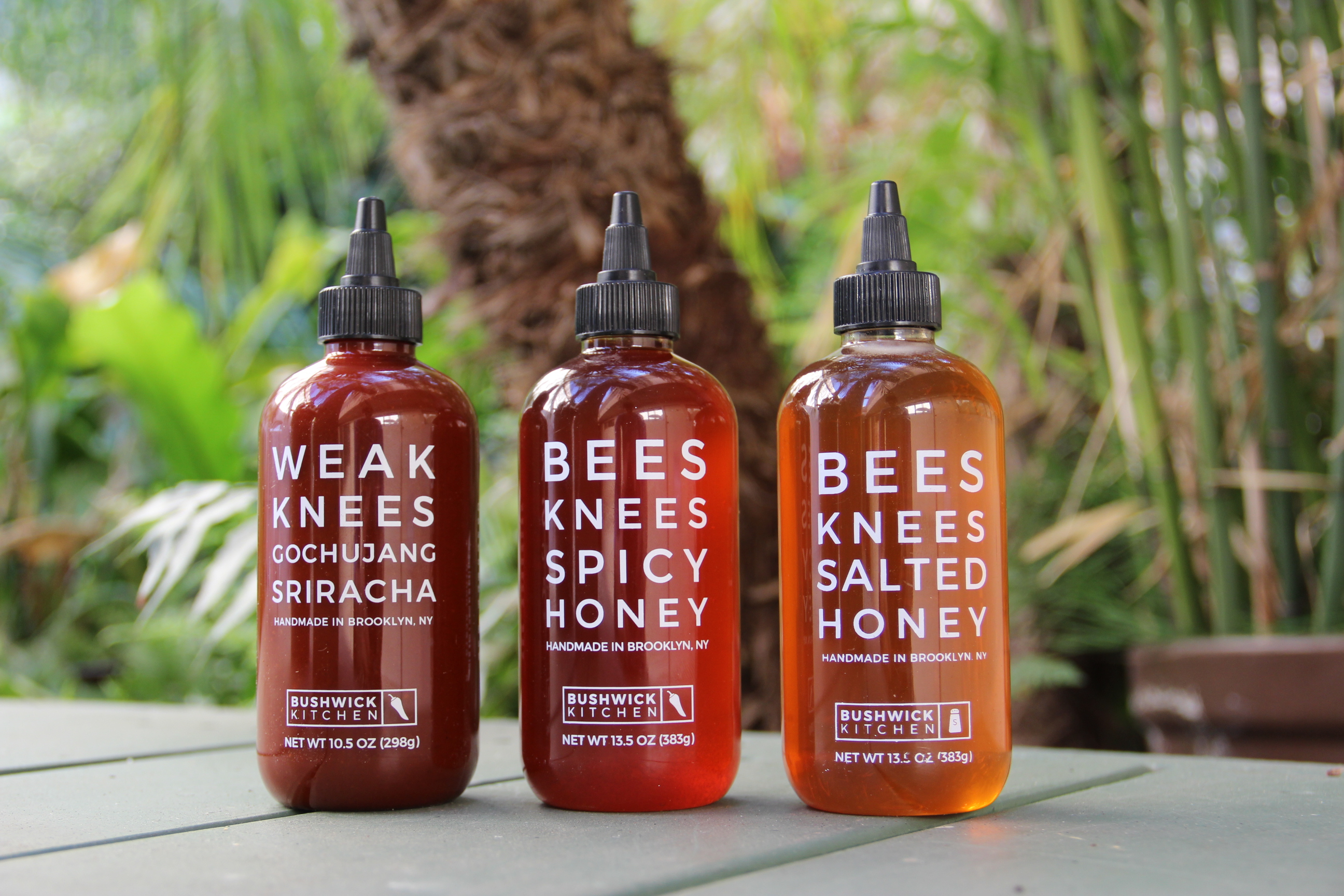 As we say goodbye to September, aka National Honey Month… we can never say farewell to one of our favorite sweet ingredients.
We welcome the October weekend with a delicious cocktail recipe from our friends at Bushwick Kitchen! LATF recently discovered their honey products, which are the perfect way to spice up your meals and drinks.
With more than 300 different honey varietals found in the United States, Bushwick Kitchen has some honey-based products that truly stand out; especially for those who like a little zest and spicy kick! The company decided to blend ingredients sourced from the Hudson Valley, the Catskill Mountains, and the Flushing neighborhood of Queens. It's the epitome of homemade (which we love here in Los Angeles), infused, mixed, made, bottled, and shipped from their kitchen in the heart of Brooklyn, NY.
We recommend trying:
Bees Knees Spicy Honey: ($13.99) Combining sweet honey from the Hudson Valley with a spicy mix of chili peppers, Bees Knees Spicy Honey is great on anything from a hot slice of pizza to a warm buttered biscuit to a cold bowl of ice cream.
Bees Knees Salty Honey: ($13.99) Fragrant wildflower honey from the Hudson Valley is infused with sea salt, creating an addictive battle of sweet and salty. Bees Knees Salted Honey is great on anything from a spread of soft goat cheese to a pile of freshly buttered toast to a scoop of warm fruit cobbler.
And for the true spicy lovers… Weak Knees Gochujang Sriracha ($9.99): We love this on our eggs in the morning! The sweet-spicy flavors of a classic sriracha meet the fermented complexity of gochujang chili paste.
For the weekend, try BK's recipe for a Spicy Honey Margarita:
This recipe makes one drink, but the 1-2-3 ratio remains the same for a group. Just grab a pitcher and a calculator and you'll have an instant party!
1 oz lime juice, fresh squeezed
2 oz Bees Knees Spicy Honey syrup
3 oz tequila
1/2 cup ice
Kosher salt and lime wedge for garnish
Before you begin, you'll need to make a honey syrup. Add equal parts Bees Knees and water to a pot and whisk over low heat until you have one smooth liquid.
Add the lime juice, honey syrup, tequila, and a generous amount of ice to a cocktail shaker. Shake vigorously for 30 seconds. If you don't have a cocktail shaker, use two large glasses and pour back and forth until both glasses are cold.
Run the lime wedge around the rim of a glass. Pour kosher salt onto a plate and swirl the glass rim around the plate.
Pour and cheers!
—-
Angelenos, you can find BK honey products at:
Broome St. General Store: 2912 Rowena Ave.
Individual Medley: 3176 Glendale Blvd
Stir Market: 7475 Beverly Blvd
The Cheese Store of Silverlake: 3926 Sunset Blvd
Urban Radish: 661 Imperial St.
For additional info & recipes from Bushwick Kitchen visit http://bushwickkitchen.com/